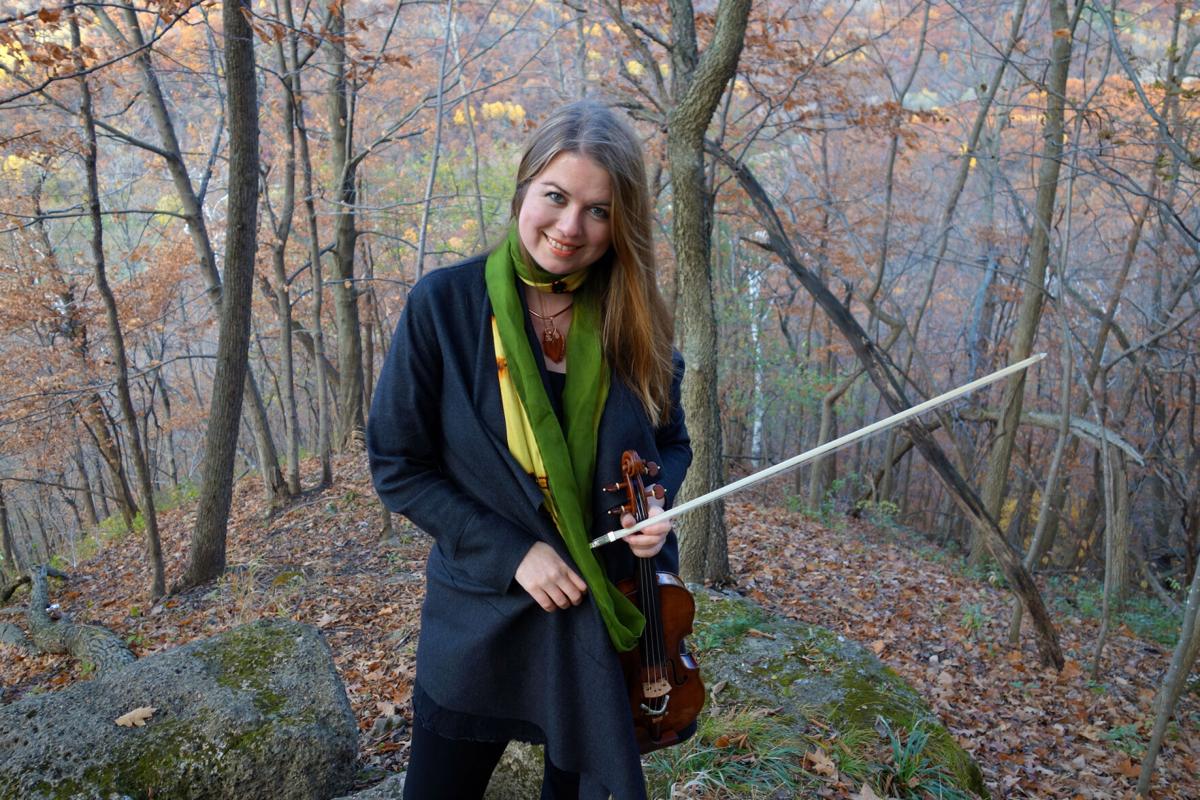 It took Canadian violinist Lara St. John a few months to find her emotional bearings after the COVID-19 pandemic shut down her classical music world.
But a few months into lockdown in her adopted hometown of New York City, St. John came up with a plan to get out of her pandemic funk that would also help her friends in the music world make ends meet.
"A lot of my friends here in Manhattan work on Broadway and the New York Phil and it's kind of a paycheck to paycheck kind of thing," she explained during a phone call in early September to talk about her concert with the Tucson Symphony Orchestra this weekend — its first live concert since the pandemic shut it down in March 2020 and the first concert of the 2021-22 season.
St. John lives near the historic Atterbury House, an apartment building whose origins date back to 1876. The building was in the midst of a stalled renovation so St. John approached the owners and asked if she could use the second floor with its high ceilings and original wood floors — perfect acoustics, she said — to host a series of live-streamed concerts.
They gave her the OK and she recruited some of the country's top chamber ensembles and artists including double-bassist Xavier Foley, Ulysses Quartet, Nella, Imani Winds, Augustin Hadelich and the Brentano String Quartet to perform. St. John operated the video camera and recruited a friend to work the sound and thus was born the Atterbury House Sessions, a series of 12 concerts that ran from January through June.
"In non-COVID times, that series would not have existed. I managed to raise enough money that (the artists) got quite good fees," said St. John, 50. "It worked out and I think it helped a lot of colleagues."
In April, St. John played her first in-person concert before a limited audience with the Toledo (Ohio) Symphony. Tucson will be her first performance in a hall that isn't limiting the size of the audience. The TSO is, however, requiring audience members to show proof of vaccination or a negative COVID test before they can see the performances on Friday, Sept. 24, and Sunday, Sept. 26.
This will be St. John's first concert with the orchestra since 2007, when she played her first-ever Korngold Violin Concerto.
"I have a lot of great memories of Tucson. It is very much in front of my memory bank," she said.
This weekend, St. John will revisit an old friend in Piazzolla's "Four Seasons of Buenos Aires," the Argentinian composer's tango take on Vivaldi's epic "Four Seasons."
"I've kind of had a connection with not only 'Four Seasons' but with Argentine music and Venezuela for decades now, so it's kind of cool," said St. John, whose father was curiously enamored by tango and Argentinian music when she was growing up in Canada.
"Which was kind of weird for a little Canadian girl," she said.
In 2008, St. John went to Caracas, Venezuela, to record Piazzolla's "Four Seasons" with the Simón Bolívar Youth Orchestra of Venezuela. Four years later, she talked Pablo Ziegler, Piazzolla's longtime pianist, into re-creating Piazzolla's famed 1987 "Central Park Concert" performance with Ziegler's band. The concert, part of Central Park's Naumburg Orchestral Concerts series, attracted the largest crowd in the series' hundred-plus-year history.
Of all of Piazzolla's works, though, "Four Seasons of Buenos Aires" is perhaps the one that dares St. John to get up and dance.
"They all have this sort of hard tango beat behind them, which is really infectious in a way," she explained. "He will start (with tango) then he will stop and create some beautiful phrases for violin. Then back to this beat and back to this and then this ferocious ending on some of them. It really is a lot of fun. It's a lot of fun for me and the orchestra and for the audience."
"It's very satisfying somehow," she said. "You just kind of want to get up there and shake your butt."