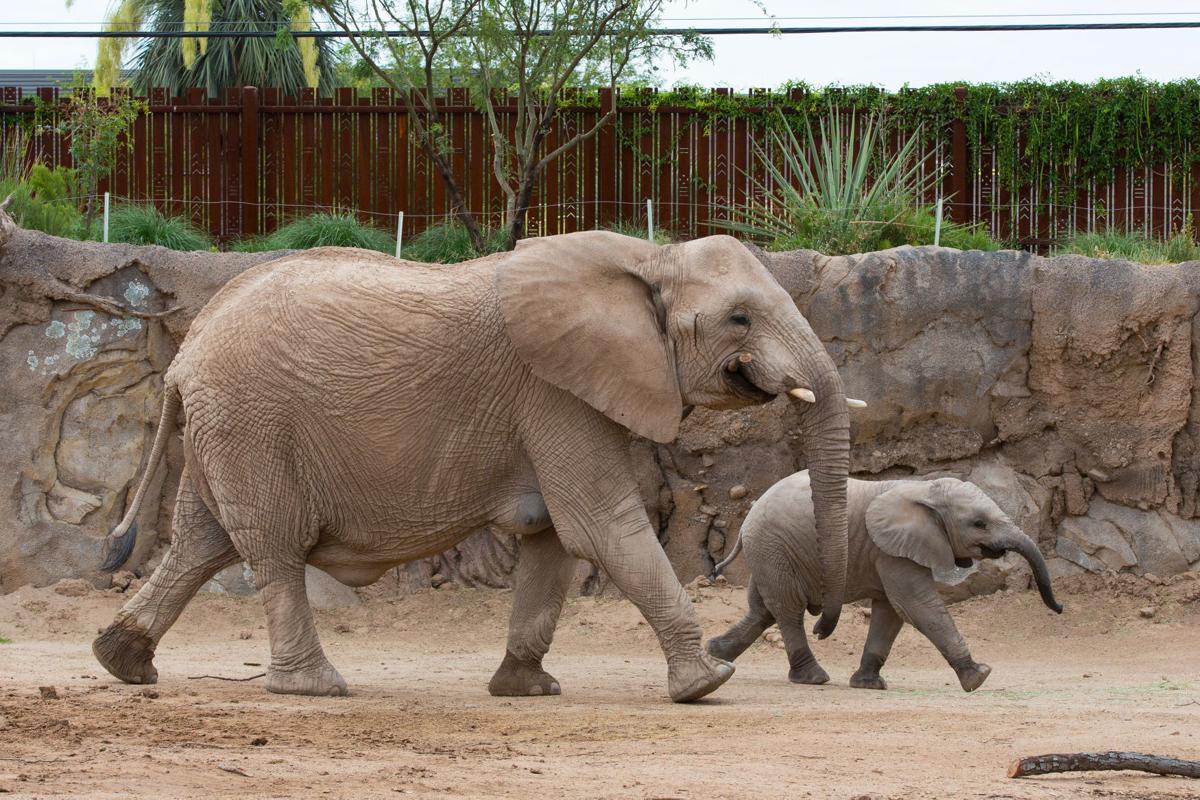 Each month, as Nandi bounds closer to her first birthday on Aug. 20, we will keep you in the know on what's new with this precious pachyderm's progress.
Sue Tygielski, Reid Park Zoo's elephant manager, has the skinny on Tucson's big baby.
Age: Another month gone. Nandi hits 10 months on Saturday.
The wallow: Nandi is out to become a world-class wallower. Sometimes, the love for mud even trumps the love for Mom.
"Something that has been kind of interesting is some of the herd will go swimming, Mom will go off eating on her own, and Nandi will go to the mud wallow by herself, on her own for a long time," Tygielski says. "She goes in and swamps around a lot and gets mud on one side and kicks and flips over and will stand in the wallow, kicking. She really likes to kick. We put more water in the wallow as it's getting hotter, and she just likes to splash.
"It's a giant baby pool with some mud."
Still no pool?: As of last week, sadly no. "It's a bit of a bummer," Tygielski says. "We thought it would happen more, but there haven't been that many 100-degree days."
Maybe it's time to bring on the heat.
"As summer heats up, we're hoping she is going to start enjoying the pool more." It's a selfish hope, Tygielski admits, because if she's that cute playing in the mud, just imagine this pachyderm paddling, snorkeling through the pool with her trunk aloft.
Tractor terrors: Don't mess with this elephant. "We use a tractor to make sand piles and dirt piles for the elephants and to mix up the mud wallow," Tygielski says. "She ran as close as she could get and trumpeted at the tractor, so that was pretty sweet."
Quite puzzling: As Nandi's diet matures, she continues to mimic the other elephants. "On the perimeter of the exhibit, along the rock wall, it has puzzle feeders in the wall, holes with hay and leaves and branches," Tygielski says. "The elephants reach in for food and she is starting to do that... I don't know how much she is getting, but she is picking up what they are pulling out."
Her "person": While Nandi hasn't learned any new behaviors in training since last month, she has developed a sense of entitlement. "She is getting more spunky, wanting to climb and reach toward our faces, and we have to wait for her to settle down," Tygielski says. "She will follow us. When she goes to train, someone takes her mom, and the second person works with her. When the second person is not available, she's looking for her own person. She's like, 'Wait. Is there somebody for me?' If you're a moment late, she's like, 'There you are!'"