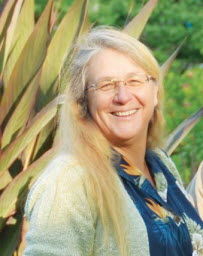 As a child, Jacqueline A. Soule spent summers in Vermont helping out in her grandmother's veggie garden.
When Soule started gardening on her own in Tucson, she learned a quick lesson.
"A lot of Vermont doesn't work here," says Soule, a prolific gardening writer.
Now, with a University of Arizona degree in horticulture and decades of gardening experience, she also knows that even a lot of what works in some parts of the Southwest doesn't work in other parts.
Thus the topic of her latest book, "Southwest Fruit & Vegetable Gardening" (Cool Springs Press, $22.99), which covers growing in Arizona, Nevada and New Mexico.
"It divides our region into low, middle and high desert," Soule says of the book, her 10th. The book also covers cool highland and cold mountain areas.
The regions describe more than elevation, however. "Along with elevation, there are frost free days and days over 100 degrees," she adds.
For instance, Prescott and Albuquerque are at about the same elevation. But Prescott has a longer growing season and fewer days over 100 degrees.
"It's a very different sort of environment than Albuquerque," she says.
Once that's sorted out, Soule guides gardeners on what fruits, legumes, vegetables and herbs grow well in the regions. She doesn't focus just on types, but on varieties, too.
Take kale. Soule recommends Dwarf Siberian for containers in upper elevations and in-ground gardens in lower elevations. Lacinato works everywhere almost all year with shade in the lower elevations.
Growing chard? She recommends several, but warns gardeners off of Fordhook Giant, which won't do well in low humidity.
Pomegranate growers can find success with Crab for the low desert, Balegal for the middle desert, Cloud for the upper desert and Kino Heritage White for all three areas.
These plant profiles take up nearly two-thirds of the book, divided into fruits and cool-season and warm-season vegetables and herbs.
Other sections deal with building soil, selecting and planting specimens and garden maintenance.
Soule used her life-long experience and years of writing about gardening in magazines and newspapers to write the book, assigned to her by Cool Springs Press.
"In some ways I've been working on it all my life," she says.