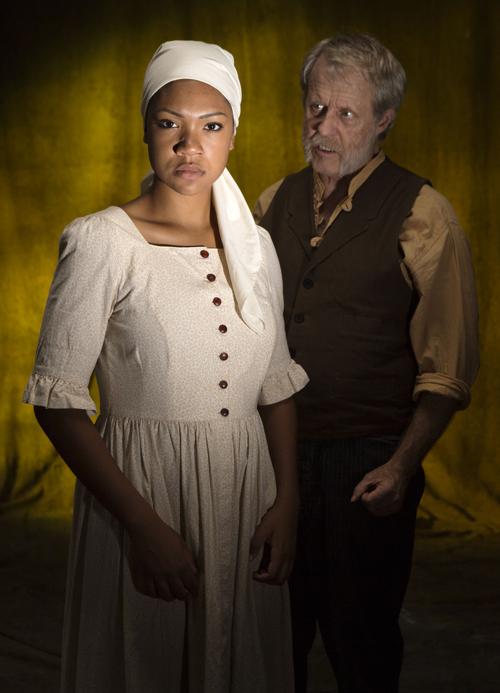 Tucson playwright Barbara Seyda has written poetry about horror.
Seyda's "Celia, A Slave," currently on stage at The Rogue Theatre, is based on the murder trial of a 19-year-old woman who killed her slave master, Robert Newsom, after he repeatedly raped her.
Harsh stuff, though the harshest is the fact of life of 1855 Missouri: That slavery existed, and the black men, women and children were treated as subhuman.
It's easy to want to close your eyes and turn away from that fact.
But Seyda's meticulously researched play — much of it is based on court transcripts — combined with the current racist climate in this country, demands we not do that.
The story of "Celia" is told through a series of monologues from 23 ghosts — friends, families, lawyers, and slaveholders who were involved with Celia's life and the trial. The white people are indignant that she killed her brutal slavemaster. "Ain't no crime or punishment for a white man raping a slave woman," says the character Benjamin Sheets (Ryan Parker Knox), one of the jurors in Celia's trial. "It's his right under the law."
It's no wonder she was quickly found guilty and then hung.
And the slaves are heavy with the injustice of a system that robs their freedom, their safety, their families, and tries very hard to rob them of their dignity.
And yet, some of them see beauty and hope. "Dat climber, hangin' heavy over the trellis," says Viola (T Loving), a slave who lives next to the plantation that Celia worked on. "Like nectar in heaven. Wisteria and da lilacs. Fall like diamond chandeliers. Sweetness and honey. All dat perfume in dat air. Make me feel like a wild gazelle."
Through the characters, we learn of what led up to the crime, details of the murder, what life is like for the slaves, and of the people impacted by the crimes — both the murder and the slavery.
Seyda's writing has rhythm and precision, and her storytelling, while it could use some tightening up, quickly captures the audience.
And there was some impressive talent on the stage living her characters and delivering her words.
Longtime Tucson actor and singer Darwin gave the slave Jingo gravitas, even as he described such things as the pigs he cared for on the Newsom farm. "Seen one pig with half a face," says Jingo. "Could see da skull and jaw. One eye."
Loving's portrayals of the slave Viola, and the runaway slave Solace, were vivid and shattering. Vaune Suitt portrayed Celia, who doesn't speak until late in the play but is a constant and fierce presence. Ida Rhem has a powerful stage persona and she imbued her two roles with a riveting honesty, and Sterling Boyns as Celia's love George shows a strength and dignity you imagine the actual character had.
Cynthia Meier directed "Celia" with a sense of grim drama, inserting music and sound effects that underscored the awful racism of the time.
But here's a drawback of this production: Many of the actors had heightened emotions as they began their monologues at Sunday's matinee. They started at the top of their anger or anguish, which gave them no place to go. If some emotions and struggles had been internalized, the arc of the monologues — and the impact on the audience — would have been more profound. Among those who understood that was Knox, who played four characters. In each, he knew when to release his fury, allowing the audience to understand the horrors through his subtleties.
Seyda's play snagged the prestigious Yale Drama Series Award in 2015. That's not surprising; the story is a shameful piece of this country's past, told with eloquence and sorrow.
Contact reporter Kathleen Allen at kallen@tucson.com or 573-4128. On Twitter: @kallenStar