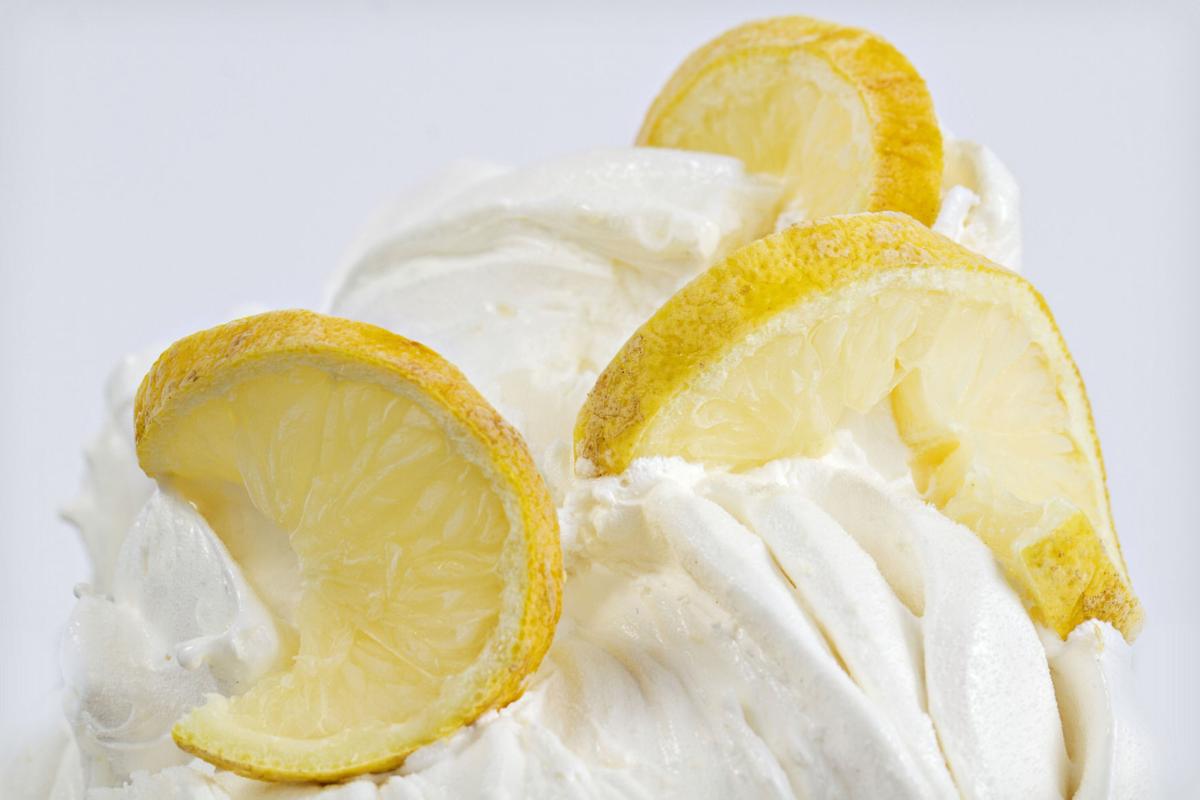 It's a spectacular Arizona winter day as I write this — peerless blue skies, radiant sunshine, refreshingly cool but not cold. Days like this were a big draw when I mulled whether to return to Tucson or not. Access to Arizona's flawless citrus was another.
Time to continue my seasonable lemon love with a batch of no-churn lemon-mint ice cream.
I find lemons almost indispensable in my kitchen. I prefer lemon juice to vinegar in my vinaigrettes, and I like those vinaigrettes tart — the juice of two medium lemons to four tablespoons olive oil, a 50/50 ratio that is much more acidic than the classic French ratio of three parts oil to one part vinegar. Shaken with a little Dijon-style mustard, that's enough vinaigrette to dress two or three salads in my house.
I'll want the grated zest to flavor baked goods and sauces, and figure that I'll get about two tablespoons of zest from a medium lemon. I think the zest adds more lemony flavor than the juice, although both end up together in many dishes.
Naturally, I'll want a wedge of lemon to squeeze over baked fish or chicken, and to brighten a glass of iced tea. A slice of lemon in a glass of water makes it more appealing.
After I've zested and juiced lemon halves, tossing the depleted husks into the garbage disposal keeps it smelling fresh and clean.
But my favorite lemon capability is its ability to thicken dairy products. I sometimes make homemade ricotta, one of the easiest cheeses to make and so superior to commercial ricotta. If you drain the ricotta, you'll end up with a lemony farmer's cheese that spreads easily; I like it highly seasoned with lots of freshly ground black pepper, to spread on a couple of crackers or slices of baguette as a pre-dinner nosh.
There are lots of instructional videos and blog posts for both.
By the way, if you decide to make these lemon-thickened cheeses, look for milk that's not ultra-pasteurized. Dairy processors make ultra-pasteurized milk in one of two ways: pasteurizing at a high temperature for a short time; or at a low temperature for a long time. Both denature some of the milk's proteins so they won't react properly to the lemon juice's acidity.
You can capitalize on lemon's ability to thicken dairy to make a delightful lemon ice cream. Some recipes I've seen suggest that half of the cream can be replaced with whole milk, but I prefer to use cream alone. One reason is that all-cream mixtures have a more reliable success rate.
Additionally, the resulting ice cream is richer, so a smaller portion is satisfying.
Just as with the cheeses, choose cream that hasn't been ultra-pasteurized. Look also for cream that is labeled just cream, without added ingredients such as carrageenan or other thickening agents and preservatives. Cream like this is increasingly hard to find, as supermarket dairy managers like the longer shelf-life of stabilized ultra-pasteurized cream.
Fortunately, Danzeisen Dairy in Phoenix produces exactly the kind of cream I want. I pay a little more — including a deposit on the dairy's returnable glass bottles — but I like to support local businesses and I don't want unnecessary additives in my food. I've found it in every grocery store here in Tucson, so it's not hard to find.
With just five ingredients and no need for specialty equipment, this quick and easy lemon ice cream will please the eaters at your table.
NO-CHURN LEMON-MINT ICE CREAM
Makes 3 cups, about 6 servings
This easy ice cream relies on the acidity of the lemon juice to thicken the cream. If you have a churn, you can certainly use it. But this recipe's versatility is its selling point — no special equipment needed. The ice cream melts quickly so it's best served in chilled dishes.
INGREDIENTS
1 teaspoon mint extract (see note below)
2 cups heavy whipping cream
PREPARATION
Grate the zest from the lemons, then juice them. You should end up with about 1/4 cup of juice.
Whisk the lemon zest, juice, sugar, mint extract, and salt in a large bowl. Whisk in the cream, continuing until the sugar is completely dissolved.
Pour into an 8-inch-square metal baking pan. Cover with aluminum foil and place into the freezer until the mixture is solid around the edges and mushy in the middle, two to three hours. Stir well, cover with foil again, and return to the freezer until completely firm, about one hour longer.
Note: Mint extract may be labeled peppermint extract, spearmint extract or just mint extract. They are interchangeable in this recipe. But mint extracts are easy to make. To do so, crush a packed cup of mint leaves (no stems) in a large glass container with a close-fitting lid. Pour in 1 1/2 cups vodka, cover, and allow to stand in a dark place for six to eight weeks, shaking occasionally. Strain out the mint leaves and set aside for later use.
Robin Mather is a longtime food journalist and the author of "The Feast Nearby." Follow her blog as she writes her third book, "The Feast of the Dove," at thefeastofthedove.com.