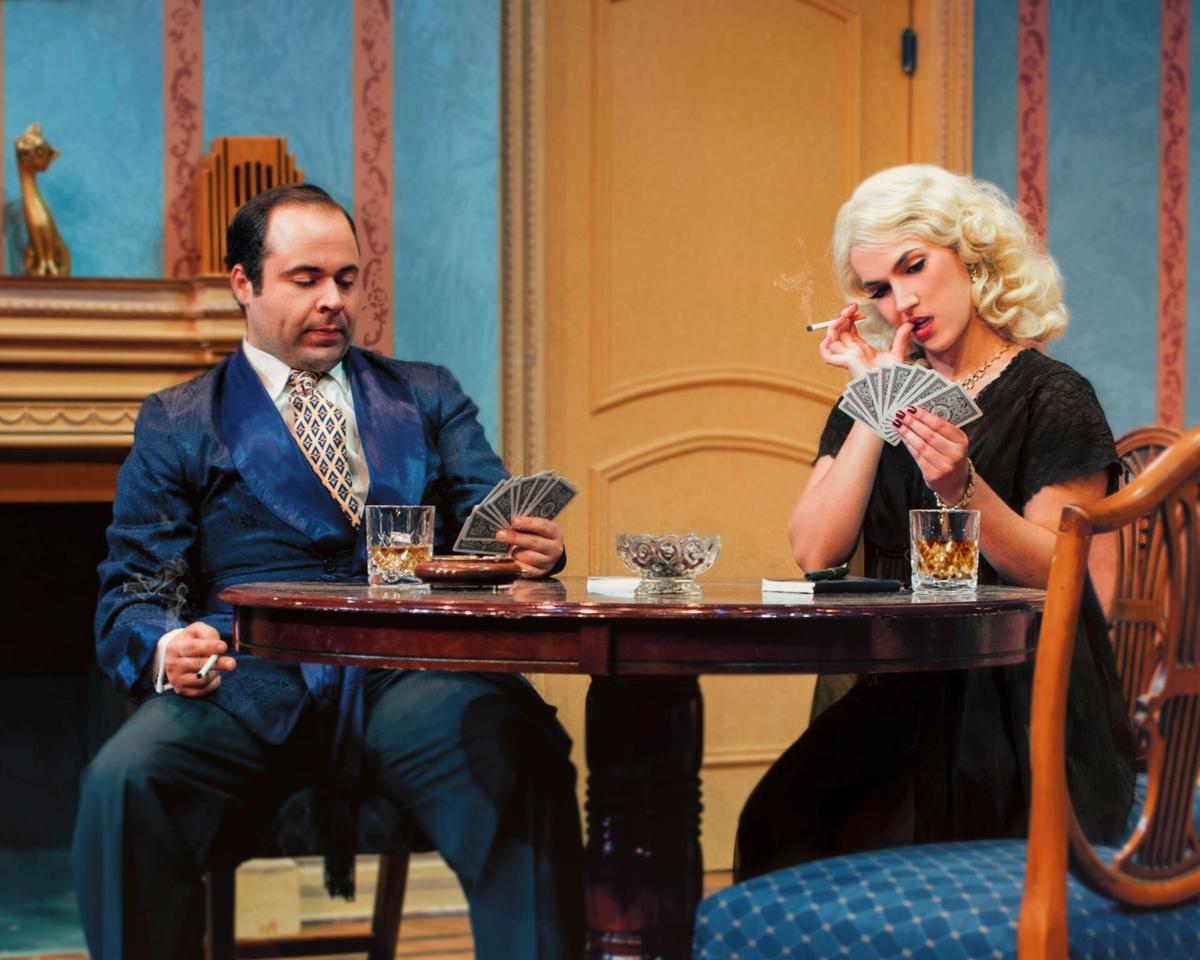 At first glance, "Born Yesterday" is a play past its time.
But then, as the very good Arizona Repertory Theatre Company's production shows, it speaks to us today in ways that are disturbing: About corruption in politics, the pursuit of money and power at all costs, a sexism that is abusive and jarring, and an attitude toward education that is cavalier.
And hey, did I mention this is a comedy?
The 1946 Garson Kanin play, directed with wit and a keen eye by Hank Stratton, is about Harry, a boorish junk dealer who started out small and through intimidation and quite likely illegal maneuvers has created a business that is big, maybe the biggest ever. He has come to Washington to bribe a willing senator to pass legislation that'll allow his business to grow internationally.
He brings with him his dame, Billie, a blonde one-time showgirl who exhibits all the smarts of a slug. She believes she is dumb because Harry tells her so.
But Harry wants to impress the Washington types he hopes to win over, so he hires a newspaper reporter to learn her some culcha.
Turns out, Billie ain't so dumb after all. For starters, she never says "ain't."
Playing Billie has got to be daunting for an actress — the wonderful Judy Holliday defined the role both on stage and screen.
But Marissa Munter, a junior in the University of Arizona's musical theater program, did not seem one bit intimidated at Wednesday's opening night performance. Her timing was pristine, her delivery of a slew of laugh lines dead on. Her tender vulnerability under a thick shield of armor felt well rooted.
What would be intimidating is sharing a stage with her. But Munter is generous, and her fellow actors were up to the task. Carlos Lee Hall's Harry is a nasty bully, but it's hard not to like him. It's clear he's the dumb one in the relationship, and Hall's instinct for comedy is good. Harry's henchman, Eddie, is played with just the right amount of whatever-you-say-sir frenzy by Alex Gossard, who is impressive with the physical comedy, as well. Matthew Osvog had the difficult job of playing the romantic lead, Paul — next to the others, Paul is a dullard. Still, Osvog gave him distinction.
At the opening night performance, the curtain rose and an "oh my God" gasp rose up from the audience. And no wonder: The set, by UA grad student Amy Sue Hazel, was all aqua and pink and lush and looked like the very-expensive hotel suite it was suppose to be. And the costumes, by Julio C. Hernandez, also a grad student, were beautiful and smart and helped define each character.
Garson Kanin is god-like and his comedies are smart, witty and grand fun.
And, as this production shows, they can be timeless, as well.
Contact reporter Kathleen Allen at kallen@tucson.com or 573-4128. On Twitter: @kallenStar