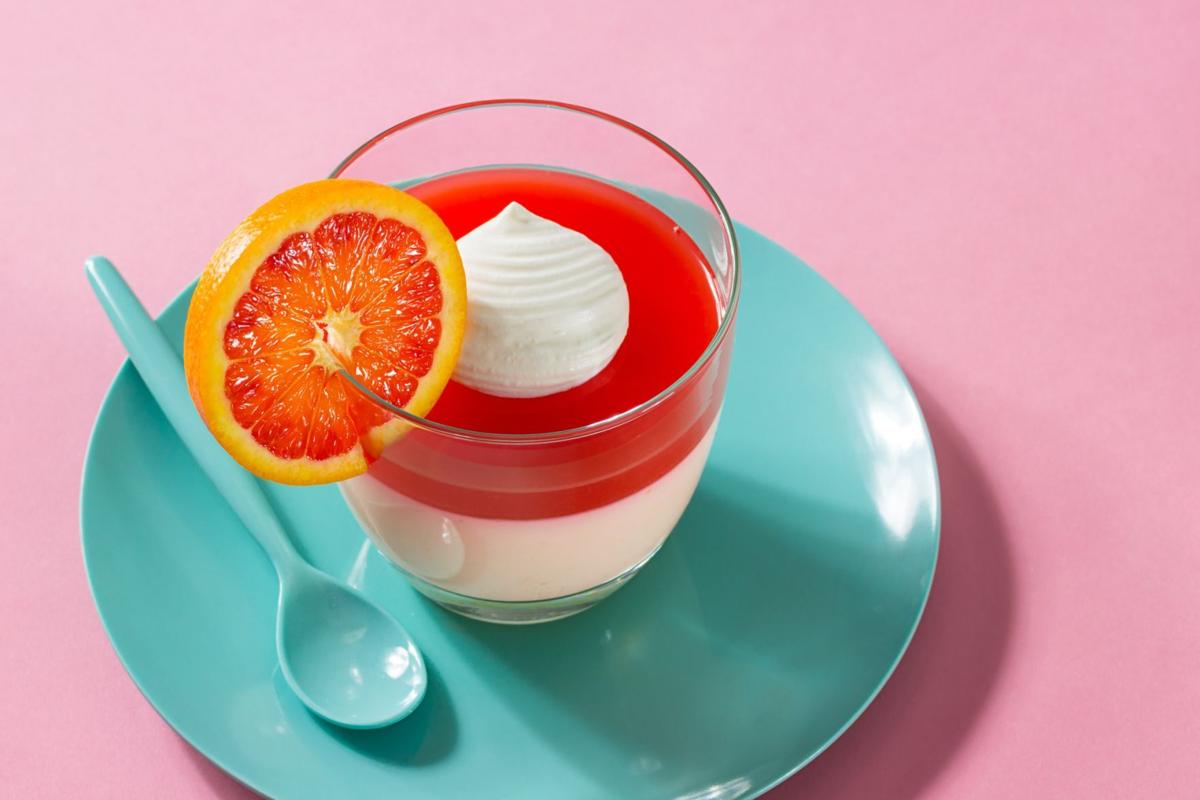 Blood oranges make my heart beat just a little faster. They are so exotic, their ruby interiors so vivid, that when they arrive in their brief season, I think of all kinds of ways to use them.
This week, I'm offering you a citrusy panna cotta with a silky blood orange topping, to show off that eye-popping color. You know panna cotta, the rich Italian dessert whose name translates to "cooked cream," don't you? If you don't, allow me to make the introduction.
But making panna cotta requires that you understand how to work with gelatin, which is a handy skill to have.
So let's talk about gelatin for a moment.
If you have ever made a beef or pork roast and found jelly in the bottom of the roasting pan the next day, then you have a clue to gelatin's origins. Commercially, gelatin is made from pork or beef bones and hides. There are some gelatins made from fish byproducts available, which helps get around religious objections, and vegetarian gelatins made from agar, carrageenan, pectic or konjac are also available. Its name comes from the Latin "gelatus," meaning stiff or frozen.
Gelatin is available in a variety of forms for culinary use, and snooty food writers often specify "sheet gelatin" as if it's in some way superior (it's not). Not being especially snooty, I use powdered or granulated gelatin and buy a little canister of it every so often — the advantage to the canister over sachets containing a fixed amount is that I can measure out exactly what I need. But if sachets are all you can find, remember that each little envelope contains about a tablespoon and that a tablespoon will set two cups of liquid to a really firm consistency — like gummy bears. (If you happen to use sheet gelatin, then you'll need to know that four sheets equals a tablespoon, too.)
For our panna cotta, we don't want that super-firm texture; we want something softer, like a custard. A tablespoon of gelatin to four cups of liquid will give us that.
Whatever kind of gelatin you're using, you usually need to "bloom" it in some cool liquid before using it, and I ask you to do that here. Doing so hydrates the granules of gelatin so they dissolve easily when you add them to whatever you're making. It's an important step on your way to gelatin success.
The next piece of important gelatin knowledge is to add the bloomed gelatin to a warm — but not boiling hot — base. Adding it to a cooled mixture will make it ropy, which isn't very appetizing.
Finally, we chill the panna cotta and its glaze because chilling makes gelatin's thickening power stronger.
There's nothing especially difficult about working with gelatin, so I hope demystifying it will lead you to new and exciting experiments of your own. Bloody Mary cups, anyone? Little ramekins of jellied stock as an appetizer?
While you're thinking up new ideas, you may want to practice with this marvelous and attractive dessert.
CITRUS PANNA COTTA WITH BLOOD ORANGE GLAZE
This is luxuriously rich if you make the panna cotta with heavy cream or half-and-half, but you can substitute milk or buttermilk if you feel that you can't justify the calories. For myself, I'd rather trim calories elsewhere so I can afford a small portion of a really lush dessert. Like any dish with gelatin, this is best the day it's made — it gets more and more rubbery in succeeding days.
INGREDIENTS
1 tablespoon powdered gelatin
4 cups heavy cream, half-and-half, milk or buttermilk
6 wide strips of blood orange peel
½ cup blood orange juice, divided use
Whipped cream, optional, for garnish
PREPARATION
Remove the six wide strips of peel from the oranges and set the peels aside. Juice two oranges and check the yield — you need a half-cup altogether, so if you don't have that much, juice the third orange.
In a small bowl, sprinkle 1 tablespoon gelatin over the water and let soak 10 minutes (do not stir).
Meanwhile, heat cream, sugar and orange peels over medium heat, stirring occasionally, to dissolve the sugar. As soon as it simmers, turn off the heat and add the gelatin mixture, stirring to dissolve the gelatin. If the gelatin does not completely dissolve in three minutes, return to the heat and warm gently until dissolved.
Strain the mixture to remove the orange peels.
Pour the mixture into six ramekins or dessert cups, or into one large dish. Chill, uncovered, at least three hours or until firm.
Sprinkle a teaspoon of gelatin over 2 tablespoons of the juice and let stand until soft, about 10 minutes. In a small saucepan, bring sugar and 6 tablespoons of juice to a boil. Remove from heat and whisk in the softened gelatin. Cool to lukewarm and divide among the serving cups. Chill the ramekins again until serving time. Add a dollop of whipped cream, if using, atop each serving.
Robin Mather is a longtime food journalist and the author of "The Feast Nearby." Follow her blog as she writes her third book, "The Feast of the Dove," at thefeastofthedove.com.