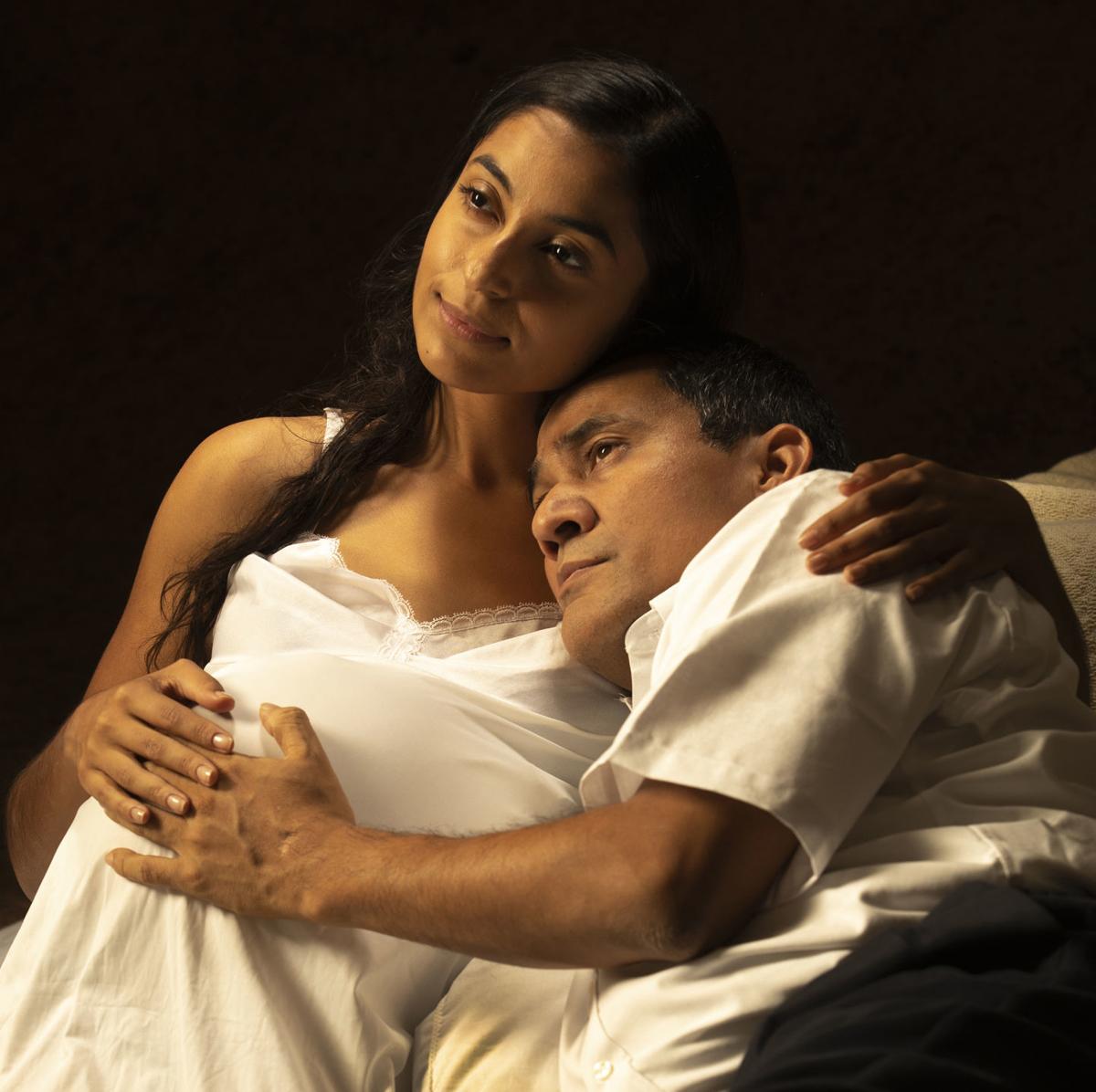 Love, especially that limerence stage, can be so ... magical.
Time seems to stand still. There are jittery nerves, great gusts of intimate conversations, a hunger for questions to be answered.
And so it is in José Rivera's "Cloud Tectonics," now on stage at Scoundrel & Scamp Theatre.
Love isn't necessarily on Aníbal's mind when he picks up Celestina, a pregnant woman hitchhiking in the midst of an apocalyptic storm that is thundering down on Los Angeles. He just doesn't think it's safe for her to be exposed to the elements that are hell-bent on destroying the city.
She's a strange one. She has no concept of time. She doesn't know how long she has been pregnant, but she guesses about two years. She figures she's in her 50s, though surely she can't be beyond her 20s. And she has no home — she's been wandering the country for two years looking for the man who got her pregnant.
"He's a very handsome and dishonest man," she explains.
And when Aníbal takes her to his apartment, something strange happens: all clocks stop.
He is slowly falling under her spell. The same happens to his long-absent brother, Nelson, a soldier who shows up shortly before he is to report for duty. Full of pent-up rage and overblown machismo, Nelson — whose watch has stopped as well — softens when he meets Celestina. He begs her to wait for him so they can marry when he gets out of the service.
Rivera's often-funny script mixes harsh reality with magic realism to tell the story of love and memory. Which makes sense: Love and memory are often a mixture of the two. And his language can be astoundingly poetic.
Here's the other thing about magic realism: It can be confusing. You just gotta go with it. Besides, some clarity is in the title — cloud tectonics is the shifting and reshaping of clouds. And it comes toward the end of the play when Celestina wonders what life would have been like to love Aníbal in every stage of his life, from birth to death. "Wouldn't it be sweet to have that kind of love, Aníbal?" she says. "The love of a lifetime?"
Bryan Rafael Falcón directed the piece with an obvious affection for the play and a determination to give it clarity.
He had a cast that helped. Azúl Galindo was both awkward and ethereal as Celestina. Marc Pinate is more frequently on the directorial side, but his open-hearted and well-rooted performance makes us wish we saw him on stage just as often.
Cole Potwardowski was a bit overwrought as Nelson, but was effective nonetheless.
Falcón's set design included the interior of a home with a projection of a bed floating above (an image the playwright called for in the script). It was almost Magritte-ish and punctuated the surreal aspect of the play. Adding to the mood and the story were Raulie A. Martinez's light design and Christopher "Tiffer" Hill's sound effects.
"Cloud Tectonics" is not a perfect play — it's a touch thin and Rivera sometimes tries too hard with his writing. But it's a play that will leave you with some questions. It's also a play that won't leave you.
Kathleen Allen has covered the arts for the Star for more than 20 years.