Maybe these musicians were inspired by Tucson's vibe, or maybe they needed a word that rhymed with "boots on." Either way, these 15 songs that have the word "Tucson" in them are good enough to make a cactus sway.
Closer — The Chainsmokers (feat. Hasley)
Lyric: "Stay, and play that Blink-182 song/That we beat to death in Tucson, OK"
Release date: July 29, 2016
Fun fact: The Chainsmokers performed to a sold out crowd at the Rialto Theatre last time they were in town in 2015. This song was inspired by the Blink-182's 2004 hit "Miss You." We may have just solved the mystery about what Blink song was overplayed on their tour bus in Tucson.   
Must Be Losing My Mind — Brett Dennen
Lyric: "Burned out in the lawn in Tucson, Arizona/With the scavengers on 4th Avenue"
Fun Fact: Brett Dennen is an American pop/folk singer who loads up a lot of modern day Tucson references in this song.
Wouldn't Wanna Be Ya — Toby Keith
Lyric: "I made it out to Tucson where I turned my truck around/I started barreling down that highway boy, back to that Texas town"
Fun Fact: The singer had some Tucson roots momentarily when a "Toby Keith's I Love This Bar and Grill" Opened in the Tucson Mall on New Year's Eve, 2012. He then turned "back to that Texas town" when the restaurant closed about 14 months later.  
Road to Gila Bend — Los Lobos
Lyric: "Got to Tucson in the dark/Keeping an eye out for the law/Five hundred miles or more from a broken heart"
Fun fact: Can't get enough Los Lobos? The band runs a "Classic Live Lobos" section on their website where you can watch past performances.
Hows about tellin' a story? — Devendra Banheart
Lyric: "Mansonite and the Wolfman, Katmandu, and Honest Abe/Something happens up in Tucson and then it happens again in Maine"
Fun Fact: Singer Devendra Banheart was raised for most of his childhood in Venezuela before moving to Los Angeles with his mother and stepfather at the age of 14. 
Idiot Summer — Gin Blossoms
Lyric: "There's no telling I was so confused/I try but I can't help you choose/Tucson is so far away"
Under African Skies — Paul Simon
Lyric: "I said take this child, Lord, From Tucson Arizona/Give her the wings to fly through harmony/And she won't bother you no more"
Release date: August 1987
Fun Fact: Part of the song was written for Linda Ronstadt — about her life growing up in Tucson. She also contributes to the backing vocals.
Thumbelina — The Pretenders
Lyric: "Hush little baby, don't you cry/When we get to Tucson you'll see why/ We left the snowstorms and the thunder and rain/For the desert sun, we're gonna be born again"
Not so fun fact: The song is featured in The Pretenders' third studio album, "Learning to Crawl," which was produced after two of the band's four original members died from drug overdoses.
Leila — ZZ Top
Lyric: "I begged her not to go away/She left my ex best friend out in old Tucson/Told me she was leavin' and would be rollin on."
Fun Fact: The band has appeared on a few television shows over their 40+ years in the business, including hosting an episode of WWE Raw.
It Ain't All Bad — Charley Pride
Lyric: "I picked last night in Tucson I sang 'em a country song/Missed my plane this morning Lord cause we parted all night long"
Fun Fact: Pride has been part-owner of the Texas Rangers since 2010. At 82, he also takes time off to work out with the team at their spring training facility in Surprise. 
Willin' — Linda Ronstadt
Lyric: "And I've been from Tucson to Tucumcari, Tehachapi to Tonopah/Driven every kind of rig that's ever been made"
Fun fact: The song was originally written and performed by the American rock band, Little Feet. Ronstadt is a native to Tucson, so it's seems pretty fitting she has her own rendition of the song.
Check out this Ronstadt throwback from the Arizona Daily Star's archive.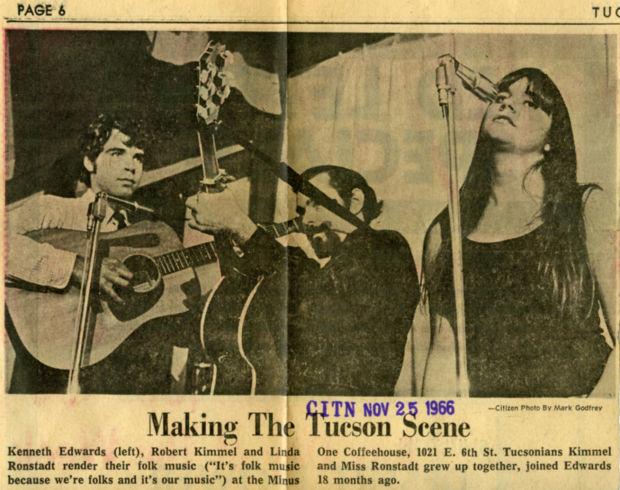 Here's what her band, The Stone Poneys, has to say about their sound in 1966: "It's folk music because we're folks and it's our music."
Seashores of Old Mexico — Merle Haggard
Lyric: "We left out of Tucson with no destination in mind/We were runnin' from trouble and the jail-term the Judge had in mind"
Get Back — The Beatles
Lyric: "Jojo left his home in Tucson, Arizona For some California grass"
Release date: April 11, 1969
Fun fact: When released as a single as part of the Beatles' final studio album "Let it Be," the song hit number one in the U.S. and international charts. 
Bonus fact: Paul McCartney's first wife, Linda, studied at the University of Arizona in Fine Arts. They married in 1969, the same year "Get Back" was recorded. The couple bought ranch property in Tucson in 1979 and lived here for several years until Linda's death in 1998.
The Ballad of Boothill — Johnny Cash
Lyric: "Out in Arizona just south of Tucson/Where tumbleweeds tumble in search of a home/There's a town they call Tombstone where the brave never cry"
Fun fact: This song is more about Tombstone than it is about Tucson. But hey, it's Johnny Cash singing about the famous gunfight at the O.K. Corral, so we'll deal.
Take these Tucson songs with you!