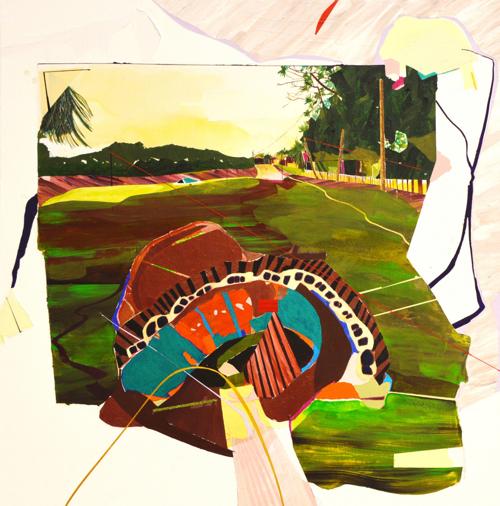 We are asking Tucson-area museums and galleries to give us a closer look at a piece of art on exhibit this summer. This week, Mike Dominguez, with Davis Dominguez Gallery, zeros in on emerging artist Jenny Day, whose work at the gallery is not part of the "Small Things Considered" exhibit (see story, Page 13).
Artist: Jenny Day, a recent master's of fine arts grad from the UA School of Art, is 30 years old and at the beginning of her career. She exhibited in several museums until she came to the attention of Jonathan Ferrara Gallery in New Orleans, which has signed her up for art fair promotion.
Artwork: "Deeper Still," 2019, 30"x 30" acrylic on canvas.
Movement: Late Modern — Social/Environmental.
Style: Broken landscape a la collage.
What makes this piece significant: It is very much a 21st century work, with the disjointed surface treatment prevalent among younger artists. Yet upon study, the seemingly floating segments fuse into a satisfying and balanced narrative. People say, "You can't walk past a Jenny Day painting unless you shield your eyes." The artist has delivered a statement on the past, present and uncertain future of the environment and has given the viewer the challenge to either casually admire the picture or commit to taking action on behalf of the planet in some way. This is a cliché: It is the responsibility of the artist to call the public's attention to the significant issues of the times.
What demands a closer look: By both relaxing and focusing the gaze, the viewer will sense the depth of field in the picture plane (a metaphor for far/near, past/present). Secondly, the viewer will discover the skillful balance and rhythm of the elements and color. This is an untypical young artist with a surprising degree of drawing and painting chops.
Anything else we should know: The broken landscape is not entirely new. The late Bruce McGrew (1937-1999) held a landscape theory, The Unfolding Landscape, which was basically a Cubist notion: What if you folded the landscape up as though you would a road map? What would it look like if you started to open it up? I showed a Bruce McGrew painting to Jenny a couple of years ago, and although he taught for 30 years at the UA art school, she had never heard of him. But there was an immediate connection between the 20th century painting and this new-generation artist.
Where to see it: In the main gallery of Davis Dominguez Gallery, 154 E. Sixth St. Admission is free. The gallery is open 11 a.m.-5 p.m. Tuesdays-Fridays, and 11 a.m.-4 p.m. Saturdays until June 29. It is closed for July and August. For more information, call 629-9759 or go to davisdominguez.com.
Contact reporter Kathleen Allen at kallen@tucson.com or 573-4128. On Twitter: @kallenStar