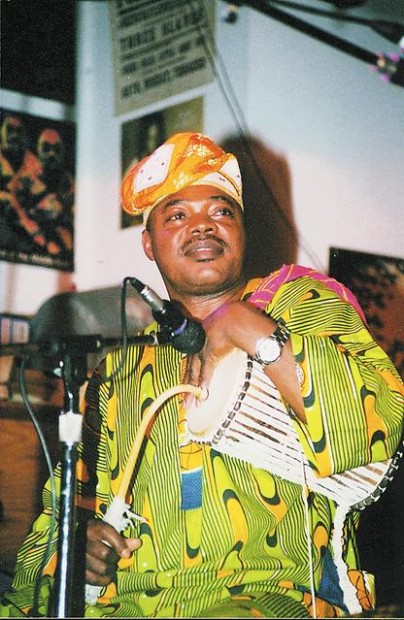 A local celebration of African fashion, rhythms and culture will include some of Tucson's most talented teen jazz musicians.
The Arizona Jazz Academy's Ellington Band has been invited to back up Nigerian drummer Rasaki Aladokun at the fourth annual Diaspora Showcase Africa on Sept. 29.
The group of mostly high school students will perform pieces created by prominent African composers including Bheki Mseleku's "Imbali," Moses Khumalo's "Celebrate Mzansi" and Allou April's "Bringing Joy."
Event creator Kwevi Quaye chose the jazz school to participate after several chance encounters around town.
"I went to an art gallery opening and saw a quartet performing," Quaye said. "They were really good. I found out they were from the Jazz Academy. A week later I heard a completely different quartet in a restaurant who were also really good. They turned out to be from the Jazz Academy, too.
"I thought, 'These guys play like pros. If we have the talent here in Tucson, why not showcase it?' "
Quaye said the Ellington Band is perfectly suited to accompany Aladokun, a talking drum master whom Quaye compares to Miles Davis in terms of improvisational talent and mastery of his instrument.
Aladokun, 51, spent 20 years performing with popular African Jùjú artist King Sunny Adé and has been playing the talking drum since he was a child.
The percussionist continues to perform in several bands around his home in Oakland, Calif.
"I am excited to come play with this band," the drummer said in a phone interview this week. "It is always exciting to play different styles of music with different groups of people."
In addition to the pieces with the Jazz Academy, Aladokun will perform a number of traditional African works and an adaptation of Vivaldi's "The Four Seasons."
"I saw Rasaki perform at a private event in Phoenix last year," Quaye said. "The man stood on his feet for six hours, just nonstop playing. You don't see that at any concert in America. They take a break after 45 minutes."
Jazz Academy director Doug Tidaback said his students were not accustomed to the music presented to them for this event, but they will be more than ready to perform when the time comes.
The academy, he said, strives to introduce new experiences to its big bands and combos.
When the young performers aren't touring jazz festivals throughout the United States and Europe, the school brings in four or five professional artists a year to teach and practice with its musicians, Tidaback said.
"Any interesting, quality experiences we can get these kids to be a part of is going to benefit them and give them a broader perspective," he added. "With Rasaki, students can hear the music that really helped give birth and shape jazz here today."
Quaye said this collaboration fits in with the theme of the event — bringing cultures together to see all that Africa has to offer.
"This event is all about showing Africa in a different way," Quaye said, "beyond what most people are familiar with.
"A lot of people see Africa in the context of what they read or see on television. Africa is way beyond that. There is so much about it that most people do not know. The continent is not only about poverty, wars and strife. There is culture, tradition and ancient history."
Fourth annual Diaspora Showcase Africa
• Where: Tucson Chinese Cultural Center, 1288 W. River Road.
• When: 6 p.m.-midnight Sept. 29. The event will feature live music, African cuisine, a silent auction and a fashion show.
• Cost: $45, through Suwatana Imports and Casa de los Milagros; $50 at the door. 615-0477.