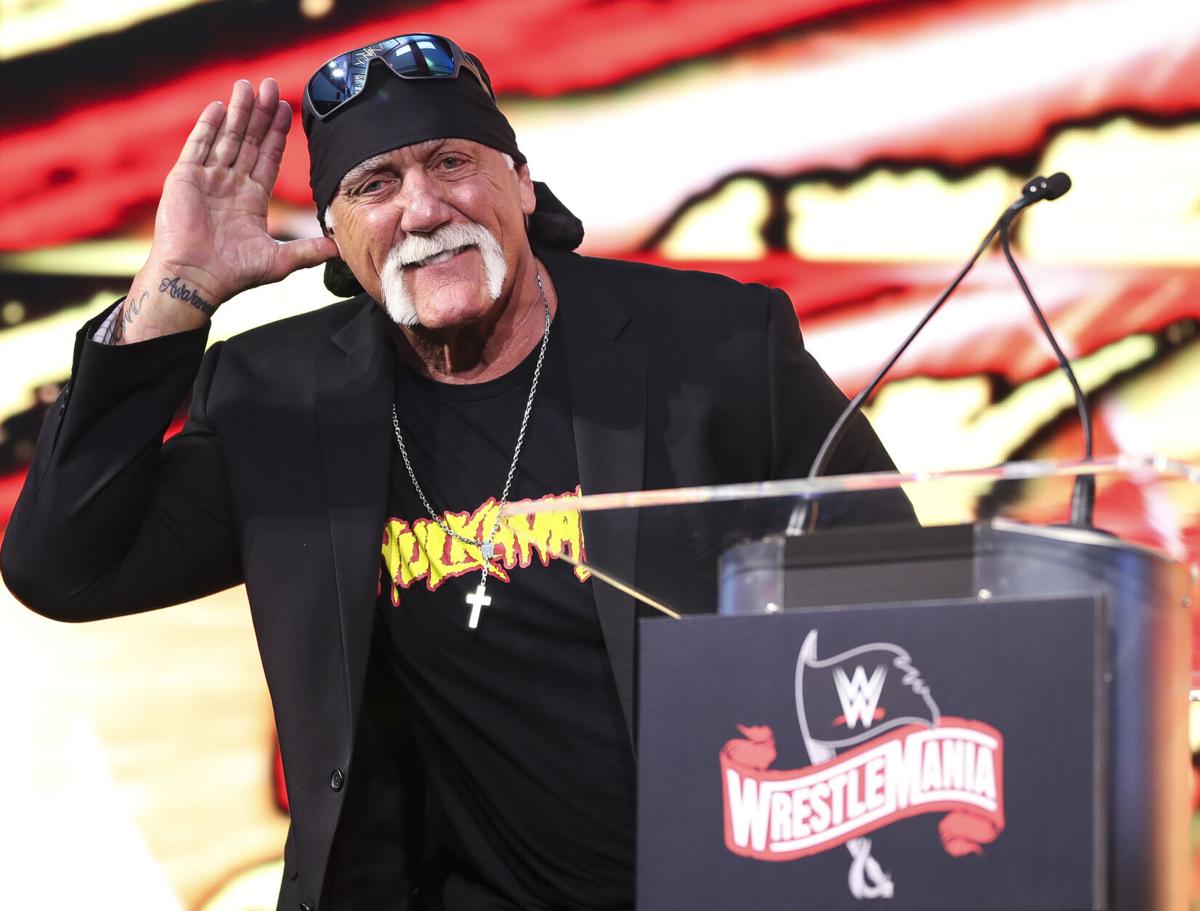 TAMPA, Fla. — Hulk Hogan has long been one of Tampa Bay's most famous residents even since he left the wrestling ring. His star cache as one of the most recognizable figures in pop culture has taken him around the world, but he has always called the bay area home, from his days growing up in South Tampa to being a longtime Clearwater resident.
Hogan, who officially was inducted into the WWE Hall of Fame this week as a member of the nWo, will host WrestleMania 37 Saturday and Sunday with fellow Tampa Bay resident Titus O'Neil. Hogan — or Terry Bollea, as some locally still know him — talked to the Tampa Bay Times about being a part of WrestleMania in his hometown.
This Q&A has been edited for length and clarity.
— What do you think this will be like for you, having WrestleMania in Tampa?
I have lived here 67 years, and a lot of these new people that came to Tampa moved here 25 or 30, 35 years ago, they say, 'Oh, we go down to South Tampa.' Well, if you're not south of Gandy or south of Interbay, you're not in South Tampa, bro. If you're not a SOG, South of Gandy, you really don't even know what the heck you're talking about. A lot of people really have never been to South Tampa. They've never been to Picnic Island. They've never been down to the end of the West Shore (Boulevard).
This is special to me because I've lived here my whole life. I've traveled the whole world, lived in California, lived in Japan. I've lived in Atlanta when I was working for Ted Turner with WCW. I lived in Stamford, Conn., for 16 years when I was working with the WWF and WWE. I've lived in Los Angeles because my first wife was there, but this place, the quality of life, the people that live here, this is the greatest kept secret. Well, it used to be until Tom Brady and Gronk opened their mouths. Just kidding, I love those guys.
It's such an honor to be part of the thing and to host it in my own hometown, standing side by side with (co-host) Titus (O'Neil) is just huge, brother.
— Tampa has this rich wrestling history. And this is where your career began while playing in a band. How did those lives intersect?
I'd always show up to wrestling shows over there on Howard Avenue at the (Fort) Homer Hesterly Armory. I'd always show up there for the matches and then the next day sometimes I'd skip school and go down to the Sportatorium because all the wrestlers were in town Tuesday night and they'd film TV on Wednesday. I was standing there with my sleeves rolled up thinking I was big.
The more I saw the wrestlers coming in the clubs, I thought they're not as scary as I thought they were. They were like, 'Hey, why don't you come down to the Sportatorium for a workout.' I had been running my mouth, telling everybody I'm going to be a wrestler, and in a small town, the word gets out. And so when I went down there, they were laying low for me. They exercised me till I was ready to faint. And then they got me in the ring and Hiro Matsuda sat between my legs. He put his elbow in the middle of my shin and he grabbed my toe and he broke my leg. He just snapped my leg in half. So that was my introduction to wrestling.
They said don't ever come back again. When my dad came home from work, I got my (butt) beat worse than Matsuda beat me, and he said, 'Don't you ever let anybody hurt you again.' So I went back four or five months later with a whole new attitude. The rest is history.
— You've played such a big part in WrestleMania from the beginning. What's it like seeing how it's evolved?
When we pre-taped the 2020 Hall of Fame ceremony, while we were giving our speech Kevin Nash goes, 'You know, the reason most of us are in the wrestling business today is because of this guy standing next to me,' and he's talking about me.
Kevin Nash was at WrestleMania III and he said, 'When you were in the middle of 94,000 people, I was six rows back standing up hoping you'd see me as you're slamming Andre the Giant.' So when Kevin said that to me it kind of made me realize what a statement that was.
We had Hulkamania going wild and Hogan he was running wild and Vince (McMahon) and I were sitting up in the offices in Stamford, Conn., in 1983 planning WrestleMania and we didn't know what to call it. We both looked at each other, and he said, 'Well, Hulkamania is running wild. How about WrestleMania?' And I said, 'That's great, brother. I just stole it from Beatlemania.'
— Why is Hulk Hogan and Hulkamania still a big deal after all these years?
Timing is very important. I believe in scientific laws, and there's a law called the law of attraction. If you put out all these positive vibes, the universe doesn't judge who's good or bad. Just that message you're sending out there — all the training, prayers and vitamins — what do you think I'm gonna attract? What a beautiful gimmick to tell the kids and it actually made me a better person as the years went along.
And I just loved the business, man, and I just think people saw that in me and then as my career went along. I started making personal mistakes. And the fact that I stepped up and fessed up, you know whenever I'd make a mistake and I said, 'I did it. I'm accountable. I'm sorry. I made a huge mistake. I'm going to correct it, I'm going to learn from it, but I'm not going to stop and I'm going to move forward.'
I think so many people around the Tampa Bay area know me as Terry Bollea and they know I'm for real and I've got all these scars on me, but I think they can relate to me and I love these people to death that live in this town. It's really, really cool how this thing's still rolling after all these years. If I had a good set of legs on and I hadn't had 10 back surgeries, I could go out and tear that place down, I could tear Raymond James down right now."
— Maybe they'd like to see that.
Yeah, I'm sure that's exactly what they'd like to see, a 67-year-old bald, heavy guy winning the belt again.
Gronk wins a title and other highlights from WWE's WrestleMania 36
Gronk wins a title and other highlights from WWE's WrestleMania 36
R-Truth finds 24/7 Title trouble when he runs into Rob Gronkowski & Mojo Rawley
Gronk soars to 24/7 Title win
Becky Lynch retains her title against Shayna Baszler
Drew McIntyre defeats Brock Lesnar for WWE Title
The Undertaker defeats AJ Stylesin a Boneyard Match
Braun Strowman defeats Goldberg to win the Universal Champion
Bayley retains the SmackDown Women's Champion against Sasha Banks, Lacey Evans, Tamina and Naomi
John Morrison wins the SmackDown Tag Team Championship over Kofi Kingston and Jimmy Uso
Charlotte Flair defeats Rhea Ripley to become NXT Women's Champion
Bray Wyatt defeats John Cena in a Firefly Fun House Match
Sami Zayn beats Daniel Bryan to retain the Intercontinental Championship
Alexa Bliss & Nikki Cross defeat The Kabuki Warriors for the Women's Tag Team Championship
Edge defeats Randy Orton in a Last Man Standing Match
The Street Profits beat Angel Garza & Austin Theory to retain the Raw Tag Team Championship
Kevin Owens defeats Seth Rollins
Otis defeats Dolph Ziggler
Aleister Black beats Bobby Lashley
Elias defeats King Corbin