Ten cool things to do in Tucson this weekend (Sept. 8-Sept. 10)
You could get out and have an exciting weekend.
Friday, September 8-Sunday, September 10 — Get the blues in Bisbee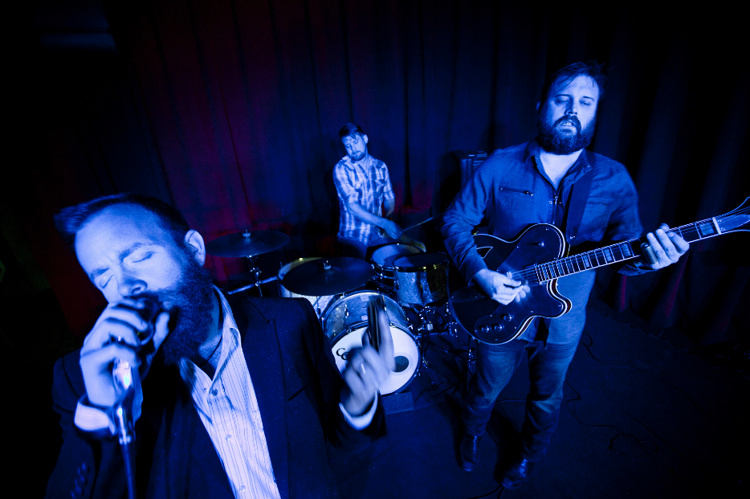 The 13th annual Bisbee Blues Festival will bring heaps of blues music to Old Bisbee through the weekend, complete with a Friday night concert at the Bisbee Royale and the main event at City Park, 62 Brewery Ave., on Saturday night. 
Some of the big acts featured at the main concert include Moreland and Arbuckle, guitarist Toronzo Cannon, Train Wreck, the Mike Eldred Trio and Cat Daddy and the 12 Barz Blues Band. 
The music begins at 1 p.m. on Saturday. Tickets are on sale at all Zia Records locations in Tucson and Phoenix. More information can be found here. 
Friday, September 8 — Enjoy new musical works from a true Tucson talent
Cathalena E. Burch talks about musician Chris Black's latest project:
Tucson singer-songwriter-classical composer Chris Black will perform nearly every track of his new CD "Lullabies & Nightmares: Chamber Music, Vol. 1" on Friday, Sept. 8.
And he and his band of classically trained musicians will do it in a place that's used to loud, crunchy guitars and deafening percussion.
Black and company will unplug and unwind when they hit the stage at 191 Toole downtown, a small space that normally hosts rock acts.
Accompanied by a cellist, violinist, flutist, oboist and musicians playing English horn bassoon and contrabassoon, Black and his friends will play in duos and trios, exploring 15 works he composed over the years with his DIY chamber music project ChamberLab.
Black will be on double-bass and Gabriel Sullivan is set to narrate.
"And every once in a while a train is going to go by and we're going to have to stop and then start playing again," Black, 47, joked last week.
"Lullabies & Nightmares" includes three bassoon trios that date back to 2010 when he launched ChamberLab and the only musicians who showed up were a trio of bassoonists. So Black wrote Bassoon Trios No. 1, 2 and 3.
Interestingly enough, Black has no formal training in composition. He played double-bass in his high school orchestra and band then majored in theater at the University of Texas at Austin.
"I'm a goofball and I wanted to do comedy roles where I get to walk into walls and fall down," said Black, who moved from Austin to Tucson in 2007. "But because I'm tall, I was cast for dramatic roles and at the time it was not good."
After a couple of years in college, Black dropped out and joined a band that had a record deal in France and regularly toured Europe.
Within a few years, he had joined another band, this one with musicians who could read music, and write it. They also wrote classical music and then played those works in small chamber-music settings.
Black never took a composition class nor music theory. He writes by ear.
"I would sit down with a notebook and pencil and write out the parts," said Black. "A lot of the stuff I had done and I look back on now, I can't understand what I was trying to do. It's pretty obvious that I was making it up as I went along."
Black's show at 191 Toole was initially booked into downtown's Screening Room, but was relocated when the movie/theater venue closed two weeks ago.
What: Chris Black CD release concert.
When: 8 p.m. Friday, Sept. 8.
Where: 191 Toole, 191 E. Toole Ave.
Tickets: $10 through ticketfly.com or at the door.
Et cetera: This is a 21-and-older show.
Friday, September 8 — Watch 'Harry and the Hendersons' at a bar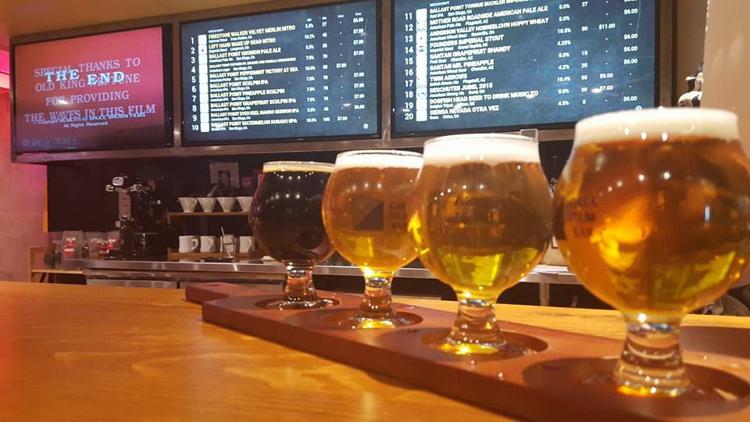 'Harry and the Hendersons,' the film about a delightful bigfoot character and his (literal) run-in with a middle-class family, will screen at Casa Film Bar, 2905 E. Speedway, this Friday night. 
You Sly Dog will provide the wieners. 
The movie begins at 5 p.m. 
Saturday, September 9 — Go to Glow once, twice, three, four times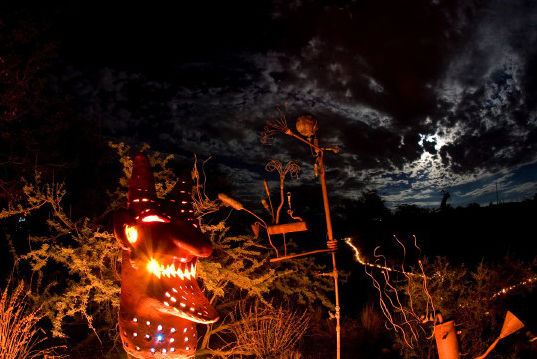 After taking last year off, Triangle L Ranch in Oracle is bringing back its Glow arts fest, bigger than ever. 
The event, featuring a world of illuminated art by local artists, showcased under the stars, will be held on four separate nights in September and October (this Saturday, Sept. 30, Oct. 6 and Oct. 7) 
Each installation will be set up along the pathways of the five-acre ranch, 2805 N. Triangle L Ranch Road. 
The event runs from 7 p.m. to 11 p.m. this Saturday. 
More information can be found here. 
Saturday, September 9 — Explore the paintings of the late James G. Davis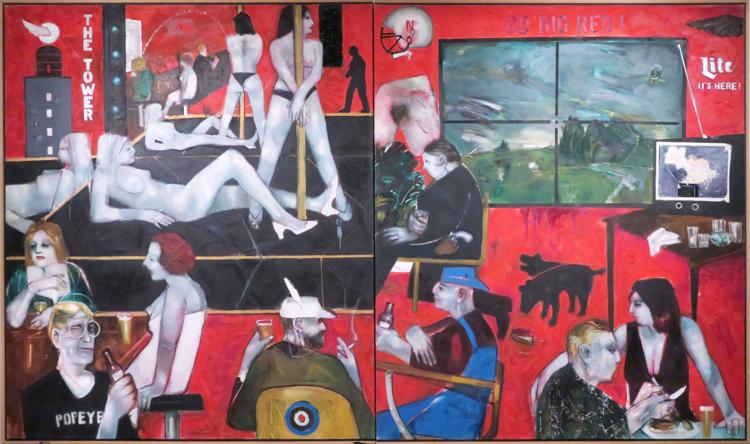 Artist James G. Davis was larger than life.
So were many of his paintings.
Davis, who passed away last September, created large-scale oils that drew the viewer in with the stories they told, the vivid colors used, and the compelling strokes.
Etherton Gallery opens a Davis retrospective, "Down at the Tower Bar," with a 7-10 p.m. reception Saturday, Sept. 9.
Davis was a University of Arizona art professor and one of the early residents of Rancho Linda Vista, an artists' colony in Oracle. His works are in museums and private collections around the world.
His art, such as "Tower Bar," the piece referenced in the exhibit's title, are packed with drama. "Tower Bar," an impressive 141 inches by 72 inches, demands that you sit and study it, walk away, come back and study it again. You know these people, even if you don't.
An Etherton release about the show says the painting "comprises a constellation of narratives in a single painting that tells the stories of the bar's workers and patrons. … The painting is a social critique, and demonstrates the artist's compassion for the characters he encountered as well as his ability to universalize his experiences for the viewer."
The show looks at the paintings and prints that Davis made over four decades.
In galleries adjacent to Etherton's main one will be works by Michael Chittock and Davis' son, Turner G. Davis.
The exhibit continues through Nov. 11.
Etherton is at 135 S. Sixth Ave. More information at 624-7370 or ethertongallery.com.
- Kathleen Allen
Saturday, September 9 — Hear good music, help Texas
Tucson restaurateur/musician Austin Counts is bringing a few of his musical buds to the Flycatcher stage on Saturday, Sept. 9, for a Hurricane Harvey relief benefit concert.
For Counts, who spends his days making sandwiches at his Fourth Avenue Delicatessen in the heart of Tucson's hip-and-happening North Fourth Avenue, Houston is more than a dot on the map of the Lone Star State. It's one of the places he called home during his tumultuous move-around childhood. He said he has an aunt who still lives in Houston and is sitting in wait for Harvey's ultimate wrath, when the rivers overflow and the water in the streets comes creeping through her walls.
"Hurricanes happen on that third coast area pretty regularly, but my aunt said this is the worst she's ever seen and she's never seen the city so crippled," said Counts, who runs his own blues/Americana label Lonesome Desert Records and is a regular to Tucson stages including Flycatcher.
This is not the first time the Americana-blues artist, who counts Texas among the handful of mostly Southern states where he spent half of his childhood, has pitched in to raise money for hurricane relief. A dozen years ago, he raised money to help victims of Katrina in New Orleans, next door to Houston. The proceeds then, and now, go to the American Red Cross, he said.
"I feel like the spirit of Americans and definitely the spirit of Tucsonans is to give when people are in need," Counts said, adding that much his music draws influences from the five years he lived there in the early 1980s. "For us it's a chance to try to get back to that community."
Saturday's show — dubbed "Don't Mess With Texas: Benefit for Hurricane Harvey Victims" — begins at 7:30 p.m. at Flycatcher, 340 E. Sixth St. In addition to Counts and his go-to duo partner bluesman Tom Walbank, the lineup features The Muffulettas, Miss Olivia & the Interlopers, the music of Nobody aka Willis Earl Beal, Chris Hall and Christopher T. Stevens. Admission is a suggested $5 donation at the door.
Saturday, September 9 — Show team allegiance with an NFL burger
For NFL fans who dine at Good Day Café on East Speedway, biting into a burger that bears the name of their favorite team is like tasting victory.
The diner-style, breakfast-and-lunch spot has been serving burgers representing each team in the National Football League, from the San Francisco 49ers to the New England Patriots, for the last four seasons.
Toppings are mostly chosen by the regional cuisine from which the teams hail, says Good Day owner Susan Duran.
The Green Bay Packers burger, for example, is layered in American, Swiss and Cheddar, to represent the state's cheese-producing background.
Closer to home, the Arizona Cardinals burger has chorizo and egg among its ingredients.
All burgers remain on the menu until the playoffs, when they begin falling off in direct correlation to whether or not the team they represent moves forward in the postseason.
"During the playoffs, we sell more burgers than we do regular menu items," Duran said.
The team that wins it all on Super Bowl Sunday remains in the restaurant's rotation for the rest of the year.
"It has been wonderful for us," Duran said. "People have been really into it. They have been posting what they've eaten on Facebook in support of their team. It's been fun."
Duran said the idea for the burgers came shortly after the restaurant opened in an unassuming strip mall on East Speedway four years ago.
"Customers were saying we needed to do something new and inventive," Duran said. "Employees wanted to do something fun that other restaurants weren't doing."
The first concept devised was to create different omelettes for different NASCAR drivers, but "we didn't have enough ingredients for the omelettes," Duran said. "We were putting in things that were funky and weird, that weren't selling."
NFL hamburgers allowed for more freedom.
Duran said most dedicated NFL burger fans will try the burger that represents their team first, then choose other burgers with toppings more to their liking.
Shane Davis, a regular visitor to Good Day Café, has tried them all.
"I thought it was a pretty cool concept," said Davis, who is partial to the Detroit Lions burger, served complete with a triple order of bacon and American cheese.
"They actually put some thought into each burger and the foods specific to that region," Davis said.
Duran is a Dallas Cowboys fan, but all burgers are made with equal attention and love, she said.
There is no team bias here.
"We tried to be forthright and do the best we could with all of them," she said.
Good Day Café is located at 5683 E. Speedway and is open from 6:30 a.m. to 2 p.m. daily. Follow the restaurant at facebook.com/GoodDayCafeAZ/ or call 722-9621 for more information.
Saturday, September 9 — Stomp some grapes in Sonoita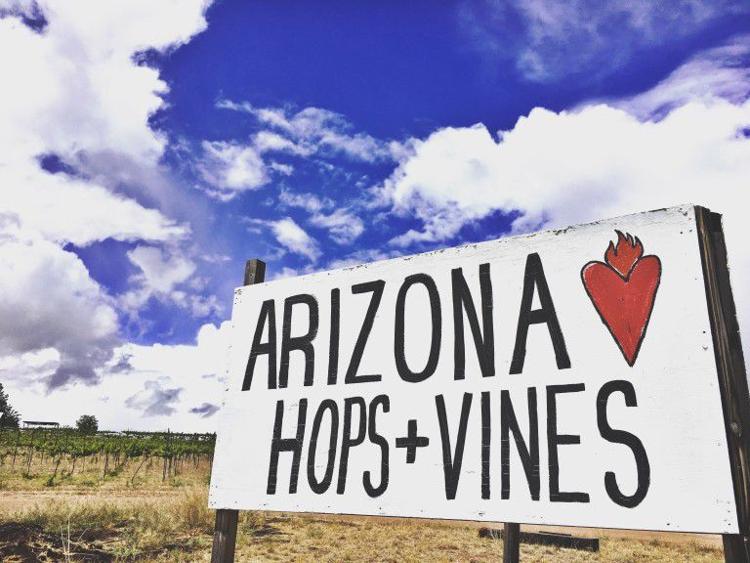 Get your feet a little grapey at the Sixth annual Great Crush Festival in Sonoita this Saturday. 
There will be grape stomping and live music, wine and food. There will even be homemade treats for the kids and designated drivers. 
The day comes with a $20 admission fee ($10 for DDs). Kids are free. 
Saturday, September 9 — Listen to some sweet, symphonic sounds for free
The Arizona Symphonic Winds return to Morris K. Udall Regional Park, 7200 E. Tanque Verde Road, for its annual Music at Udall Park concert series, this Saturday
Under the direction of conductor László Veres, the winds will work its way through a program that includes the following (according to the Facebook event page):
"EMBLEM OF UNITY" March J.J. Richards-arr.J.Swearinger
"TIR NA NOG" a Celtic Legend C. Strommen
"STAR WARS MEDLEY J. Williams-arr. H. Burden
"CHANSON TRISTE" Tchaikovsky-arr. A. Reed
"COLONIAL SCENES" M. Harris—M. Wolfram
"POP AND ROCK LEGENDS: PAUL McCARTNEY" arr. M. Sweeney
"THE TUCSON MARCH" March M. Wolfram
Intermission
"BROADWAY IMPRESSIONS" A. Waignen
"ROLLING THUNDER" March H. Fillmore—F. Fennell
"ALLIGATOR ALLEY" M. Daugherty
"STEPHEN FOSTER REVISITED" Medley arr. J. Ployhar
"CHILDREN'S MARCH" E.F. Goldman
"BEACH BOYS SING-ALONG" arr. M. Story
"AMERICA THE BEAUTIFUL" S.Ward-arr. C.Dragon
The concert begins at 7 p.m. and is free. 
Sunday, September 10 — Shop vintage downtown at the Mercado Flea
Downtown's answer to Tucson's insatiable hunger for antique and vintage fare (like the clocks above) will be The Mercado Flea, which will take place every second Sunday of the month in the lot adjacent to Mercado San Agustin, west of Interstate 10.
Kira Dixon-Weinstein, executive director of Mercado San Agustín, said the idea for an antique market at the Mercado has been a long time coming.
Dixon-Weinstein moved here from New York City and was a big fan of the regular antique events held in her former hometown, such as the Brooklyn Flea and the Chelsea Flea markets.
"We are trying to create a market district here," she said. "Our whole goal is to be a small-business incubator. These markets help facilitate that."
Dixon-Weinstein said interest from dealers in setting up near the Mercado has been greater than expected. They had planned for maybe 30 dealers for the first event but have since expanded that number to 40 to suit demand.
They hope to eventually bring the number up to 75 sellers. Future Mercado Fleas will be held in the festival area of the mercado expansion, dubbed the MSA annex, currently under construction.
"If you come, you can go have brunch, look at antiques, walk around," she said. "You are on the streetcar line. The big bike loop that goes around the city is nearby. People are out and about."
The Mercado Flea runs from 8 a.m. to 2 p.m. at Mercado San Agustín, 100 S. Avenida del Convento.