Tucson glass artist Tom Philabaum ready to step away from his furnaces
Tom Philabaum is about to do something he has rarely done in 50 years: turn off his blazing furnaces.
They are essential to making the glass art Philabaum has spent five decades creating. But come the end of April, visitors to the downtown gallery will no longer be able to peer through the window into his studio and find him shaping glass as he pulls it from the flames. He finishes up in the hot shop this month, preparing for an exhibit of his art that opens at the gallery Feb. 3.
The internationally known Philabaum, 70, was diagnosed with Parkinson's disease last year. The illness thrives on stress, and Philabaum can't escape it at work.
"The life cycle of a glass blower involves not just the working of the glass, but the maintaining of the furnace seven days a week," he says while sitting in an office above the gallery and hot shop. A few of his fused glass sculptures, tall, delicate and almost iridescent, are meticulously placed around the room. There is not a paper out of place, a picture askew. The room practically screams order.
"Twenty-four hours a day I'm aware that that thing is running and I'm in charge and it's always there. So I need to change that aspect of my life. I need to work less on stuff and work more on keeping my body together. This is a degenerative disease. I'm holding it at bay because I'm really good at working out. I do two to three hours a day. Running this business, there's no time for anything else."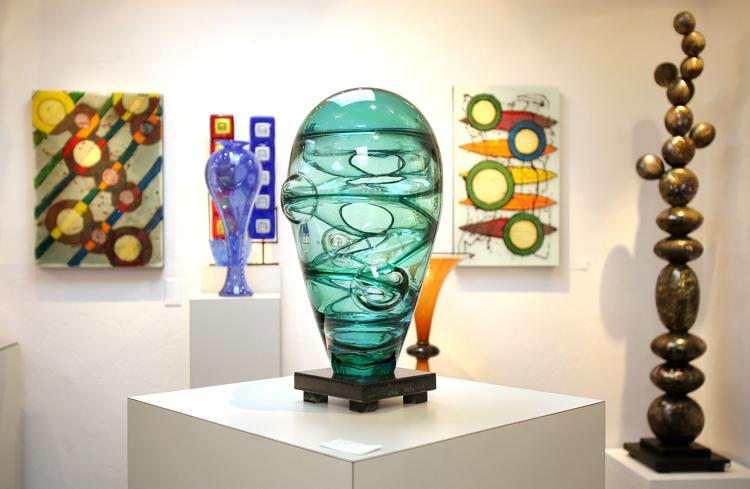 Slowing down is not Philabaum's style. Never has been.
In addition to creating his art, he teaches and mentors. He has been active in the Glass Art Society and hosted the group's international conferences here. And his work supporting the arts and other artists is relentless.
There are plenty of reasons why the Tucson Museum of Art is presenting him with the 2018 TMA Ambassador Circle Lifetime Achievement Award.
And he cheated death to do it all.
When Philabaum was a 17-year-old high school senior in Toledo, Ohio, a car accident put him in a coma with a hole in his head.
"I was in the tunnel of light," recalls Philabaum, after showing a faint scar on his forehead where a bone from his hip repaired that hole.
"They were saying 'come with us Tom, come with us. It's warm and comfortable.' I was just about to reach out and I went 'No!' I woke up in the ICU and people were dying all around me. I thought 'I don't belong here; I've got football practice.' I just made the choice to live."
After earning two master's degrees, he moved to Tucson without knowing a soul and opened a clay and glass co-op. Using a trumpet and a flashlight, he guided his paraplegic cousin on a swim across the English Channel. He co-founded the widely respected Sonoran Glass School. He has taught in Japan and Iceland, had solo shows in such places as Switzerland, Germany and Mexico, and his works can be found in museums and collections around the world.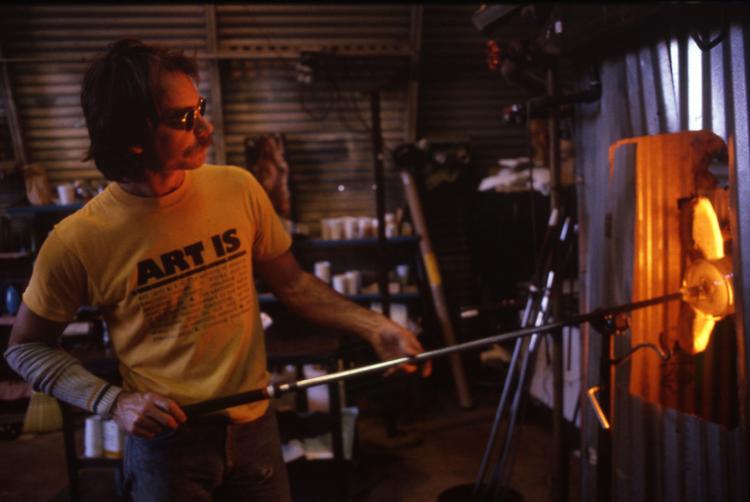 Philabaum cruised into Tucson in 1974 armed with a MFA in ceramics and another in glass. Though he had studied glass-blowing with the renowned artist and teacher Harvey Littleton at the University of Wisconsin in Madison, he was still pulled by ceramics.
He took over a large space — a former pottery studio — on North Sixth Avenue.
"It had all these big beautiful tables and pottery wheels," Philabaum recalls. "It was perfect for a ceramic studio."
But word had begun to spread about his glass studies with Littleton.
"Within a few weeks of being here, all these people showed up and said 'We hear you went to Madison and you know how to blow glass. If you want to build a studio, we'll all help.' So I immediately had five best friends."
That was in January; by the end of May 1974, the studio was up and other artists had leased space.
So he paid three months' worth of bills in advance and he and his cousin, Jack Robertson, who calls Philabaum Tomas, headed to San Diego to train for the channel crossing. Robertson's legs were paralyzed after a 1969 auto accident.
In August, they flew to England and hopped in the water. A crew making a documentary of the attempt climbed into the boat, as well.
"Tomas played trumpet on the bow of the boat, and that was helpful in terms of direction; it was really motivating," says Robertson from his La Jolla, California, home.
At one point, in the blackest part of the night, storms made the sea swell with an almost non-navigational fury.
"It was about the 14th or 15th hour and the boats were going up and down with 14-foot waves," says Philabaum. "Jack couldn't see — it was pitch black — and he kept banging into the boat. The film crew took all their batteries and we put them in a big flashlight. They hung me over the side by my ankles and I would go down into the water and come up and go blink, blink with the flashlight. For almost an hour and a half we did that so Jack could keep swimming."
Robertson had abandoned the effort after the tides turned just in sight of the lighthouse at Calais, France. But he remembers that trip and other adventures with Philabaum with admiration.
"When you do something with Tomas, it's usually with flair and a peak experience," says Robertson. "He's like an Errol Flynn kind of guy. A swashbuckler."
When Philabaum returned to Tucson and the studio, he dove in with determination. He began to sell his glass works, mostly tumblers and paperweights, to places such as the Tucson Museum of Art gift shop and at the Fourth Avenue Street Fair.
When his wife, Dabney, became pregnant with their first child, he knew it was time to get serious.
"The discussion began: What are you going to do? Are you going to be a teacher, drive a dump truck, be an artist?" Philabaum says.
By the time their eldest, Ian, was born in 1978, they had a list of things they wanted to accomplish. "Be highly respected in your field, make a living at it, travel the world with my art, stuff like that," he says about the list. "And it's all come true. So I'm very happy, very blessed."
Philabaum is the first to admit he didn't do it by himself.
Bob Carlson stepped in early on.
He was a builder, but that was abandoned when Philabaum introduced him to glass.
"I walked into the shop just at the moment Tom was gathering glass out of the furnace," says Carlson, now a well-respected and widely known glass artist in Seattle.
"I thought, 'You can do that?' I was determined at that moment to learn glass. I folded up my construction business and became Tom's apprentice."
Carlson's building expertise and business acumen helped Philabaum build a new studio and manage a growing business. And he had selling skills that Philabaum was in awe of. Eventually, they became business partners.
"The relationship blossomed from the great mystery of a chance meeting and we built this wonderful working relationship," says Carlson.
Carlson, who moved to Seattle in 1987 to pursue his own career in glass-blowing, credits Philabaum for his successes.
"Tom is a visionary in the truest sense of the word," he says in a phone interview. "He lives a life based on vision, not on necessity. And in supporting the visions of other people. He saw in me my vision of becoming a glass artist and how it fired me up, and he was willing to support that."
Philabaum's life is salted with artists who credit him with their successes.
Paul Anders-Stout was a 19-year-old college student in 1999, debating whether or not to go back to school. Among the men he lived with was Philabaum's son, Ian.
Anders-Stout wasn't interested in glass, but he wanted a job other than the dishwashing one he had. And he thought what Ian's dad did sounded kind of cool.
"As I was washing dishes one day, I thought if I ever meet him, I would ask for a job," says Anders-Stout.
He met him, he asked, he was hired.
"The first year I worked with Tom, he didn't pay me an incredible wage, but he let me blow glass for free on the weekends. It's a pretty expensive thing to get into. Being able to have every weekend to practice and experiment and learn was worth thousands of dollars."
It wasn't just his mentorship that Anders-Stout, now a glass artist who runs the hot shop at the Sonoran Glass School, points to.
"He often is very inspired and that rubs off on other people," he says. "He has a way that gets people fired up to work. … And he's very supportive of the younger generation; he helps them find their voices."
In 2003, Douglas Frates had left the Marine Corps and was searching for some purpose in his life when he signed up to take a class at the Sonoran Glass School, where Philabaum taught. Frates knew nothing about blowing glass.
"Tom saw something in me and picked me out of the bunch and brought me to the studio," Frates recalls.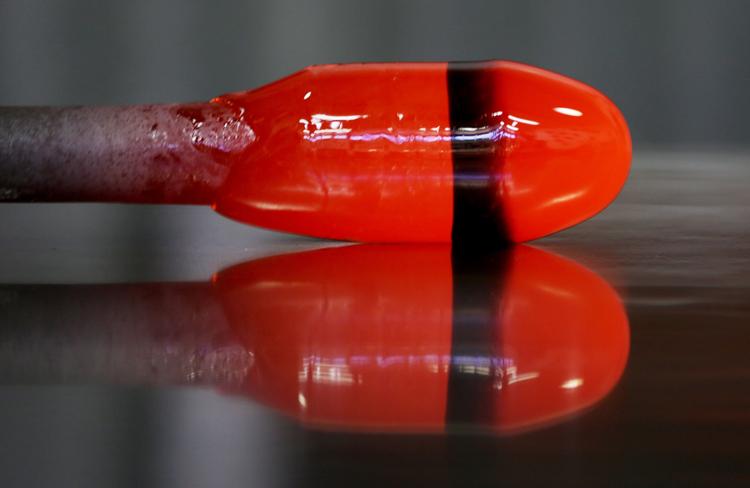 "I got to learn a massive amount from Tom." Today, Frates makes his nationally recognized glass art out of his Springfield, Ohio, studio.
"To be able to learn from such a talented old-school mentality has made my business flourish. He allowed me to find my path."
Debra May met Philabaum at a craft show in 1986 in Santa Monica.
"His booth was around the corner from mine. When I saw his work, I was blown away," she recalls. "I had just started to blow and I was hungry; I wanted to grow. … I looked at his work and said, 'I want to make work like that.' He said, 'I can teach you anything you want to know about glass."
She moved to Tucson. "I worked with him for nine years, and there was so much growth. He was a true mentor."
That teaching, the mentorship role, came naturally to Philabaum.
"Part of my credo as an artist is education," he says. "I've always been a teacher of sorts."
He will continue to offer his guidance but doesn't expect to teach anymore.
What he really wants to do is make more art in a different, less stressful medium.
"I think I'll get back into charcoal," he says. "And I took a class on encaustic painting, and I have a full encaustic painting workshop at my house. Pigmented wax is a lot like glass."
And he wants to indulge in life.
"I've missed a lot of art shows because I'm so busy taking care of my own little world," he says. "I want to be more engaged in the art community. I want to go to a matinee, whether it's a play or a movie. I know my wife would like that, too. I can go to the library in the morning if I want to do some research. I just want to be more relaxed. I want to flow a little more."
Age and Parkinson's, likely brought on by that head injury in his youth, have slowed him down some. As he sits in his office, his tremors are barely noticable. But they sometimes go wild, he says.
He exercises at the Parkinson's Wellness Recovery Gym, a research-based facility designed to slow the disease's progression. And he regularly meets with his Parkinson's group.
"The group is very helpful," he says. "We share information. I look around the circle and I say, 'Me, too.' Some of these guys are five or six years diagnosed, so they really have the bad tremors. It's very humbling, very humbling. But being humbled is a good thing. If you're humble, you open your ears and your eyes and pay attention."
As he prepares to close the hot shop — there's an outside chance it will be bought, he says — many are anticipating the hole that will be left when Philabaum steps away from the furnaces.
"For the community to not be able to watch Tom work is a loss," says May.
"It's going to be missed so much."
But Philabaum says he won't feel a loss when he snuffs out the flames on April 28.
"I'll feel free," he says. "Free."
Contact reporter Kathleen Allen at kallen@tucson.com or 573-4128. On Twitter: @kallenStar