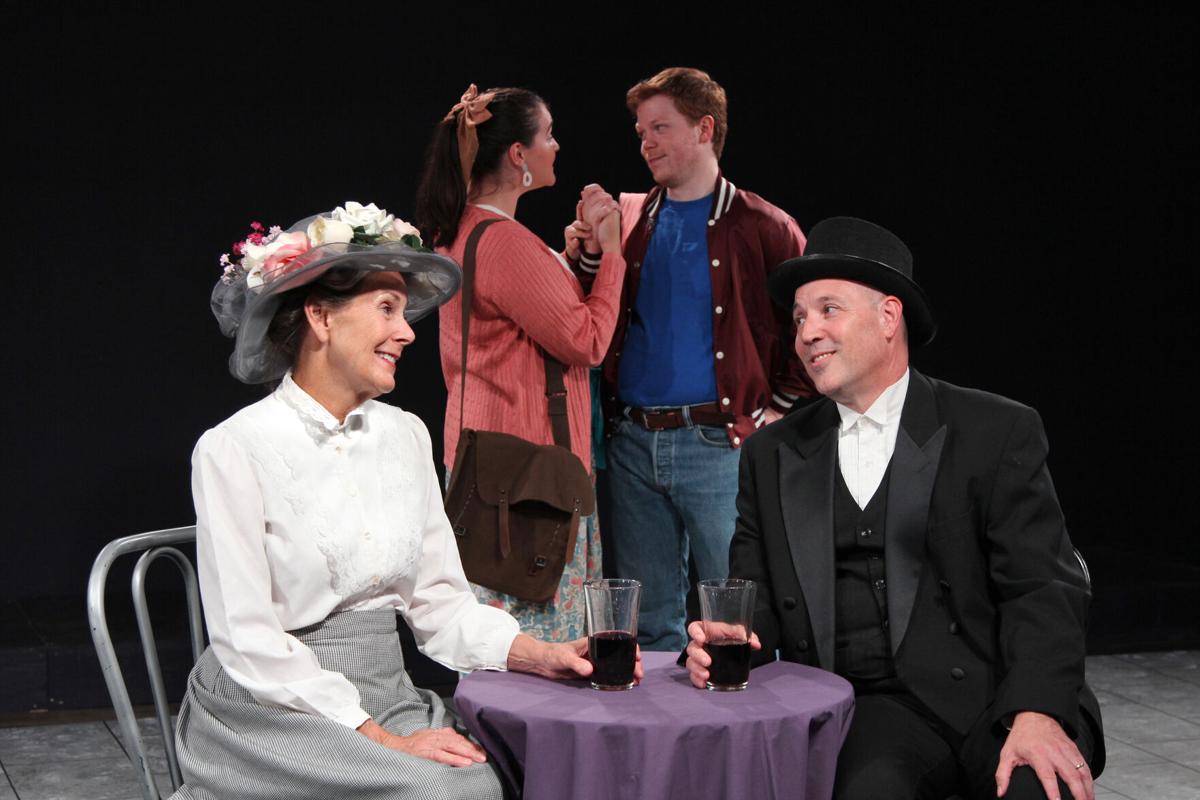 Time is all scrambled up in Steven Dietz's charming "Bloomsday," now on stage at Live Theatre Workshop.
The bittersweet love story brings a grown-up Robert back to Dublin in search of the tour guide he fell in love with and lost 35 years before.
What he finds is the younger Caithleen, about to lead a tour of Dublin that retraces a day from James Joyce's much-lauded, little-read "Ulysses."
Younger Caithleen is understandably confused as the elder Robert tells her what is in store for her that day. And more confused when an older Caithleen appears and offers a disturbing look at her life ahead.
Of course, younger Robert appears as well and we relive the day the two spent together. And it is the elder Robert who confronts the younger one and gives him a glimpse of his future.
Sound complex? It is not. First, you do not need to know a thing about Joyce and "Ulysses" (whew).
And second, Dietz's writing is so fluid and his storytelling so strong that it is impossible to get lost in this web of time.
This Live Theatre cast captured the exuberance of young age, the weariness of old, and the constant hope that love conquers all.
Christopher Moseley conquered the angst and longing of the elderly Robert, who never forgot the tour guide he met when he was 20. Jake W. Montgomery's younger Robert made palpable the sweaty palms and open heart that come with young love.
Joanne Mack Robertson stepped into the skin of the older Caithleen, whose hard life and heavy losses are written on her face.
Young Caithleen is nervous, eager and hungry for a life; Emily Gates captured all of that.
Most impressive were the Irish accents of the women, which were consistent and authentic. The only hiccup: Gates' accent was heavier, from a working class neighborhood of Dublin. Robertson's was the lilting, easier-to-understand accent of Dublin's aristocracy. It was a tad jarring that the younger and older seemed to be from vastly different parts of the city, if you go by the accents.
Director Maryann Green made sure the production had a pacing and a clarity that the Dietz piece deserved. The play was in the round (ok, square) and Green made sure, with the placement and movement of the actors, that the audiences on all four sides fully experienced "Bloomsday."
"Bloomsday" is packed with sweet moments and mournful ones, a compelling story and distinct characters who are fully fleshed out. This LTW production does it complete justice.