There's nothing artifactual about Tucson's Artifact Dance Project.
Almost precisely a decade out from its founding by dancers/choreographers Ashley Bowman and Claire Hancock — they launched it as a University of Arizona thesis concert in spring 2009 and transformed it into a contemporary dance company by the following fall — Artifact is relevant, vital, riveting.
It takes nanoseconds into a Sunday-morning rehearsal of "Goliath: A Story Retold" to be swept away by Bowman's new dance-drama for the company, such is the power of the choreography, the 10 dancers' prowess and their laser-sharp focus.
The dance runs Thursday, March 21, through Sunday, March 24, at the Stevie Eller Dance Theatre.
Nor is it much longer before Bowman's modern myth of creation supplants what you know of David (Jeffery Griffith) and Goliath (Marquez Johnson), either from the biblical tale or from modern applications in which David stands for triumphal underdog, Goliath for brute power. All that is left in the dust.
"There's a lot of biblical undertones to it," Bowman agreed in a recent telephone conversation, "but that wasn't the story I wanted to tell. There's also a lot of ancient Greek and Roman tales."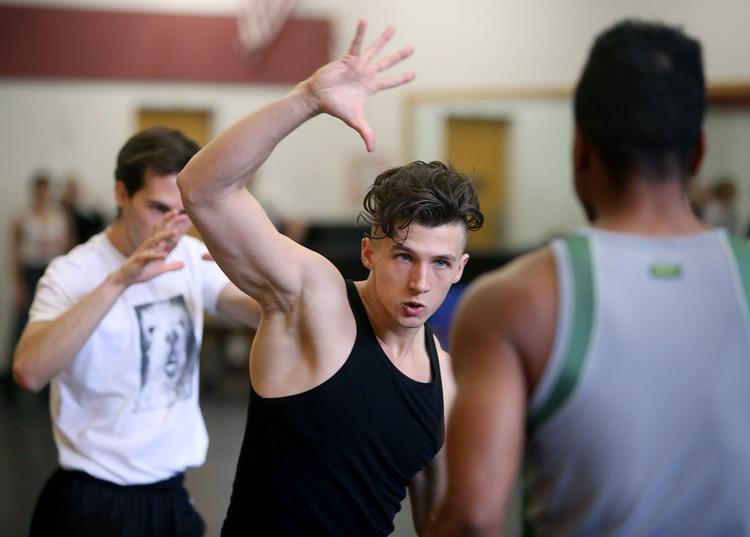 Mostly, she said, "Goliath" reflects a personal journey, a story in which pain and anger transform into strength and healing. Goliath figures as an anti-hero for today, seeking meaning in a world dark and dense with possibilities and problems. The dance tells the story, but so, too, does a voice-over narration.
To Johnson, who plays Goliath and without whom Bowman said she would not have made the dance, the big message of the piece "is that sometimes there are things that affect us that we can't explain," he wrote in an email a few days after that Sunday rehearsal. "We have to go through those trials and tribulations in order to sort out our purpose, what is important to us, and gain a better sense of self. Until we find that, can we have a better way of conquering bigger/more complicated things in our lives that seem impossible to get through? Everything happens for a reason."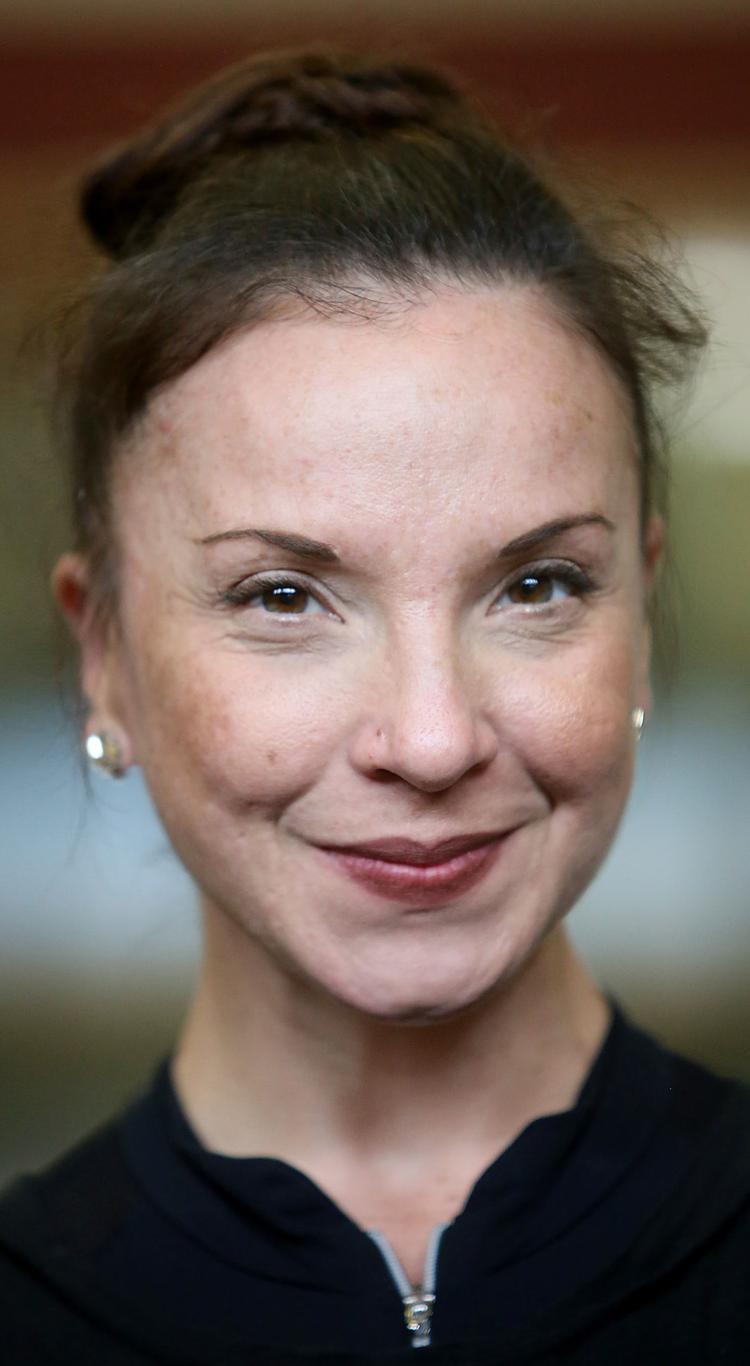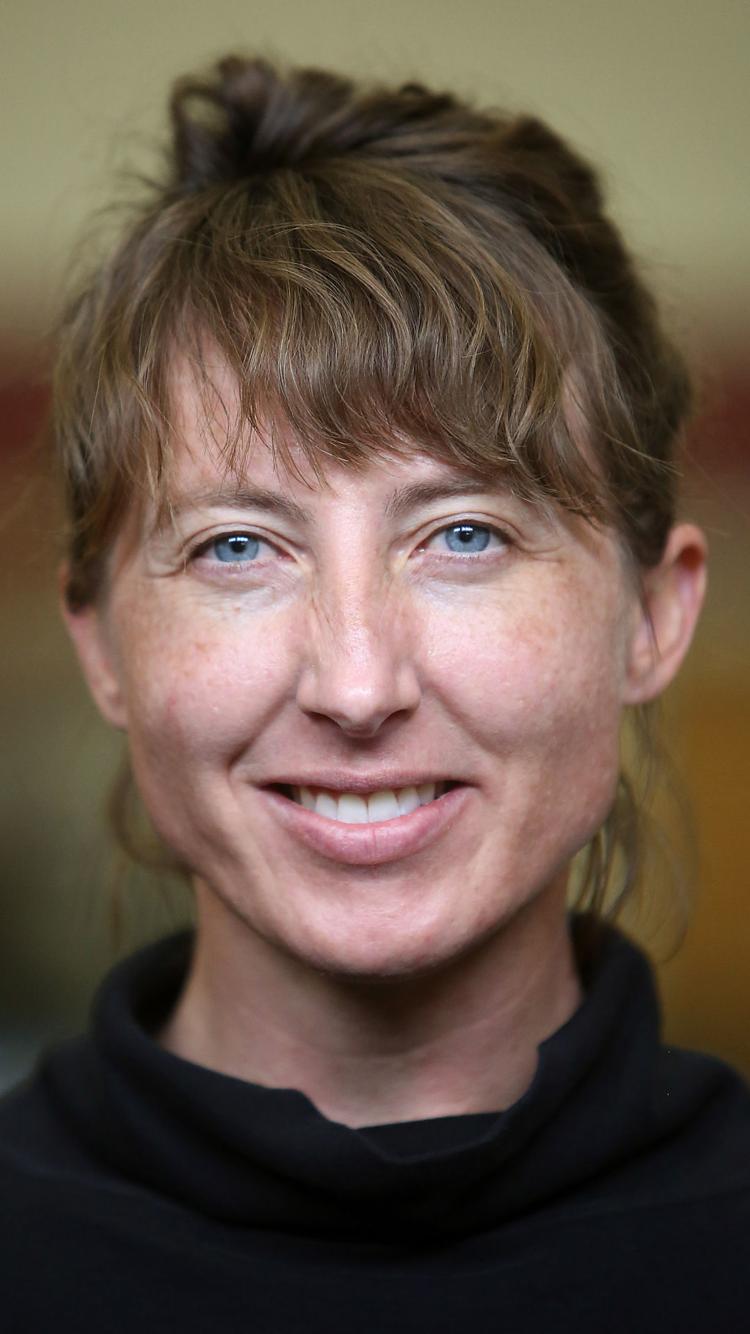 Along Goliath's way, he's guided and thwarted by beings both divine and mortal, benign and malevolent. Chief among them is co-founder and co-artistic director Hancock, as goddess/seer/puppet-mistresses pulling the strings of all.
Those who know Hancock's bewitching, arresting dancing will recognize it. But maybe not her. The costumes are, to say the least, transformative. At one point, Hancock wears a house, for example.
"I have made every single costume," said Bowman. Where she is as an artist, she continued, "It was essential to me to have my hands all over everything of this. There's a lot of recycled pieces, fabrics. I made all the headdresses, the big wings, the huge props. 'Goliath' had a lot of meaning for me. I've made everything. I probably will never do that again."
The last year has been a time of transition for Artifact, which gave up the downtown studio it operated from 2014-2018, for adult dancers from beginners to pros. The studio, said Bowman, was a vital part of Artifact's development. "Of the dancers in 'Goliath,'" Bowman said, "most of those came through the doors of the studio." But ultimately, it was not remunerative for all the work that she, Hancock and others put into it. They made the decision, in collaboration with their board, to close it down. This year, they are renting space from the UA — and having a strong season, of which "Goliath" is not the end.
Still to come in May is "Monologue of a Muted Man," another Bowman-Hancock collaboration, based on a play by Tucsonan Patrick Baliani.
"I like the way the season is ending," Bowman said. "The work is bold, the dancers are committed, and so are Claire and I."