A decade ago when I was working as a bartender in Marana, I had no idea that I'd someday be a reporter and would never have been able to imagine writing about the daughter of one of my customers for the cover of the sports section. I remember Jamie's dad showing me photos of her as a child and telling me about his smart-as-a-whip daughters who were going places in life. Fast forward to 2019 and I just about fell out of my chair when I stumbled onto Jimmy's Facebook page and the videos of his state-ranked MMA fighting, STEM-loving daughter, the same little girl I heard about all those years ago. I knew I had to write about her and was so happy when I finally got the chance. Jamie is a powerhouse in every sense of the word.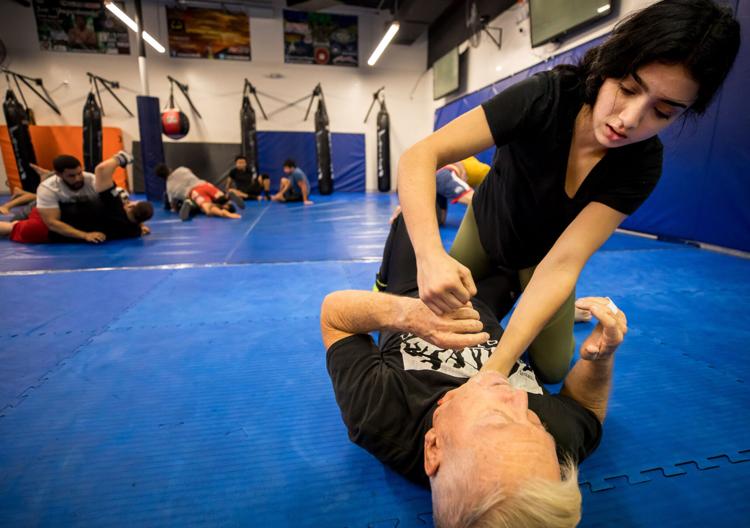 Jamie Ledbetter sits outside a fighting cage at her northside MMA gym surrounded by medals, belts and banners exalting the mostly male fighters with whom she trains, and explains how she fills her days.
She's involved with the For Inspiration and Recognition of Science and Technology (FIRST) Robotics Competition through Sonoran Science Academy (SSA), where she is a junior.
Her passions are STEM and MMA. There are training sessions at APEX and NAGA fights and team T-REX and NHS, and, well …
"Everything is an acronym," she says.
Ledbetter, 16, is much more than a fighter and a future engineer. She carries a 4.7 GPA and ranks at the top of her class. She's also involved in student government and in math and robotics clubs that compete at a national level.
At one point last year, Ledbetter ranked in the top-200 in the country for math — and first in Arizona among jiujitsu competitors age 16 and under.
It's all part of her detailed life plan.
Contact reporter Caitlin Schmidt at cschmidt@tucson.com or 573-4191. On Twitter: @caitlincschmidt.