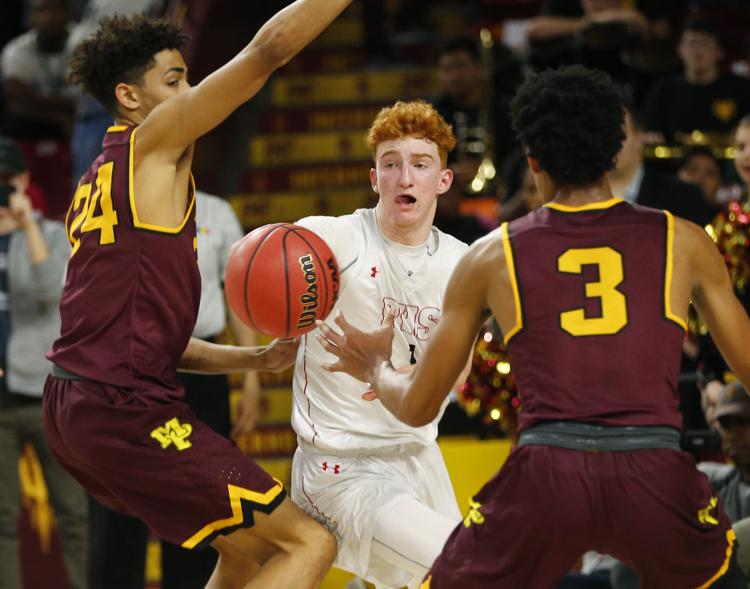 Nico Mannion won't be wearing a Wildcats uniform for another year, but the highly regarded new Arizona commit just might be dishing some pretty important assists very soon.
Like on Oct. 14, when the Wildcats host their Red-Blue Game with Mannion and fellow five-stars Josh Green and Jeremiah Robinson-Earl in attendance. Arizona is also involved with a number of other four-and five-star recruits in the class of 2019, all of whom might give consideration to the skilled red-headed point guard who could be feeding them the ball in years to come.
"The perfect thing for (Arizona) is that Nico Mannion is that one guy that other high-level prospects want to play with," 247Sports.com recruiting analyst Josh Gershon said. "It's an especially big deal in this class — and I say this with no disrespect to Nico, because he's a five-star player in any class — but it's historically a down year for point guards. He's probably the one guy in the class that other kids will want to play with.
"For Arizona, it's going to be something they can sell to other recruits. It's going to move the needle."
Mannion is known for his friendship with Green, a native of Australia who moved to Phoenix and played with Deandre Ayton at Hillcrest Prep in 2016-17. Mannion and Green played together the past three travel-ball seasons with the California-based West Coast Elite, though Green now plays his high-school ball in Florida at IMG Academy.
"Nico and Josh Green are really close," Gershon said. "So at worst, I think Arizona is (No.) 1 or 2" among Green's favorites.
When recruiting analyst Jake Weingarten tweeted Friday that Mannion's commitment to Arizona "will definitely have a huge impact on his best friend, Josh Green," Mannion retweeted it … while tagging Green on his response and adding an eyeballs emoji, two question marks and emojis that say "Bear Down."
Green announced a list of six finalists last month, including UA, North Carolina, Kansas, Villanova, USC and UNLV. According to Zagsblog, he has scheduled visits to North Carolina (Sept. 21-23) and to Arizona for the Red-Blue Game weekend so far.
According to 247's Crystal Ball, however, it will take an upset for the Wildcats to land either Green or Robinson-Earl. Of Green, 83 percent of analysts on the Crystal Ball predicted he would choose North Carolina; all of them predicted Robinson-Earl would choose Kansas.
There are pretty clear reasons why: Robinson-Earl is a Kansas City product who is the son of former Jayhawks standout Lester Earl. He starred for Kansas City's Bishop Miege High School before transferring this season to IMG Academy, where he now plays with Green.
According to Rivals, Robinson-Earl set up a string of five visits over six weekends: He was scheduled to visit Notre Dame last weekend, and Villanova this weekend. Then it's North Carolina next weekend, Kansas the weekend of Sept. 28 and Arizona the weekend of Oct. 12-14.
The Wildcats have up to four scholarships to offer for the class of 2019 plus any that result from any early spring departures or transfers.