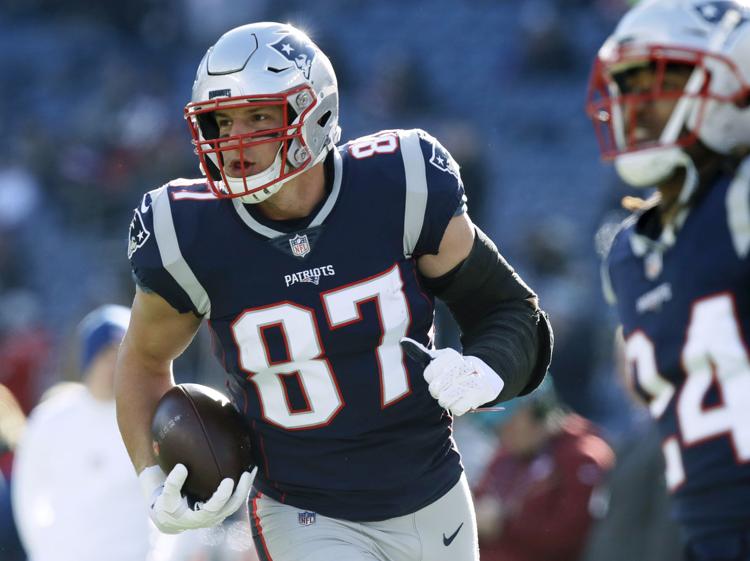 In the four years since Scooby Wright made 164 tackles and became a 2014 first-team All-America linebacker as the face of Arizona's football program, he has made 24 tackles. Total.
Today, Wright wears unfamiliar jersey No. 58 for the Arizona Hotshots, an Alliance of American Football team who opened its inaugural training camp last week in San Antonio.
Scooby is 24, and if you ever saw him play you know he was one of the toughest, most aggressive football players ever to suit up at Arizona.
Football isn't the most dangerous sport in America. It's nowhere near as harmful as boxing. But if you are a fearless, throw-your-body-into-a-collision football player like Scooby — or New England tight end Rob Gronkowski — it is an unforgiving game like few others.
In the lead-up for Sunday's NFL playoff game against the Chargers, Gronkowski had acknowledged that nine reported surgeries since he was an Arizona tight end have taken a toll.
"It's life," he told Boston reporters last week. "You've got to take it on."
Gronk is only 29, but you can't get through a 24-hour news cycle this season without hearing "Gronk is finished" or "Gronk will retire" speculation.
There are exceptions to the career expectancies of football players. Tedy Bruschi started until he was 35. He played 74 more games than Gronk has played. Arizona all-conference offensive linemen Glenn Parker, who played until he was 35; John Fina, who played until he was 33; and Edwin Mulitalo, who retired at 34, beat the odds.
Maybe it's because offensive linemen don't have as many full-speed collisions as linebackers and skill position players.
Many other ex-Wildcats weren't as fortunate. Ricky Hunley and Bobby Wade were done at 28. The biggest names of Arizona's WAC days — tackle Mike Dawson and linebacker Mark Arneson — both retired at 31. Sean Harris, Chris Singleton and Trung Canidate retired before they were 30.
It's no different now than it was 50 years ago.
In 1969, Marana High and UA grad Paul Robinson, an explosive running back/sprinter, was the AFL Rookie of the Year for the Cincinnati Bengals. Alas, the Bengals called Robinson's number for 238 carries that year. That was 46 more carries than anyone else in the AFL of 1969.
When he returned for training camp in 1970, Robinson injured his knee. He recently told Bengals.com that his knee was "never again right."
"I was all screwed up but (Bengals owner Paul Brown) still let me stay four more years. How many guys get six years? I do wonder about the injury. Imagine if I kept up my rookie year status."
Robinson retired at 29, moved to Safford and had a rewarding career, working as the safety director for a construction company and then for Graham County as an officer in the juvenile probation department.
Now 74, Robinson is the uncle of Salpointe Catholic junior Bijan Robinson, the state's 2018 high school football player of the year.
On Friday, the first day college football coaches were able to recruit off campus, seven of Kevin Sumlin's UA assistant coaches went to Salpointe to meet with Robinson and encourage him to play for the Wildcats. It is all in front of him.
Let's hope Bijan Robinson enjoys the fleeting life of football while he can.