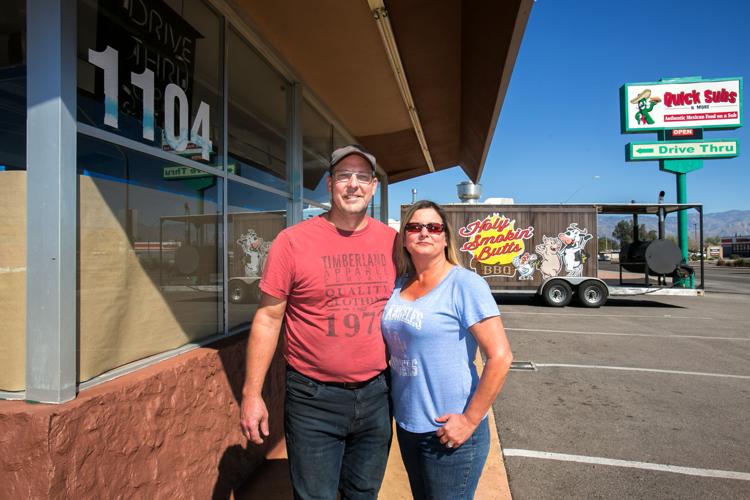 Their business on wheels has found a place to park.
Holy Smokin' Butts BBQ leased 2,000 square feet at 1104 S. Wilmot Road and owners Marisa and Curt Lewis are in the process of transitioning from their food truck.
"Customers kept asking about a restaurant and that's really what we wanted to do when we started the business," Marisa said.
The couple moved back to Tucson last year, after quitting office jobs to pursue their dream of opening a business. The food truck started rolling in May and quickly built a following.
Their speciality is the slow-smoked brisket, which cooks 18 to 20 hours over pecan wood without propane, charcoal or lighter fluid.
"It's not a quick thing, it's not fast food," Marisa said.
They also serve up ribs, pulled pork, sausage and tri-tip and plan to add barbecue chicken to the menu once the storefront opens in April on Wilmot near East 22nd Street.
The trailer will remain a part of the business for catered events.
Marisa said she looks forward to opening the doors and seeing regular customers pull up a chair.
"I just love meeting people and cooking," she said, "that satisfaction of people enjoying the food and loving it as much as we do."
Frank Arrotta, with Tucson Realty & Trust Co., represented the tenants in the lease.
Other recent commercial transactions include:
HSL Properties bought the Hampton Inn and Suites at 5950 N. Oracle Road for $7.2 million. the hotel has 109 guest rooms, including 28 with kitchenettes. It is the the sixth hotel in the HSL Properties portfolio.
CA Senior Lifestyle LLC bought 3.35 acres of land at 9005 N. Oracle Road, in the Copperstone Professional Park, for $830,000. David Volk, Peter Villaescusa, and Jesse Peron, with CBRE, represented the buyer.
Larry Howard leased 4,695 square feet at 4281 S. Santa Rita Road for a distribution center. Kevin Volk, of Volk Co., represented the landlord, 4275 Santa Rita LLC.
The Little Bird Nesting Company leased 2,504 square feet at 4508 E. Broadway, in the Midstar Plaza shopping center. The tenant was represented by Jeramy Price, of Volk Co. and Nancy McClure, of CBRE, represented the landlord, Midstar Partners LLC.
San Antonio Shoe Inc. leased 2,384 square feet at 2890 E. Skyline Drive. Debbie Heslop, with Volk Co., represented the tenant and the landlord, Plaza Colonial LLC, was represented by David Carroll of Romano Real Estate.
Otaku Nation, a retailer of gaming and anime collectibles, leased space at Frontier Village, on the northeast corner of Pima Street and Alvernon Way. Andy Seleznov and Melissa Lal represented the landlord, Larsen Baker.