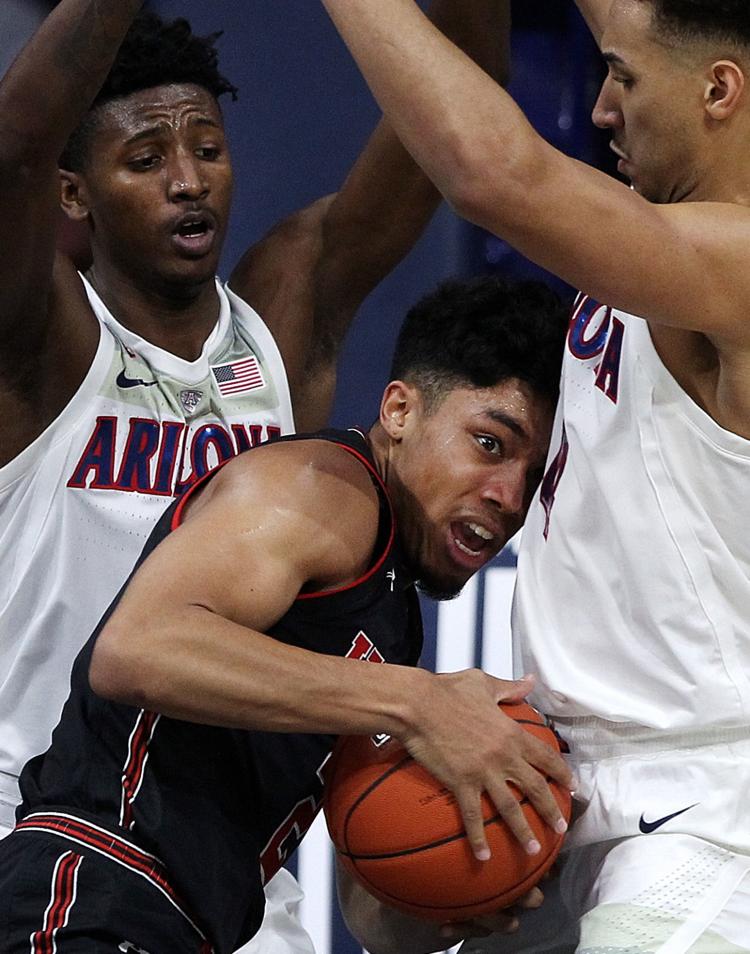 The last time
Utah guard Sedrick Barefield scored 26 points but fouled out with 1:44 in regulation, and Arizona went on to beat the Utes 84-81 in overtime at McKale Center on Jan. 5. Parker Van Dyke missed a potential game-winning 3-pointer with six seconds left and Brandon Randolph then sank two free throws for the final score.
The last time at the Huntsman Center
The Utes hit eight of their first 10 3-pointers in the second half and completely erased what was a 15-point Arizona lead, but the Wildcats hung on for a 94-82 win on Jan. 4, 2018, before what UA coach Sean Miller called a "nasty" crowd that yelled investigation-related chants throughout the game. Deandre Ayton helped the UA pull out the win by scoring 19 of his 24 points in the second half as he collected 13 rebounds in all.
Overall series history
Arizona leads Utah 34-29 overall and is 13-1 against the Utes since Utah joined the Pac-12 in 2011-12, with the Utes' lone win coming in Salt Lake City in 2015-16.
What's new with the Utes
Having finished tied or ahead of its annual preseason prediction in the Pac-12 poll every year since joining the conference, the Utes are up to their old tricks again. They were picked to finish eighth but sit in a three-way tie for second place with ASU and OSU, putting them on pace to earn one of the Pac-12 Tournament's coveted first-round byes.
Having stumbled early in road losses at Minnesota (78-69) and Kentucky (88-61) while also losing to Nevada (86-71) at home, the Utes picked it up in Pac-12 play just as they hit Arizona last month. They beat ASU and took the UA to overtime, and have won six of nine games since that weekend.
Last weekend, Utah beat USC 77-70 and then came back from a 22-point deficit to beat UCLA 93-92, with guard Parker Van Dyke hitting a game-winning 25-footer at the buzzer. Although Van Dyke came off the bench in Los Angeles, with the bigger Both Gach starting in his place, the Utes' rotation remains similar. Senior Sedrick Barefield stands out in a scoring point guard role, averaging 3.5 3-pointers made in conference games, while Van Dyke averages 2.2.
The Utes have been getting better production from their starting freshman forwards, with Mesa's Timmy Allen scoring in double figures in six of his last eight games, including 24 against Oregon State. Power forward Riley Battin shot 73 percent while averaging 13.5 points and 7.5 rebounds last weekend in L.A. Sophomore Donnie Tillman adds versatility and scoring while playing starters' minutes off the bench, and 7-foot center Jayce Johnson has pulled down double-digit rebounds in four straight games.