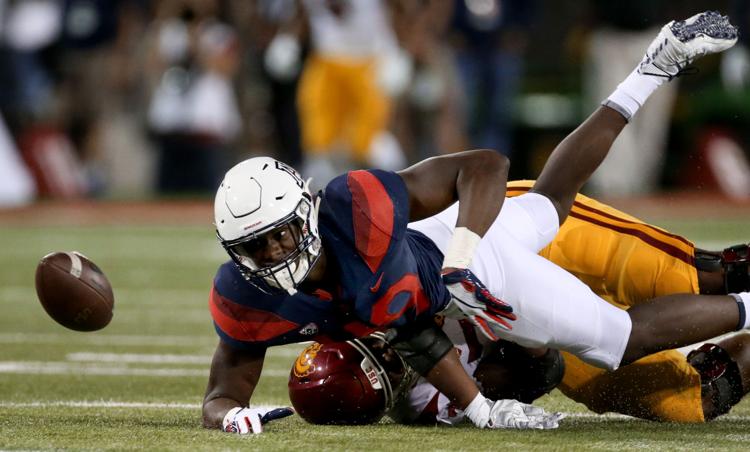 Jalen Harris carries a burden. For him, it's easier than carrying weight.
As the son of former Arizona team captain and seven-year NFL pro Sean Harris, Jalen came to the UA with elevated expectations. No one holds him to a higher standard than his father.
"That is the case," Jalen Harris said. "He's very hard on me. It's hard to get good compliments from him. When I do, I feel proud."
There was a time in Jalen's life when he didn't take too kindly to his father's criticism. Two years into his college career, the redshirt-freshman pass rusher has come to appreciate Sean's input.
"He knows what he's talking about," Jalen Harris said. "He's been in the league. So I listen. I take it and try to follow through."
Sean's most consistent piece of advice? Always hustle and play with maximum effort. "That's how you stand out," Jalen said.
Playing hard hasn't been a problem for the younger Harris. Operating from the "Stud" position, Harris has become a key contributor to the UA defense. He has 15 tackles, including 1.5 sacks, and has been credited with one QB hurry.
Adding heft to his 6-foot-4 frame is a tougher task. When he arrived in Tucson in the summer of 2017, Harris weighed 200 pounds. He's up to 230 and has plenty of room to get bigger and stronger.
"It's been a little bit of a challenge," Harris said. "But my strength coaches push me to do it. I'm still trying to put on weight."
Harris believes he can bulk up to 260 pounds without sacrificing the speed and quickness that – combined with his long arms – make him a potentially devastating edge rusher. A self-described "picky eater," Harris has come to accept his daily caloric requirements. He even has recognized the protein-packed virtues of peanut butter, of which he wasn't a "big fan" before coming to Arizona.
Harris knows he has a long way to go to become as strong as he needs to be. Utah was able to collapse the edges against the UA defense last week, steering Harris and others out of harm's way.
"I still need to work on that," Harris said. "I need to attack that guy."