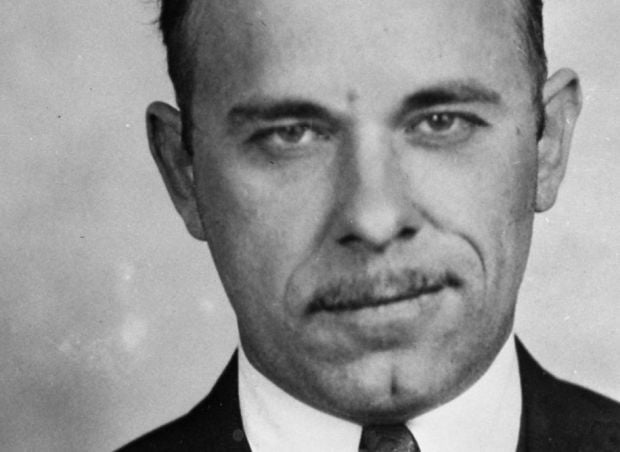 The nation was going through an economic crisis of terrible proportions. Banks were failing, robbing people of their savings, and the surviving banks were foreclosing on homes right and left. It's no wonder that a man who hurt the hated bankers was a folk hero during the Great Depression. John Dillinger's string of bank jobs in the Midwest also made him one of the most-wanted men in America. When he was captured near the University of Arizona on Jan. 25, 1934, it put the Old Pueblo on the front page of newspapers across the country. Somehow, 75 years ago on Sunday, Tucson police (average salary: $140 a month) did what so many other agencies could not. They collared the notorious Dillinger and his gang - and they did it without firing a shot.
The gang arrived in Tucson in January 1934, just a few weeks after the end of Prohibition, hoping to escape the Midwest cold (and the heat). The Old Pueblo, home to about 30,000 people, which had three houses of prostitution and a police force that numbered 35.
Russell Clark and Charles Makley, along with Clark's girlfriend, were the first to arrive in town. Using fake names, they checked into the Congress Hotel.
On Jan. 22, 1934, a fire broke out in the hotel's basement and quickly spread to the third floor.
Makley reportedly gave firefighters a $12 tip to retrieve some heavy luggage from the flames (full of guns and cash, as it turned out).
Dillinger and his girl, Billie Frechette, drove into Tucson the next day, accompanied by their Boston terrier. They got a room at the Close-Inn Motel on South Sixth Avenue. Purely by chance, Harry Pierpont, later described as the real leader of the gang, checked into an adjoining room with his gal.
The gang members agreed to meet the next morning near the veterans' hospital south of Downtown. At that meeting, on Jan. 25, a day that would end with all of them in jail, they agreed to stay here for a while, pretend to be tourists and rent separate houses.
Meanwhile, one of the firefighters who helped save Makley and Clark's trunks from the flames saw their picture in True Detective magazine.
Tucson police, acting on this and another tip, tracked them down, along with their girlfriends. Makley was arrested at an appliance store, while Clark was caught at a house they had rented on North Second Avenue. Pierpont was arrested at the South Sixth Avenue motel.
Dillinger, unaware that the others were in jail, was nabbed at sundown as he and his girlfriend strolled into the house on Second Avenue.
In total, police seized three Thompson submachine guns, two Winchester rifles mounted as machine guns, five bulletproof vests and more than $25,000 in jewelry and cash, part of it taken in an East Chicago robbery.
At the Downtown police station, Dillinger insisted that his name was Frank Sullivan.
William R. Mathews, the editor and publisher of the Star, was in the small police office when Sgt. Mark Robbins identified the gangster from a distinctive scar on his left wrist and another under his moustache.
"This man is John Dillinger," the cop said with utter confidence.
Mathews opened the door, where one of his reporters, Dave Brinegar, was waiting. In a whisper, he said: "They've got John Dillinger."
Under banner headlines, the Star's story about the arrests began with this sentence:
"In a series of breath-taking captures, each of which might have at any moment culminated in a stream of lead and death, which included lightning displays of gangsters armament and as sudden squashing of murderous hopes by officers, Dillinger himself, Charles Makley, 50, Russell Clark, 39, and Harry Pierpont, 31, the 'trigger-man' of the gang, were apprehended, were stripped of a small arsenal apiece, subdued, identified and locked up in the county jail for safekeeping."
The jail at police headquarters wasn't big enough for the men and their molls, so they had been moved under heavy guard to the jail at the Pima County Courthouse, the building with the tiled dome that still has courtrooms on the second floor.
Pima County Sheriff John Belton decided one night to throw an open house at the jail and let curious Tucsonans "come in and see Dillinger and the boys." His undersheriff didn't think that was such a hot idea, given the gang's history of escape.
But the doors were flung open anyway and 415 people paraded through to gawk at the gangsters. About 1,000 more Tucsonans got a good look the next morning.
The nation's media rushed to Arizona as authorities in three other states licked their lips and started fighting over extradition rights.
In the end, Dillinger was flown to his native Indiana. The others were put on a train bound for Ohio.
Headline in the Star: "Tucson sighs as gangsters leave Arizona."
Dillinger was locked up in the "escape-proof" Lake County jail in Crown Point, Ind. He escaped on March 3, using a fake gun carved out of wood. Less than five months later, he was shot to death by FBI agents as he left a movie theater in Chicago.
According to most accounts, Public Enemy No. 1 was betrayed by Anna Sage, a Romanian prostitute who became famous as "the woman in red."
Fred Finney, an Arizona Daily Star reporter, summed up the gang's impact on Tucson: "The Dillinger gang brought a lifetime of excitement and tension to the Old Pueblo," he wrote. "Tucson was on the map of the country's front pages, but Tucson also had the tiger by the tail, and the tiger was a sinister animal."
Sources: Arizona Daily Star archives, "John Dillinger: The Life and Death of America's First Celebrity Criminal" by Dary Matera (Carroll & Graf Publishers, 2005) and "The Dillinger Days" by John Toland (Da Capo Press, 1995).