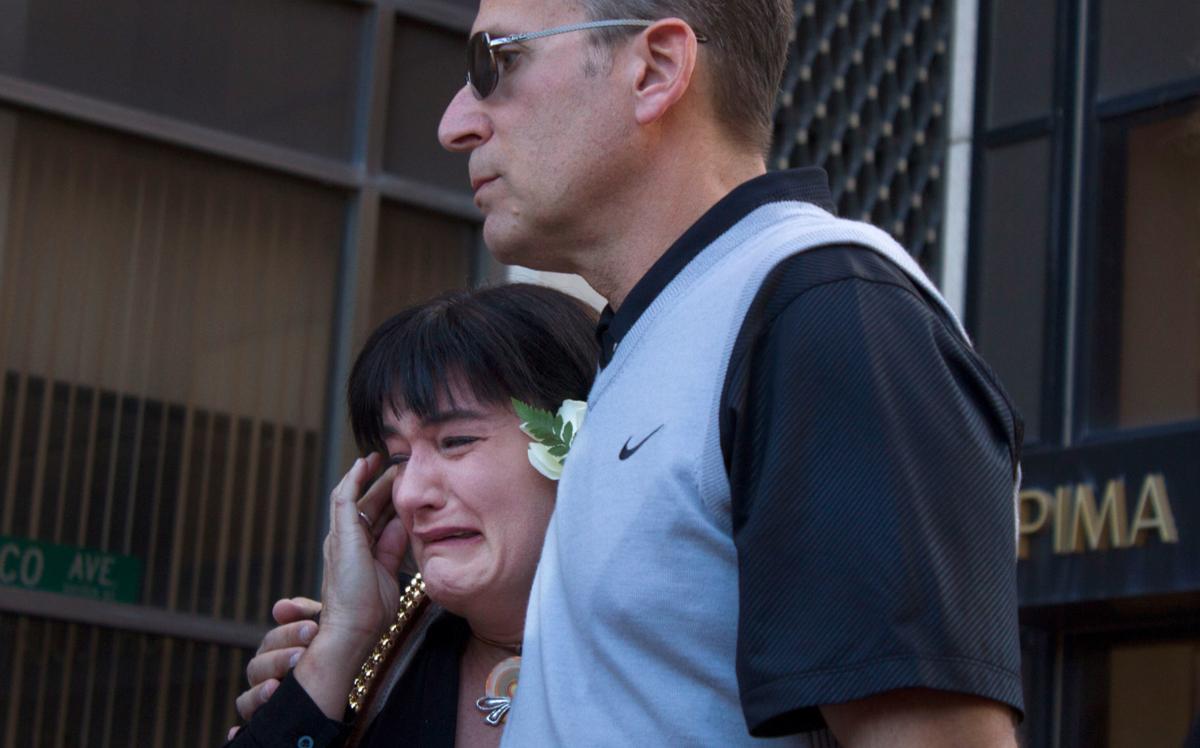 An Oro Valley couple accused of attempting to blackmail Georgia Tech men's basketball coach Josh Pastner has been ordered to pay fines after failing to comply with court orders.
Pastner, a former Arizona Wildcats player and assistant coach, filed a lawsuit against Ron Bell and Jennifer Pendley in January, saying they tried to blackmail him and when that was unsuccessful, made false and defamatory statements to the press. The couple filed a counterclaim in February, accusing Pastner of sexually assaulting Pendley once and groping her multiple times.
The couple's counterclaim mentioned two key pieces of evidence: A statement from a security guard who said he witnessed Pastner grope Pendley at a Georgia Tech basketball game and the T-shirt Pendley said she was wearing the night of the alleged assault. Bell and Pendley said in their counterclaim that the T-shirt contained Pastner's semen.
The T-shirt's value to the case has been called into question, after Bell and Pendley's previous attorney shared a text message from Bell saying that he and Pendley never said the shirt contained Pastner's semen. Paul Gattone withdrew as counsel for the couple in July, saying that he believed they may have exaggerated or fabricated their claims against Pastner.
The security guard has since recanted his statement, saying he lied after the couple offered to pay him a portion of their settlement from the lawsuit. Pendley's attorney, Brian Weinberger, said the guard felt threatened after Pastner's attorneys said they would sue him for defamation.
Pastner's lawyer, Scott Palumbo, argued Friday that the case should be dismissed, saying that Bell and Pendley committed fraud. Pima County Superior Court Judge Brenden Griffin declined to dismiss the counterclaim, saying case law doesn't support such a strong sanction.
But after more than 30 minutes of arguments by attorneys for both sides, Griffin ordered the couple to pay Pastner's attorney's fees and other expenses associated with the discovery dispute. Griffin asked Pastner's attorneys to prepare a bill for their services.
The attorneys' cost was not immediately available, but Pastner's lawyers said in court that they've filed several documents and participated in multiple status conference and hearings related to the dispute. As part of the fine, Bell and Pendley are required to pay for travel expenses for Pastner's out-of-town lawyers to attend the Tucson hearings.
The question of who will pay the fees is still undecided. Weinberger, Pendley's current attorney, wants Gattone to pay, citing ineffective representation as the cause for the delay. The judge said the couple could request a "culprit hearing" in an attempt to unload the costs on Gattone.
After ordering the fines, Griffin put the couple "on notice" — saying that a future jury could be told of Bell and Pendley's conduct if it continues to be a problem. Griffin also warned Bell and Pendley that any future discovery violations could lead to the case being dismissed.
Pastner's lawyers said they'd been having difficulty getting other materials from the couple, including access to Bell's medical records, claiming that he's using made-up medical conditions to avoid handing over discovery materials.
Audio recordings taken during Bell's recent stint in Pima County jail reveal hundreds of conversations between the couple. Several of them referenced a person named Shawn and a man in Texas who Pastner's lawyers have since asked the couple to identify. The couple has so far refused, saying Bell hallucinated the men after he was denied medication in jail. Bell also claims to have chronic traumatic encephelopathy after receiving 21 concussions during prior stays in prison.
Pastner's attorneys have asked Bell to identify doctors who could corroborate his ailments and CTE diagnosis, but he has so far refused.
"If the answer is, they don't exist, that ends it," Palumbo said, adding that CTE can't be diagnosed in a "living human being."
Griffin didn't rule on the issue, but said he was inclined to order Bell to turn over some medical records.
Griffin did order Bell to produce his tax return from 2016-17. Bell says Pastner paid him $10,000 to use to influence his Georgia Tech players, but that he spent the money and it didn't count as income. Griffin said that the tax return is relevant to the case, whether or not the money was recorded as income.
Bell claims he and Paster became close friends prior to his 2008 incarceration on drug-related charges, saying the men communicated during his five-year jail term. Bell has so far refused to produce any communications. Bell's new attorney, Justin Niedzialek, told the judge Friday that he'd only been able to locate one piece of communication during the specified time period — a Pastner autograph that Bell has framed in his home.
The case is scheduled for a pretrial conference in November.