Las obras de construcción del nuevo hotel del Casino del Sol iniciaron oficialmente la semana pasada.
El hotel de 151 habitaciones, el cual se espera que esté listo a finales del 2019, tendrá su propia alberca con tobogán y bar integrado, así como sala de juegos, lounge y gimnasio.
Tendrá una extensión de 93,200 pies cuadrados en un terreno de 2.2 acres a un lado del Casino del Sol. Forma parte de un extenso proyecto de hospedaje, el cual incluye también un estacionamiento para 90 casas rodantes (RVs), la expansión del área actual de reuniones del Casino del Sol y un nuevo centro de eventos de 11,000 pies cuadrados en la propiedad hermana llamada Casino of the Sun.
"El gran apoyo que hemos recibido de la comunidad y de nuestros huéspedes nos ha llevado a evolucionar la marca Casino del Sol para incluir estas instalaciones adicionales para familias y conductores de RVs", dijo Kimberly Van Amburg, director general del Casino del Sol. "Este proyecto nos permitirá atender la creciente demanda de nuestros clientes para atender mejor la creciente demanda de nuestra clientela de reuniones y convenciones".
El resort existente del casino se inauguró en 2011 con 215 habitaciones.
En los últimos años, la tasa de ocupación semanal ha sido superior al 90 por ciento, dijo Van Amburg. Cuando hay eventos grandes, como conciertos, galas, bodas y convenciones, frecuentemente el hotel se ve en la necesidad de rechazar clientes.
El estacionamiento para RVs cerca del casino ofrecerá opciones de estancia y de uso de las instalaciones del Casino del Sol de medio tiempo y de tiempo completo.
El proyecto creará más empleos, con un posible impacto a la Tribu Pascua Yaqui y al Sur de Arizona, dijo el presidente Robert Valencia.
La empresa encargada de la construcción es McCarthy Building Companies. La arquitectura está a cargo de Cuningham Group Architecture, con sede en Las Vegas.
Work officially got underway Thursday morning on Casino Del Sol's newest hotel.
The 151-room hotel, expected to be completed by the end of 2019, will feature its own pool, complete with a water slide and pool bar, as well as an arcade, lounge and fitness center.
The 93,200-square-foot hotel will sit on 2.2 acres next to the existing Casino Del Sol. It is part of an extensive hospitality project, which also includes a new 90-space RV park, an expansion of the current meeting space at Casino Del Sol, and a new 11,000-square-foot event center at its sister property, Casino of the Sun.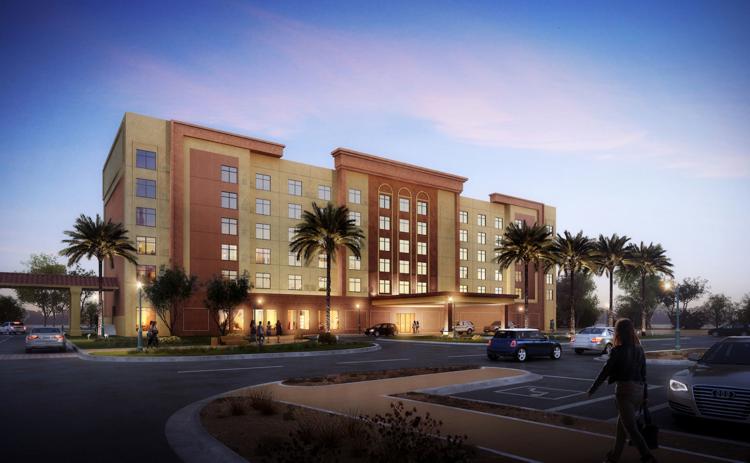 "The astounding support we have received from the community and our guests has led to us evolve the Casino Del Sol brand to include these additional amenities for families and RVers," said CEO of Casino Del Sol, Kimberly Van Amburg. "This project will allow us to meet the increased demand of our customers and to better serve our meeting and convention clientele."
The existing casino resort opened in 2011 with 215 hotel rooms.
Within the last few years, occupancy rates have been in the upper 90 percent range on a weekly basis, Van Amburg previously told the Star. When the resort hosts big events like concerts, galas, weddings and conventions, guests routinely have to be turned away.
The RV park near the casino will provide part-time and full-time RVers the opportunity to hook up and enjoy Casino Del Sol's amenities.
The project will create more jobs, positively impacting the Pascua Yaqui Tribe and Southern Arizona as a whole, said Chairman Robert Valencia.
The general contractor is McCarthy Building Companies. The architect for the project is Cuningham Group Architecture based in Las Vegas.