SAN BERNARDINO, Calif. — Sunnyside Little League has faced some bumps on the way to Friday's regional semifinal game, which will be broadcast on ESPN at 6 p.m.
But the south-siders have persevered — and they're getting better. They've shown as much during this week's run through the Little League Western Regionals. The team took Central Maui into extra innings on Monday night before falling 6-5 in eight innings. Sunnyside rebounded, beating Nevada 13-1 on Tuesday afternoon and Southern California 8-6 on Wednesday night in a pair of elimination games.
It'll play Friday against the loser of Thursday night's game between Hawaii and Northern California. That game was still going as of the Star's print deadline.
"We are playing with confidence, and that is what we have to keep doing," manager Francisco Rivero said. "Confidence is the key. It drives the offense, the defense, and the pitching. Everybody from one to 13 (on the roster) can do the job."
Sunnyside had a couple of bad breaks Monday against the team from Hawaii. Central Maui had runners on first and second with two out when Sunnyside's pitcher got Isaac Imamura to hit into a fielder's choice.
The out appeared to end the inning, with Sunnyside maintaining a 2-0 lead, but umpires reversed it following a video replay. Central Maui followed with four consecutive hits and took a 4-2 lead.
"That call was what turned the game around," Rivero said. "It was good that we turned came back to tie the game."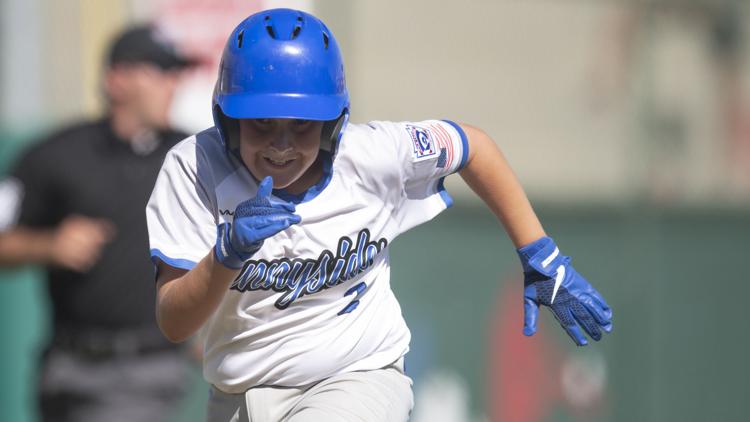 Sunnyside tied the game in the top of the fifth when Damian Lorta hit a two-run homer. Lorta, a left-handed batter, has hit four home runs in the first three games.
Sunnyside will have a full complement of pitchers available for Friday's game. The only player not eligible to pitch is Izaiah Moraga, who threw 86 pitches in Wednesday night's win over Southern California. Little League rules require a certain number of days' rest depending upon how many pitchers are thrown.
Juan Hernandez and Lorta pitched well in the first game, while Juan Abril allowed only one run in a five-inning, 13-1 mercy rule victory Tuesday against Paseo Verde, the Nevada representative. Abril needed only 46 pitches, and 37 of those were strikes.
Rivero said he wouldn't name a starting pitcher until after the Hawaii-Northern California game.
Hernandez pitched well against Hawaii. The four runs he allowed were unearned. Hernandez also was moved up to the second position in Wednesday night's batting order.
"Juan can do anything offensively," Rivero said. Hernandez got Sunnyside's first hit Wednesday when he laid down a bunt in the third inning. "He can bunt and hit for power."
Other options include Lorta, who struck out eight batters in three and two-thirds innings, and Abril. Rivero said he is leaning toward starting Rodriguez if Sunnyside plays Maui, and Abril if Granite Bay, the Northern California representative, is the opponent. Sunnyside has not faced Granite Bay to this point.
Friday night's winner will play for a spot in the Little League World Series on Saturday night at 6 p.m.