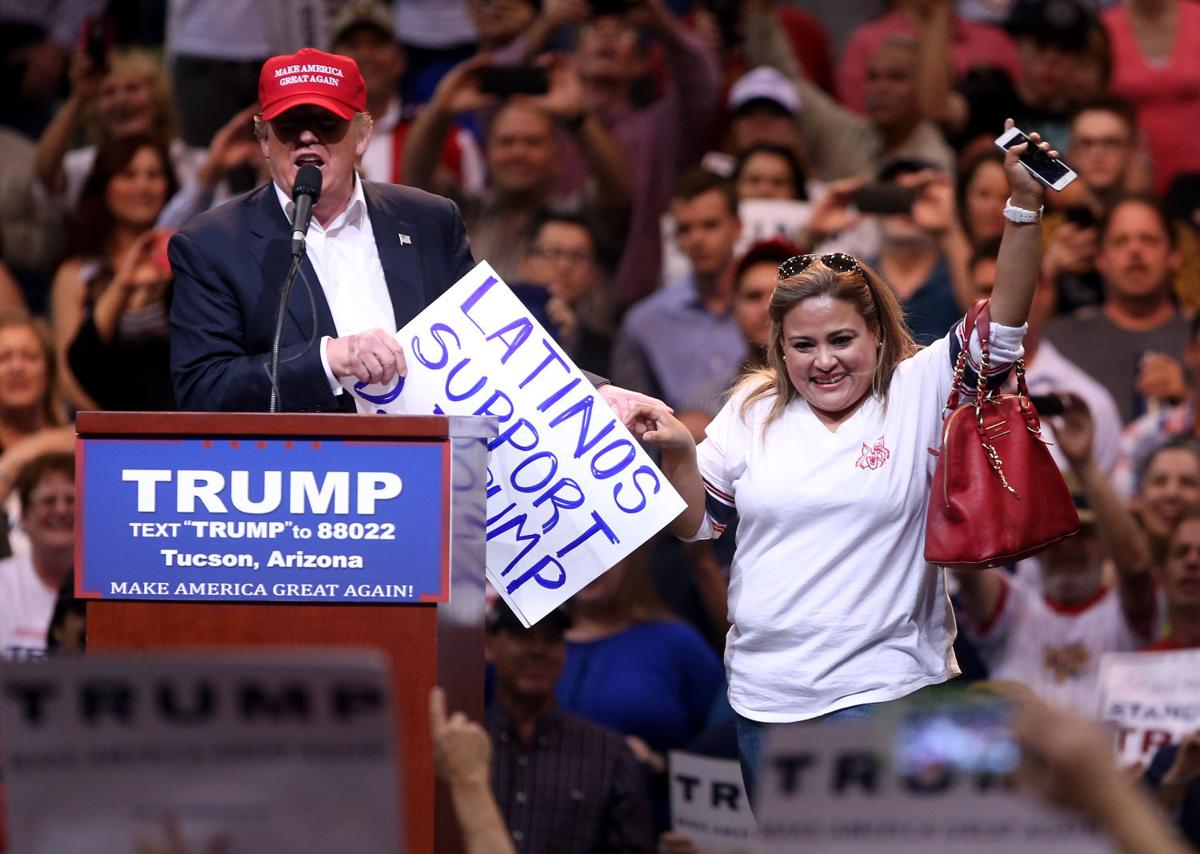 Donald Trump tuiteó el domingo su apoyo a un restaurante mexicano en Catalina cuyos propietarios fueron atacados en redes sociales por su apoyo al presidente.
En un tuit publicado después de que Jorge y Betty Rivas aparecieron en Fox News el domingo por la mañana, el presidente Trump dijo que la comida era "GENIAL en Sammy's Mexican Grill en Phoenix, Arizona ... Trataré de parar la próxima vez que esté en Phoenix".
The food is GREAT at Sammy's Mexican Grill in Phoenix, Arizona. Congratulations to Betty & Jorge Rivas on doing such a wonderful job. I will try hard to stop by the next time I am in Phoenix. Support Sammy's! @foxandfriends

— Donald J. Trump (@realDonaldTrump) March 1, 2020
Sammy's está en Catalina, área del Condado Pima al norte de Tucsón y a unas 115 millas de Phoenix, donde Trump celebró un mitin el 19 de febrero al que asistieron los Rivas. Betty Rivas estaba parada detrás de Trump en la sección VIP, con un sombrero rojo vaquero con la leyenda "Latinos Love Trump".
Algunos tomaron imágenes de la pantalla donde aparecen los Rivas en el evento de Trump y las publicaron el miércoles en el grupo público de Facebook Palfeis, un mercado virtual donde sus 109,000 miembros pueden anunciar bienes y servicios. La publicación hasta el lunes había atraído más de 250 comentarios, casi todos negativos, y fue compartida 348 veces.
Los Rivas respondieron a la publicación en Facebook el viernes con un video en el que defendían sus derechos como ciudadanos naturalizados para apoyar a Trump o a quien elijan.
"Solo porque somos latinos, no significa que tengamos que sentirnos como cualquier otro latino en este país", dijo en inglés Jorge Rivas en el video. "Somos individuos y sentimos que tenemos el derecho constitucional de reunirnos y apoyar a quien queramos".
"Sí, y también, o sea, si a ustedes, a los que nos están atacando, no les gusta el Presidente, no les gusta Donald Trump, pues váyanse a otro lugar donde les fascine su, el presidente, si están inconformes con lo que está pasando aquí... Aparte, Donald trump va a ganar de nuevo, estamos seguros. Así es que, ya sabrán", agregó Betty Rivas.
En la entrevista de Fox el domingo, los Rivas dijeron que el negocio en su restaurante, en 16502 N. Oracle Road, se desaceleró inmediatamente después de la publicación en Palfeis. Pero el sábado "fue un muy buen día".
"En cierto modo, resultó ser bastante bueno, afortunadamente", dijo Rivas a los presentadores de "Fox & Friends".
Contact reporter Cathalena E. Burch at cburch@tucson.com or 573-4642. On Twitter @Starburch