It's National Doughnut Day! Here are 6 Tucson deals and specials
The first Friday of June is a special day to remember — it's National Doughnut Day! 
Check out 6 spots in Tucson offering doughnut deals and specials for the holiday.
Amy's Donuts — 101 E. Fort Lowell Rd.
With a paid purchase and while supplies last, folks who visit Amy's Donuts can get a free bag of blueberry cake holes. 
Batch Cafe & Bar — 118 E. Congress St.
Batch Cafe & Bar is offering free glazed doughnuts to everyone who says the phrase, "Batch please." 
The offer is good while supplies last.
Dunkin' Donuts — several locations
In celebration of National Doughnut Day, you can get a free doughnut with the purchase of a drink at Dunkin' Donuts.
Krispy Kreme — 5621 E. Broadway
Krispy Kreme is hoping to give away a million doughnuts on National Doughnut Day. 
So, in celebration of the holiday, visit Krispy Kreme and you'll get a free doughnut. No purchase necessary. 
If Krispy Kreme is able to give away a million doughnuts for the holiday, they'll do another doughnut giveaway this month. 
Le Cave's Bakery & Donuts — 3950 E. 22nd St.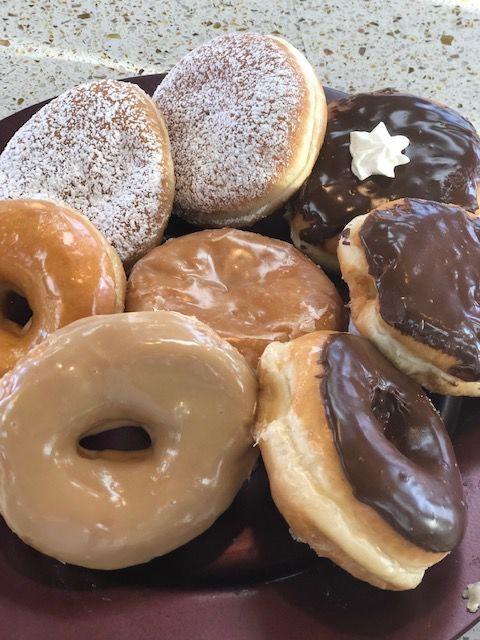 It might not be a deal, but Le Cave's recently started again adding the hole in the middle of its doughnuts — at least for the month of June. 
Read more about it here.
1912 Brewing Company — 2045 N. Forbes Blvd.
1912 Brewing is hosting a National Doughnut Day celebration with Irene's Holy Donuts. 
While supplies last, the spot will feature a pint paired with a doughnut, which was specially made for the event. The celebration starts at 4 p.m.