Last suppers: These 19 Tucson restaurants closed their doors in 2017
How many of these restaurants did you frequent?
Longtime Tucson restaurant, Las Margaritas, closing Grant Road location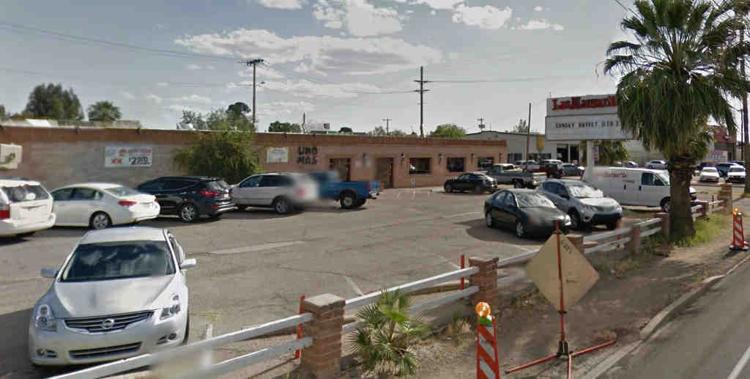 After 30 years on East Grant Road, Las Margaritas, a spinoff of the family-owned Molina's Midway, is closing on Sunday, Dec. 24.
Owner Terry Morse said she sold the property at 3602 E. Grant Road to her neighbors, Precision Inc., which specializes in Honda used car sales and repairs.
Morse said that the city's plans to eventually widen Grant Road have been at the back of her mind for some time. And when the owners of Precision flirted with the idea of buying her property, she decided it was best to act sooner than later.
"The guy (Precision owner Chris Klinger) made it easier for us to make a decision," she said.
Klinger said construction on the property could begin in February and he plans to keep the Las Margaritas building intact. He also will expand his business into the restaurant's parking lot.
"We've been beside them for 25 years," said Klinger, who opened Precision Inc. at 3570 E. Grant Road in 1991, about seven years after he launched the company. "We're all family in that neighborhood. … We're all facing Grant Road expansion together and this is good time for them to exit and us to expand."
Klinger said he has been waiting for years for the city to begin the road widening project on Grant. He said the city told him it will begin work in 2025.
"My entire career will be spent waiting for the Grant Road construction," he said with a chuckle. "I literally may retire while I'm still waiting."
Morse said the Grant Road location closing will not impact Las Margaritas' flagship restaurant at 6011 N. Oracle Road, which her parents opened 37 years ago. Hours at both restaurants are from 11 a.m. to 9 p.m. daily; they will close at 3 p.m. on Christmas Eve Sunday, Dec. 24, which will be the finale for Grant Road.
Sazerac Creole Kitchen closing Sunday; Union Public House owners to move in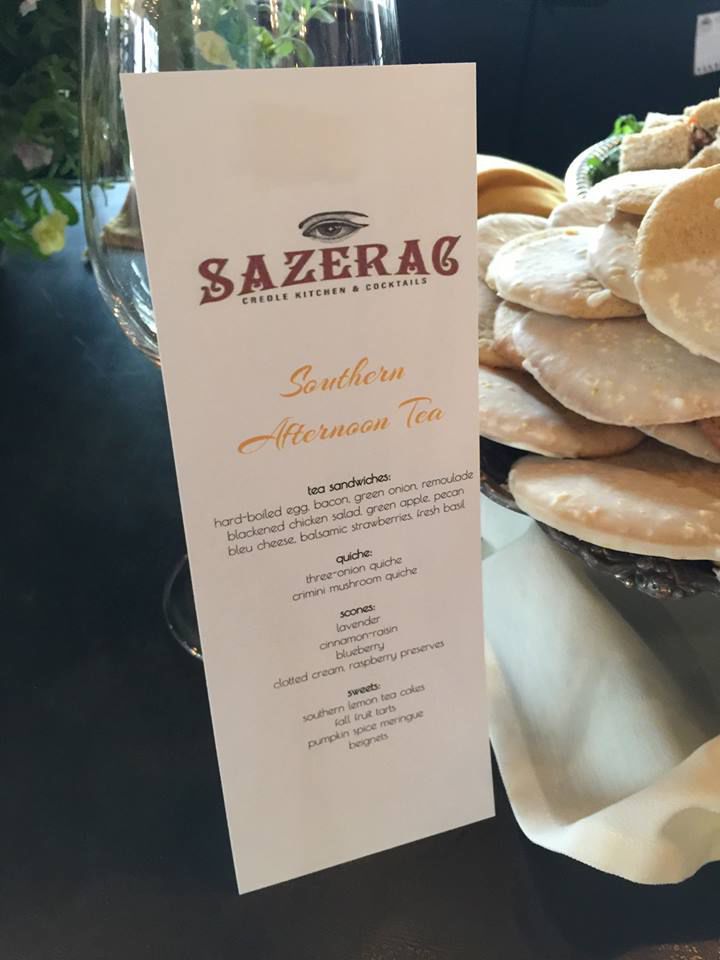 Less than a year after opening, Sazerac Creole Kitchen & Cocktails in St. Philip's Plaza will close after its brunch service on Sunday, Dec. 24.
It is the second JAM Culinary Concepts restaurant to close in the past month; the family-owned company's Indian restaurant Twisted Tandoor was open just four months at 4660 E. Camp Lowell Drive when it closed in November.
Suzanne Kaiser, who owns JAM with sons Joshua and Aric Mussman, said her St. Philip's Plaza neighbors Grant Krueger and Steve Stratigouleas, who own the popular gastropub Union Public House and the modern Mexican restaurant Reforma, will take over the space at 4340 N. Campbell Ave. All three of the pair's ventures are concentrated in the plaza's courtyard.
Neither Krueger or Stratigouleas could be reached for comment.
Meanwhile, Kaiser said JAM will revisit the Indian food concept early next year at the Camp Lowell Drive property, where they briefly operated Twisted Tandoor in partnership with Roop Singh. The project was inspired by Singh's late husband, Muhki, who ran the popular Twisted Tandoor food truck for several years before his death in 2015.
Roop Singh has since relaunched the food-truck operation.
Sazerac is open during regular business hours through Sunday — from 2 to 10 p.m. Friday and Saturday; and 9 a.m. to 2 p.m. Sunday.
Kaiser said they are keeping most of the Sazerac kitchen staff to help with a catering service. Kaiser said JAM is ramping up its catering next year with Sazerac's Creole cuisine, Italian from its popular Vero Amore pizzerias and Indian once it opens the new restaurant.
Tucson's Twisted Tandoor closing after four months
Twisted Tandoor, the brick-and-mortar incarnation of the late Mukhi Singh's popular Indian food truck, will close at the end of business Nov. 22, roughly four months after it opened.
Officials with Jam Culinary Concepts, which owns and operates the restaurant at 4660 E. Camp Lowell Drive, said the business will be temporarily converted into an event space. Jam will roll out a new restaurant concept in the space early next year.
No reason was given for the closure.
Singh ran Twisted Tandoor as a food truck for more than two years when he died of a heart attack in August 2015. He was in the process of opening a restaurant at the time. 
His widow, Roop, partnered with Jam about six months later, initially serving her recipes on pizzas at Jam's Vero Amore pizzerias. In late 2016, they signed the lease for the Camp Lowell space, which had been home to Relish Kitchen & Wine Bar.
In addition to two Vero Amore locations, Jam also runs Noble Hops in Oro Valley, Sazerac in St. Philip's Plaza and a ramen noodle restaurant in Salt Lake City, Utah, where they also have a bar concept. 
Twisted Tandoor is open from 11 a.m .to 9 p.m. Sunday through Thursday and from 11 a.m. to 10 p.m. Friday and Saturday. Details: 495-5499.
Tiny diner Mother Hubbards closing after 47 years; will reopen as new concept
The small Mother Hubbard's Café in the center of the Grant-Stone Shopping Center has been a peculiar holder-on for nearly 50 years.
Businesses have come and gone, some faster than others. Endless construction of Grant Road in recent years has not exactly been a welcome mat, especially for visitors and newcomers.
And yet, for 47 years, customers have navigated around the traffic jams and poor street-front visibility to find the diner dive whose calling card when it opened in 1970 was the daily 99-cent breakfast special.
But all good stories eventually have new chapters and Mother Hubbard's is about to turn that page.
On Nov. 19, the restaurant at 14 W. Grant Road will serve its last buckwheat pancakes and green corn waffles on roasted green chiles.
Chef-owner Kelzi Bartholomaei, who bought the restaurant in 2010 and transformed it from typical American diner to gutsy regionally-inspired cafe, is walking away from the business, turning Chapter 2 over to her operating partner Kade Mislinksi.
Mislinksi, in a Facebook posting late last week, said that Bartholomaei "wanted to step away permanently and pursue other goals and dreams."
"And honestly she was Mother Hubbard's Cafe along with her amazing staff," said Mislinski, who owns and operates the months-old Classic Spaghetti Western Steakhouse on North Stone Avenue, a few blocks from Mother Hubbard's. "We came to the realization that it was time to close it. It ran its course 47 years later."
Until the last day, Mother Hubbard's will serve some of Bartholomaei's classics with Native American twists and indigenous ingredients, including blue corn, buckwheat, green chiles and agave nectar.
At the end of the final day, the restaurant will undergo a makeover and be closed about two weeks before Mislinksi in early December introduces Flipside Diner, a fast-casual, counter service restaurant whose menu will be anchored by steamed burgers — think White Castle or Ted's Restaurant in Connecticut — priced at $3.50 and $4.50.
"I felt like I wanted a little faster service," said Mislinksi, who also owns Saguaro Corners on the far east side and downtown's Batch Doughnuts & Whiskey. "No one's ever tried ... counter service diner food."
Tucson's Cup It Up closes after weekend of backlash over Facebook post
Cup It Up American Grill closed for good on Monday, three days after two of its owners posted a politically charged statement on Facebook that prompted angry social media backlash and calls to boycott the University of Arizona-area restaurant.
Julian Alarcon, a former partner who was not involved in Friday's Facebook post, said the restaurant at 760 N. Tyndall Ave. was the target of harassing and threatening phone calls throughout the weekend. Two employees quit Saturday because of the calls and several more quit throughout the weekend, he said.
"It's not worth it," said Alarcon, the operating partner and chef who resigned Saturday morning in response to the Facebook post from partners Christopher Smith and Jay Warren.
The pair's post laid out their political beliefs that included support for President Trump, standing for the national anthem and repealing Obamacare, and opposition to fake news and the concept of global warming.
That post, which went up at noon Friday, also announced that they would not broadcast NFL games at the restaurant in light of players' kneeling during the anthem.
Within minutes, the post was met with a barrage of comments, most of them negative and including calls to boycott the restaurant.
The post was taken down three hours later and by Saturday the restaurant had removed itself from social media.
Neither Smith nor Warren returned calls Monday for comment.
In a statement Saturday, the pair apologized for bringing "our personal political beliefs into a business forum" and said they had never intended to "strike a nerve."
"We assumed there would be some discussion and shares, but never this type of animosity and hostility," the statement read.
In an interview Saturday morning, Smith said he contemplated closing the restaurant indefinitely after they received harassing phone calls and threats to burn down the building with the owners in it. But the restaurant opened Saturday and Sunday with no incidents, Alarcon said.
Cup It Up opened in early 2016 on North Wilmot Road and moved to the North Tyndall Avenue space in April.
Thunder Canyon Brewery closing Foothills Mall flagship
Thunder Canyon Brewery is closing its flagship restaurant in the Foothills Mall, 7401 N. La Cholla Blvd., at the end of business Sept. 30.
Owner Steve Tracy announced the closing on Facebook Thursday, saying that "weathering the storm over the past year was too difficult and the future too uncertain."
Tracy could not be reached for additional comment, but he is no doubt referring to the loss since 2015 of several major retailers including Old Navy, Nike and Saks Off Fifth, which abandoned the Foothills Mall for the Tucson Premium Outlets in nearby Marana, off Interstate 10 and Twin Peaks Road.
Thunder Canyon Brewery had been a mainstay and dining anchor of Foothills Mall for 20 years and Tracy said he wanted to be a part of the mall's planned renovations under new owner Bourne Companies, which bought the property in December 2016.
Bourne officials could not be reached to comment.
Meanwhile the craft-brewcentric restaurant's Thunder Canyon Brewstillery downtown at 220 E. Broadway will remain open. And members of the Foothills Mall location's Mug Club are invited to bring the mugs to the downtown location "and we'll fill them up," Tracy said on Facebook.
Thunder Canyon's departure adds one more empty restaurant footprint to Foothills Mall, which now has four big restaurant vacancies:
The 15,000-square-foot World Sports Grille by Sega has been collecting dust since it closed without warning in March 2013.
The sign atop the 7,000-square-foot stand-alone building is all that remains of Phoenix chef Aaron May's sports-bar heavy The Lodge Sasquatch Kitchen, which shuttered in 2015 after nearly three years in business.
The dust has been caked on for years in the large spot long occupied by Bob McMahon's Keaton's and Old Pueblo Grille in the late 1990s through mid-2000s. The last tenant, Carlota's Authentic Mexican Cuisine, quietly closed in summer 2011 after two years in business.
The Mall also lost the popular Café Tremelo, which featured sidewalk dining and live music, and Melting Pot fondue restaurant, which called it quits in June.
That leaves Foothills Mall, which enjoyed a resounding rebirth in 1998 that turned the mall from nearly deserted to thriving, with very few dining options outside the chains Applebee's and Outback Steakhouse, and the Tucson restaurants Sushi Garden and Pappoule's Greek café. The food court has shrunk to five restaurants with the loss in recent years of national chains serving everything from 1950s-themed burgers and shakes to fast-food tacos and pizza.
Thunder Canyon Brewery will be open regular hours — 11 a.m. to 10 p.m. — through Saturday, Sept. 30.
Five Palms restaurant in Foothills is closing after this weekend
One of Tucson's spendiest fine-dining restaurants, where the cheapest steak on the menu will set you back $39 — the same price as the foie gras appetizer — is closing after this weekend.
Five Palms Steak & Seafood, which shares the 12,800-square-foot foothills behemoth at 3500 E. Sunrise Drive with a wine and cigar bar, night club and Mediterranean restaurant, will close at the end of business Sunday, Sept. 10, according to a posting on the restaurant's Facebook page.
The owner, Nino Aidi, and restaurant officials could not be reached for comment Wednesday.
Five Palms opened in late 2012, the brainchild of the Syrian-French businessman Aidi, who owned and operated restaurants in Sonora, Mexico, before breaking into the Tucson market. Over the years, the business evolved to include other culinary concepts like Oliva Mediterranean Restaurant, Dovino Wine and Cigars, and the Five Palms Fine Bar.
Five Palms announced its closing on Facebook Wednesday morning: "Please join us on our last weekend open for business, and on our final Friday night dance party, as we celebrate beautiful memories of the last five years open to the public in Tucson."
Plans include an '80s dance party featuring Gigi & the Glow Friday, Sept. 8; and live music and drink specials Saturday and Sunday, Sept. 9 and 10.
The posting also hinted at future plans for the space and business: "Please stay tuned for special announcements. Thank you Tucson for a great 5 years and all the wonderful memories created there," the post read.
No reasons were given for the closure.
Five Palms' hours, listed on its website fivepalms.com, are from 5 p.m. to 1 a.m. Friday and Saturday and 5 to 10 p.m. Sunday.
Tucson's last Furr's cafeteria closes
Tucson's last Furr's cafeteria, the bastion of buffets for the mostly senior set, closed last week, ending a run that dates back at least to the late 1980s.
With little fanfare, the restaurant, which dubbed itself on one wall of the building as Furr's Buffet and on its main sign as Furr's Family Dining, was gone.
It apparently closed sometime last week, said a Furr's manager at a location in New Mexico — the closest Furr's to Tucson after all the Phoenix-area restaurants closed over the past several years.
But on Wednesday, a sign on the front of the building at 1095 W. St. Mary's Road was still lit.
"I wish they would have let me know they were closing," Tubac resident Bill Clark said just after peering into the empty restaurant and reading the sign on the door: "To our valued guests, this location is now CLOSED," it read, then thanked customers for their business and directed them to visit the company's sister restaurant Old Country Buffet.
That buffet chain also is gone from Tucson, its Park Avenue restaurant shuttered and the phone ringing a constant busy signal. An employee at Old Country Buffet in Mesa said there are only three restaurants left in Arizona and all are in the Phoenix area.
Furr's was owned by Texas-based Food Management Partners, which acquired the Furr's chain and its sister Old Country Buffet and a couple other buffet imprints in 2014 and set about the next couple years shuttering locations.
Tucson also lost its Hometown Buffet restaurants as part of an assets purge by Food Management Partners.
The company apparently didn't pick favorites, shuttering restaurants at a feverish pitch in early 2016 when it closed 92 locations in a single weekend — more than half of its properties, according to a report in Nation's Restaurant News.
But customers on Wednesday said they had no idea the St. Mary's Road restaurant, which was popular with older folks on fixed incomes, was on the chopping block. An older mother-daughter duo peered into the window just after 2:30 p.m. looking for life after they found the front doors locked.
"It's closed," the younger woman called out as another customer pulled into the parking lot.
A couple from New Mexico who said they were staying at a hotel on West Valencia Road were equally surprised. The woman said they would probably drive around until they found something.
Clark said he was heading over to Costco on South Park Avenue to get a $2 slice of pizza. But he said he would miss his nearly monthly lunches at Furr's.
"I always enjoyed this buffet," said Clark, who was a regular for 17 years and was last there three weeks ago. No one mentioned the restaurant's days were numbered, he said.
"I guess there are too many Californians here. They want to be served," he joked, saying that California residents were not fans of buffets.
At one time, Tucson had three Furr's restaurants.
US Fries closed on North Fourth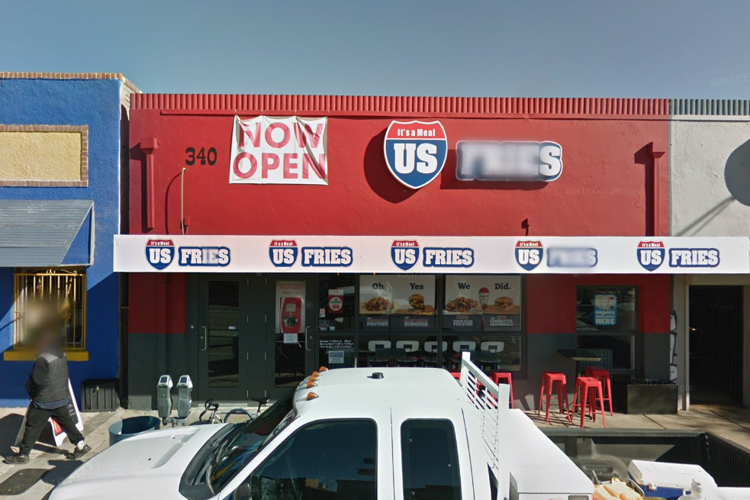 US Fries at 340 N. Fourth Ave. closed over the weekend. The poutine restaurant, opened by Tom Jones of Calgary, Alberta, in summer 2014, missed its third anniversary by two weeks.
CataVinos Wine Shoppe closing in August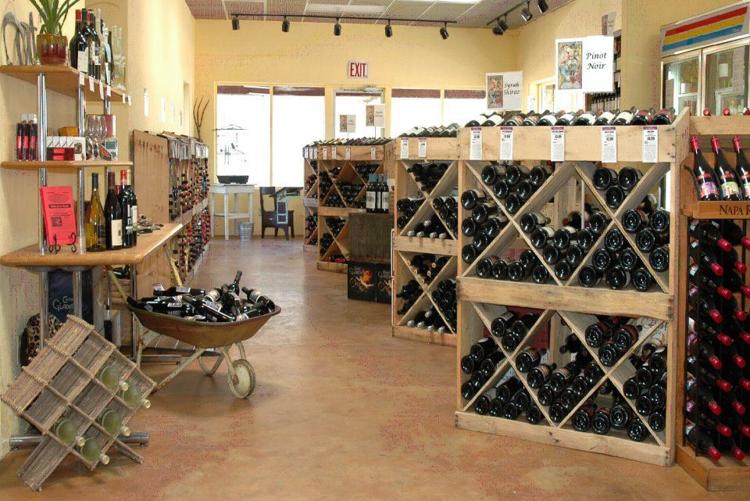 It seems only fitting that CataVinos Wine Shoppe & Tasting Room owner Yvonne Foucher end her 10-year run with a "Taste 'em 'Till They're Gone" wine tasting series.
The wine-tastings will run over the next several weeks as Foucher closes in on her Aug. 29 finale. That's the date she has to vacate the building at 3063 N. Alvernon Way where she has run CataVinos since fall 2007.
From its opening day, Foucher's 1,800-square-foot shop attracted the attention of wine connoisseurs on a budget. The store has more than 150 varieties of wine and bottles that sell for $15 or less. She also carries some Arizona wines that she sells for $28 or less a bottle.
CataVinos was one of the first wine stores to offer regular wine tastings, with proceeds often benefitting animal causes, most of them centered on cats. The store has a feline mascot, Vino, who Foucher, in a July 21 Facebook posting announcing the closing, said she will bring home with her.
"I'm going to try and turn him into a house cat, any bets on how that might go?" she wrote. "I just bought a tracking device that I'm going to put on him because I'm terrified that he is also going to miss the shoppe and all of you guys so much that he is going to try and find his way back to you."
Fouche could not be reached Monday for additional comments.
In her Facebook posting, she said that while her inventory is depleting, she plans to continue filling special orders for customers and stocking the "absolute favorites" in the store.
But Fouche also hinted that a another wine shop might be in her future — if she doesn't retire to a beach in Mexico or return to her pre-wine shop career as an architect.
Beginning next week, Fouche said she will begin liquidating the shop's furniture, which includes wine racks, boxes and dishes. For details, call her at 323-3063 or visit the shop. Hours: 11 a.m. to 6 p.m. Tuesdays and Wednesday and until 8 p.m. Thursdays through Saturdays. Details: facebook.com/TucsonCataVinos
CataVinos' closing will come within weeks of what should be have been the shop's 10th anniversary. It opened in early September 2007.
Last call for Delectables; 4th Ave. eatery closes after today
Delectables Restaurant & Catering on North Fourth Avenue will serve its final meals tonight, ending a 44-year run on a  downtown strip that morphed from a staggering business district when it opened in the early 1970s to an ever-vibrant entertainment and dining mecca as it closes.
But if you were hoping to enjoy one last dinner — we recommend the Tucson's Best Chef salad or the house special chicken and spinach enchiladas — you are likely out of luck. The restaurant is booked with dinner reservations from 5 p.m. to close — about 10 p.m. for the kitchen, midnight for the restaurant itself.
You can still sneak in for lunch, though, and the lunch menu pretty much mirrors dinner with smaller portions.
Delectables owner Donna Difiore, who has owned and run the restaurant since 1982, announced today's end-date in May, when she said she had sold the building at 533 N. Fourth Ave.
Difiore is planning to continue Delectables Catering at a location off North Fourth Avenue, she said at the time.
'Adios, Old Pueblo': Tucson Malaysian restaurant closing Sunday after 26 years
For 26 years, Rosalind Yap created richly authentic Malaysian cuisine out of the family's Neo Malaysian Kitchen & Sushi restaurant, first on East River Road and then on East Broadway.
On Sunday, June 25, the restaurant will serve its final meals. Rosalind and her husband Chris are closing the restaurant that they opened a year after emigrating to the United States from their native Malaysia and moving to Colorado.
"Our children have decided they are not going to continue with the business here," said Chris Yap, the father of three and grandfather of two.
Yap said he and his wife have decided to follow his son Allen to Denver, where he has accepted a job. The couple plan to move in early July.
"We're looking forward to new opportunities in Denver," Chris Yap said, not ruling out the possibility of opening a restaurant.
The Yaps opened their first Tucson restaurant, Seri Melaka at 6133 E. Broadway, in 1991. Neo of Melaka on East River Road followed, but in 2010 the family combined both restaurants into one at the Broadway location and opened the Asian fusion and sushi restaurant Om in the River Road spot. That restaurant, owned by the couple's son Allen, was open a few years.
Chris Yap said the family had "a good 26 years" in Tucson's restaurant industry, but the last few have "been a bit rough."
"This year especially with the minimum wage increase. Come July there will be a sales tax increase. It kind of impacts the sales and revenues," he said.
The Yaps on Monday posted a note on Facebook that they were closing: "Thank you all for your kind support. Our restaurant children are grown and have flown the coop and so this chapter ends," it read. "Thank you so much, from the bottom of our hearts, and we look forward to saying goodbye in the coming days. Adios, Old Pueblo."
Now through Sunday, Neo Malaysian Kitchen will serve a limited menu that will include its popular Chilean sea bass and sushi and curries. Restaurant hours are 11 a.m. to around 8 p.m. daily Thursday, June 22, through Sunday.
Tucson's lone Red Robin restaurant will close July 4
Red Robin Gourmet Burgers restaurant in the Tucson Mall will close at 6 p.m. July 4 after 30 years in business.
A note posted on the restaurant's door last weekend notified customers of the move, which came after Red Robin corporate did not renew the restaurant's franchise agreement, said Tucson operations director Bob Wolff.
The Tucson Mall location, 4500 N. Oracle Road, was the national burger chain's only local outpost.
Red Robin corporate officials could not be reached to comment on Monday and did not return repeated calls.
Red Robin granted franchisees Dan and Anne Barnes a 30-year lease through their Tucson Robin Hood Inc. parent company. Wolff said the franchise agreement was for 30 years; that expired this year and no reason was given for not renewing it, he said.
"This is a profitable, successful store. We're busy all the time and packed on weekends," Wolff said. "We just surpassed $3 million in annual sales."
Tucson Robin Hood operates a second Red Robin location in Tempe; that restaurant will remain open and the 75 employees at the Tucson location have been invited to transfer or commute to that restaurant, Wolff said.
"We're doing everything in our power to get them placed," he said.
The Barneses opened Red Robin at Tucson Mall in 1987 and it quickly became a popular Tucson destination in large part because of the couple, who worked in the restaurant. Dan was not a stranger to washing dishes and Anne would work the line in the kitchen to keep things moving along, Wolff said.
After Dan died in October 2015 of ALS, also known as Lou Gehrig's disease, Anne continued running the restaurant.
"This is a loss to Anne just the same. This is her family. She built this restaurant," Wolff said, vowing that Tucson Robin Hood would be back in the Tucson market at some point. He said "the sky's the limit" as to what the company will do here.
Meanwhile, Wolff said he has heard that Red Robin is planning to open a restaurant on Tucson's south side, in the growing Interstate 19-West Irvington Road commercial corridor. No lease has been signed.
From now through closing the Tucson Mall restaurant will donate 20 percent of the proceeds from sales of desserts, appetizers and freckled lemonade drinks to the ALS Association of Tucson in memory of Dan Barnes.
BZ's Pizza closing in Tucson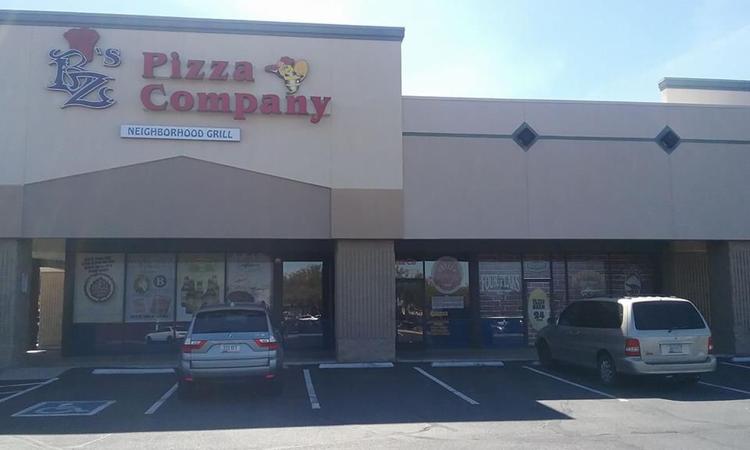 You have eight days to get your fill of BZ's Pizza Co.'s pastas, award-winning pizzas and dripping good meatball sandwiches before the Sorell family pulls the plug on the popular pizzeria/Italian eatery.
The family decided last week to close the restaurant at 8858 E. Broadway, on the corner of Broadway and South Camino Seco, ahead of the city's plans to widen Broadway.
BZ's owner Mike Sorell said he worried that work that was set to start in July to move utility lines would hurt his business, which has weathered 18 months in a plaza that hasn't had a major draw since its anchor Safeway closed.
Sorell said he and his partner/brother Brian Sorell are scouting alternative locations and have their eyes on the growing Vail area's Walmart Supercenter plaza on South Houghton Road off Interstate 10. It is the biggest shopping center between Benson and Tucson.
BZ's is open from 10 a.m. to 11 p.m. through Friday, June 16. Follow the restaurant's Facebook page (facebook.com/BZPizzaCo) for updates on a new location.
Melting Pot fondue eatery pulls out of Foothills Mall
The Melting Pot fondue restaurant in Foothills Mall, shown in 2013, closed on Monday because of poor sales, said company officials in a written news release.
Just shy of two years after new owners took over and gave it a major remodel, The Melting Pot restaurant in Foothills Mall closed .
The fondue restaurant, a popular date-night location and special occasion family spot, served its final meals last weekend. It closed on Monday because of poor sales, company officials said in a written release.
Devin Gilbert, an operating partner with the group that owned the Tucson restaurant and three Phoenix area Melting Pot locations, also said the Foothills Mall was not willing to accommodate what the restaurant needed. He wouldn't elaborate on what that meant except to say that the mall was "going away from what they used to be" which "didn't allow for any natural growth."
The Phoenix locations are not affected.
Mall officials on Tuesday said the restaurant's closing came as a complete shock.
"We had no knowledge they were closing," said Foothills Mall General Manager Regina Harmon. "It was quite a surprise to us."
Harmon said the restaurant could have had a place at the table for the mall's upcoming redevelopment, being drawn up by the mall's new owners Bourn Companies.
Bourn bought the Foothills Mall, 7401 N. La Cholla Blvd., in mid-December, roughly two years after several mall merchants defected for the Tucson Premium Outlets mall off Interstate 10 and Twin Peaks Road. Among those merchants was the Nike Outlet, Saks Fifth Avenue Off Fifth and Old Navy — two Foothills Mall anchors.
Harmon was quick to note how many merchants still operate in Foothills Mall including Ross Dress for Less, Barnes & Noble bookstore, Bath & Body Works and AMC Foothills theater, Tucson's only IMAX theater.
Harmon said Bourn is still in the planning stage of the proposed mall redevelopment and no plans or timeline have been finalized.
After 64 years in midtown Tucson, Molina's Midway is closing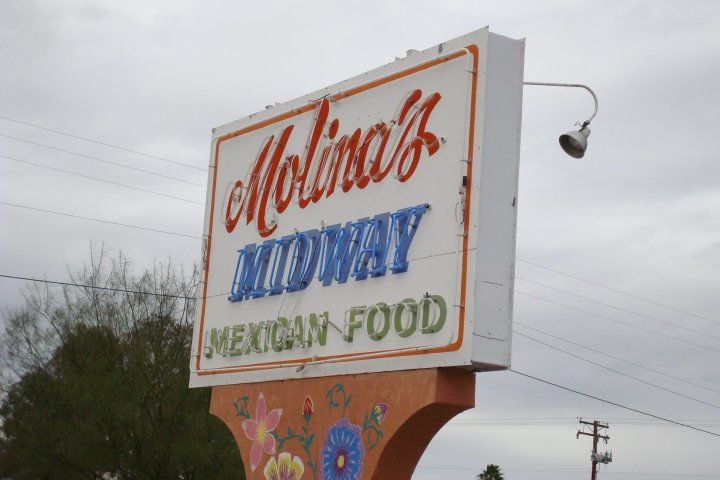 Molina's Midway Restaurant, one of Tucson's longest continually running Mexican eateries and one that helped pave the way for a far-flung, multigenerational family restaurant business, is calling it quits.
The restaurant, 1138 N. Belvedere Ave., has been sold and will serve its last bowl of steamy albondigas and house favorite double-stacked cheese and onion enchiladas on May 19, said Louisa Miranda, granddaughter of founders Louisa and Elias Molina. Miranda, who has been the restaurant's general manager for the past 10 years, is the daughter of Amalia Miranda, who owns the restaurant with her three sisters and brother.
The sale comes years after the family first contemplated getting out of the restaurant business back when the economy tanked in 2008-09, said Miranda, who has worked in the family business off and on since she was a teen. And even after the business escaped fairly unscathed, the seed was planted, she said.
"It just kind of got into our head," said Miranda, the only one among her cousins who continues to work at the restaurant full time. "They (her mother and aunts and uncle) are all in their 90s and they are all done with the stress of running the restaurant, and I'm ready to move on."
On Monday, Miranda met with staff members, many of whom have been with the restaurant 20 or more years, and told them the owners had found a buyer. She would not say who bought the business but said that it will continue to be a restaurant.
Molina's Midway was the second restaurant opened by the Molina family; the first was Casa Molina Restaurant, 6225 E. Speedway, opened in 1947 by Elias Molina's brother Gilbert to serve folks heading to the Sabino Canyon guest ranches, said Louisa Miranda's brother Richard Miranda.
Louisa and Elias Molina opened Molina's Midway on April 1, 1953, when Richard Miranda was a year old.
"I essentially did grow up in the restaurant," he said. "As a kid growing up, we had to work there and essentially spent our formative years at that location. It means a lot to us. We have a lot of memories."
Every Thanksgiving for decades, the family celebrated at the restaurant, something Richard Miranda, who served as Tucson's police chief and city manager, said he will miss the most.
"That was the one time of the year that we knew we were all going to be together," he said. "That is truly going to be missed."
"It was a time when all the cousins, no matter where they went, we got together at the restaurant," added Louisa Miranda. "We made five or six turkeys. Those are the memories I like to think about. That's the thing I will always keep in my heart."
Mark Davis of Green Valley said he'll miss the cheese crisps with green chiles and the ground beef enchiladas the most.
He and his sister, who lives in Tucson, have made Molina's Midway a weekly tradition for the past three years.
"They have great food, great service, great everything," he said. "I'm going to miss it."
In addition to the original Casa Molina, there are Casa Molina restaurants in Tucson at 4240 E. Grant Road and 3001 N. Campbell Ave.; La Casita De Molina at 3220 W. Valencia Road; and four El Molinito restaurants — 5380 E. 22nd St., 2323 N. Pantano Road, 3675 W. Ina Road and 10180 N. Oracle Road in Oro Valley.
Molina Midway is open from 11 a.m. to 8 p.m. Wednesdays through Sundays, until 8:30 p.m. on Fridays.
Bumsted's to close Sunday
Bumsted's, a sandwich shop and bar on North Fourth Avenue where a cold beer is the perfect complement to the house favorite Mickey Likes It turkey and bacon sandwich, will close at the end of business Sunday, ending a 15-year run in one of Tucson's busiest entertainment districts.
In a Facebook post late Wednesday, Bumsted's owner Barbara Shuman said that she and her husband/business partner Scot were "being forced out of business." She said they were notified by email two weeks ago that their and World Wide Wrappers' leases were not being renewed and "we were not even given an opportunity to counter Lindy's offer."
Shlomo & Vito's closes after nine years
Back in December Dean Greenberg predicted the state's increased minimum wage would likely spell the end of his 9-year-old foothills deli.
On Monday, that prediction bore fruit when Shlomo & Vito's New York Delicatessen & Pizza Kitchen, 2870 E. Skyline Drive, served its final pastrami on rye and namesake house burger topped with Swiss cheese and pastrami.
"The increase in the minimum wage killed us," the owner said Tuesday, hours after he posted a note on Facebook telling customers that the restaurant was closed. "It's a very sad day for me. It's a very emotional day."
Greenberg said he's endured years of declining revenues as food costs steadily climbed, but the voter-approved state minimum wage increase — to $10 an hour from $8.05 — that went into effect on Jan. 1 was the last straw. He tried reducing work hours for his 43 employees and increasing menu prices, but he couldn't offset the increases, he said.  
"With minimum wage going up this year, the next year and the year after, and if they vote again and it goes to $15, I don't know how it's possible being in the midrange business," said Greenberg, who also owns and runs Greenberg Financial Group. "I finally took off my emotional hat and the feelings I had and said, 'OK Dean this is a business. Would you ever tell anyone to be in this business?' And I said no. So I finally listened to myself."
In his Facebook note, Greenberg encouraged people to shop locally: "They are the heart of our community and they can not do it alone. These families provide something chains and 'big boxes' never will — a glimpse into our 'collective soul'," he wrote.
Tucson's Driftwood Pub to close Sunday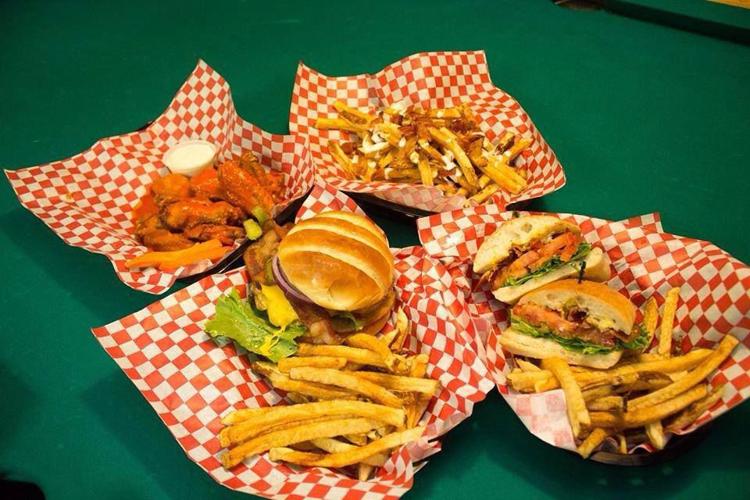 Driftwood Pub & Restaurant on South Craycroft Road will serve up its last batch of hot wings and beer-battered fish tacos on Sunday, Feb. 5.
This is the third longtime Tucson bar to call it quits since the fall.
Driftwood Pub, which has been a part of Tucson's bar scene for some 40-plus years, will be open for Sunday's Super Bowl, said bartender Earlinda "Early" Seashore. It will be open from 10 a.m. to 10 p.m.
"The market is just hard right now," said Seashore, who has tended bar at Driftwood for six years. "It's a hard line of work to be in now."
Driftwood owner Rosie Corrales notified employees on Friday morning after word of the closing made its way to social media Thursday. Seashore said she wasn't sure if Corrales was selling the property at 2001 S. Craycroft Road or whether it would remain a bar.
Corrales could not be reached to comment Friday; Seashore said the owner, who also worked in the kitchen, was upset by the closing and didn't really want to talk.
Driftwood Pub was known for its half dozen wing varieties, from peppery sriracha chile to tangy lemon pepper parmesan; and 10 different burgers including the Hawaiian, topped with a thick-slice of pineapple, and the Southwest, with pepper jack cheese and smokin' hot grilled jalapeño peppers.
"We have wonderful food and we did have a lot of people come in for the food," Seashore said.
Driftwood joins two other Tucson bars — Boondocks and Rusty Nail — with a history spanning more than four decades to call it quits.