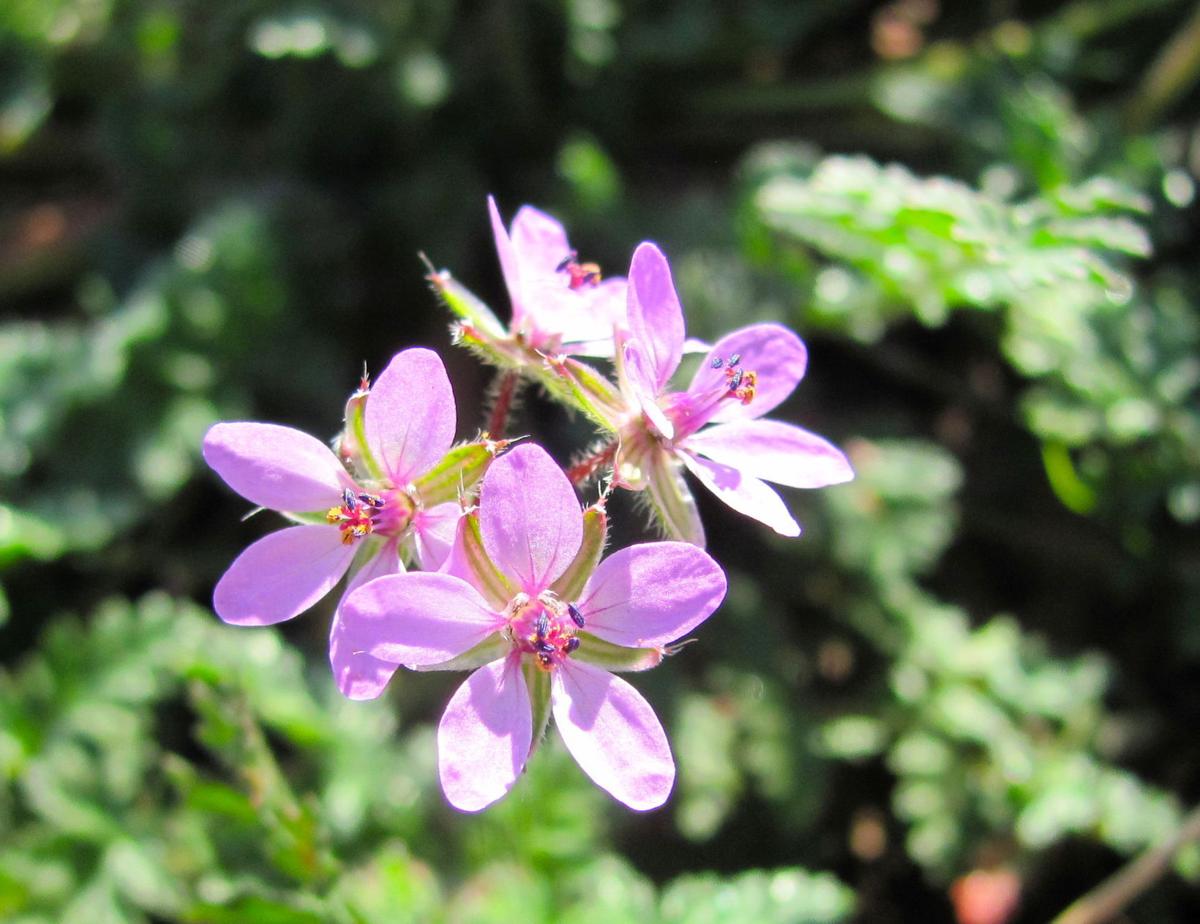 In an ecosystem, ground covers are low plants and small shrubs that grow below the shrub layer. They serve several important functions: they shade the soil, they act as a living mulch, and they prevent erosion.
For the gardener, ground covers are also an opportunity to add in more attractive plants and help your garden deal with drought and heat.
As you may have noticed, in the Sonoran desert low shrubs and small plants are few and far between. Because resources are limited, plants are naturally spaced out. This means that if you want more dense plantings you will need to give your plants additional water. If you use native and drought-adapted plants, you will still be able to conserve water (relatively speaking).
Evening primrose (Oenothera spp.): These native plants have large white or pink flowers and bloom beautifully in the evenings. They do well in part shade but will likely have more blooms in full sun. The flowers are very fragrant and attract bees and other insects. Two species easily found in local nurseries are Mexican evening primrose (O. speciosa) and tufted evening primrose (O. ceaspitosa).
Trailing dalea (Dalea greggii): This lovely native of the Chihuahuan desert has purple flowers which are great for various pollinators. It can take part shade to full sun and reflected heat, is hardy to 15 F and grows about a foot tall and up to 6 feet wide.
Small sages (Salvia spp.): These little guys are bright colored, with red or purple tubular flowers that attract hummingbirds and butterflies. They usually do well in full to part sun, and will require more water in sunny areas. They are generally pretty hardy, to between 0-10 F. Two common ones in our area are autumn sage (S. greggii) and germander sage (S. chamaedroides).
Gooding's verbena (Glandularia gooddingii): Another native and pollinator favorite, this plant has beautiful pink to purple flowers in clusters. It will take full sun and is hardy to 0 F. It does well in poor soil and rocky areas.
Desert zinnia (Zinnia acerosa): This native mini-shrub grows about 6-10 inches tall by a foot wide. It has whitish to creamy yellow flowers. It is well suited to sunny areas, and is hardy to about 25 F.
Damianita (Chrysactinia mexicana): A beautiful and very tough native, damianita will grow in very sunny areas and is also hardy to 0 F. It grows in small mounds of about a foot across and has lots of small bright yellow flowers.
Trailing rosemary (Rosmarinus officinalis 'Prostratus'): This is a Mediterranean plant, but does well in our climate and gives you fragrant greenery that can be used in cooking. It has very small bluish-white flowers which are popular with pollinators. It does well in full sun, and is hardy to 15 F.