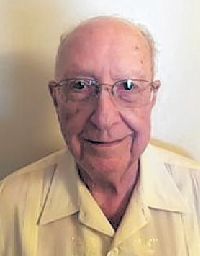 age 89, passed away on February 11, 2018 in Tucson, AZ after several months of declining health. He was born April 1, 1928 in Johnstown, PA to Alice and Albert Croft. Herb was the beloved husband of Lucretia Ann for 60 years, resided in Tucson for 38 years and they enjoyed traveling around the world together. He was a WWII Army veteran and retired as a Chief Yeoman from the US Naval Reserves. A graduate of The University of Pittsburgh, Herb had a long career as an executive with the Boy Scouts of America. Preceded in death by his parents, wife Lucretia, daughter, Deborah Simecek, sisters, Jane Hartland and Charlotte Daly. Survived by his sons, Todd (Mary), Lance (Sharie); siblings, Albert Croft, Donald (Kathy) Croft, in-laws, Roberta Croft, William (Georgia) Manby, Keith Heimberger, William (Beverly) Heimberger, Karen (Paul) Ricupero. Also, survived by grandchildren, Scott (Sally), Becky (Chris), Adam (Katherine); and great-grandchildren, Breanna, Travis, Garret, Grey; and many nieces and nephews.
Herb was an active member of
the Sabbar Shrine and Desert Skies United Methodist Church. A "Celebration of His Life" will be held on Wednesday, April 18, 2018, 10:00 a.m. at Desert Skies United Methodist Church, 3255 N. Houghton Rd. in Tucson with the Rev. Dr. Candace Lansberry officiating. Those who prefer memorials in lieu of flowers, may make donations to Heifer International charity through the church. Arrangements by ANGEL VALLEY FUNERAL HOME.