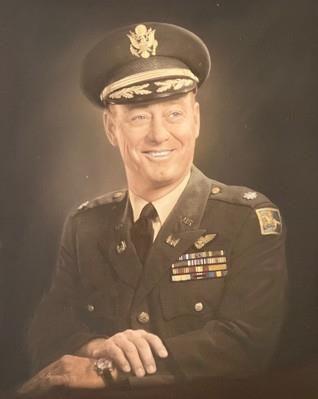 Was born in Belleville, Kansas in 1923 to TJ and NInah Daniel and passed away in Tucson, Arizona on November 1, 2019. His father was a Railroad Train Dispatcher and the family moved often. By the time he graduated from high school in Casper, Wyoming they had lived in Kansas, Oklahoma, Arkansas, Nebraska, and Wyoming. He entered the University of Wyoming in the fall of 1941, but his college studies were cut short by World War II and the bombing of Pearl Harbor. He enlisted in the Navy V-5 Aviation Program. Upon graduation he was commissioned a 2nd Lt in the Marine Corps, trained in the F4U Corsair and joined VMF 114 island hopping in the South Pacific to reach their destination and fly combat missions in the Battle of Peleliu. He served in the USMC Reserve through 1956 and transferred to the Wyoming Army National Guard, where he commanded the 1022nd Engineer Battalion. He was recalled to active duty during the Berlin Crisis in 1961, and retired in 1971. Bud's Military Awards include the Purple Heart, Distinguished Flying Cross, Air Medal with 2 gold Stars and the Navy Unit Citation. He returned to the University of Wyoming after the war, was captain of the baseball team, received the Brotherhood Award, and was elected student body President. After graduation in 1948 he signed a minor league contract with the St. Louis Cardinals for one season, then started his coaching and teaching career in Cody, Wyoming. In 1950 he began a 21 year career as head Baseball Coach at UW winning Conference and WAC Division championships, and taking his 1956 team to the College World Series. In 2006 this team was inducted into the UW Athletics Hall of Fame. In 1971, Bud was named Executive Director of the University of Arizona Athletic Scholarship Foundation, and started the Wildcat Club. He served with the U of A until his first retirement in 1985. He then accepted a position with Tucson based Alphagraphics Printing as Director of International Franchising as the company opened print shops in Canada, England, Hong Kong, Australia, and Russia. He was a Volunteer at the Pima air & Space Museum for 21 years, active on the Chamber of Commerce Military Affairs Committee and was Guest of Honor at the 2007 Marine Corps Birthday Ball. He loved traveling, attending squadron reunions, reuniting with his ballplayers, and playing golf, scoring 3 "holes-in-one" at 49'ers Country Club.He maintained active participation in the American Baseball Coaches Association with 68 years membership, including President and Chairman of the Board of Directors and served as coordinator to the US Olympic and Japanese Organizing Committee with the goal of including Baseball in the '64 Olympic Games. Bud was inducted into several Halls of Fame to include the American Baseball Coaches Association, the University of Wyoming Athletics, and the Wyoming Coaches Association. Bud is survived by his wife of 50 years, Connie; sons, Timothy (Carol), Thomas (Karin), Mark (Janet) and many grandchildren. The family wishes to thank the VA Home Health Team, TMC Hospice and his "angels" Sharah, Anna, Melissa and Alexis from Patient Care Advocates for their devoted care as he made his last flight home. Private services with Military Honors will be at the National Cemetery of the Pacific, Honolulu, Hawaii. Memorials may be made to the TMC Hospice Endowment, 5301 E. Grant Rd, Tucson, AZ 85712. Arrangements by ADAIR FUNERAL HOMES, Dodge Chapel.
Obituaries Newsletter
Sign up to get the most recent local obituaries delievered to your inbox.