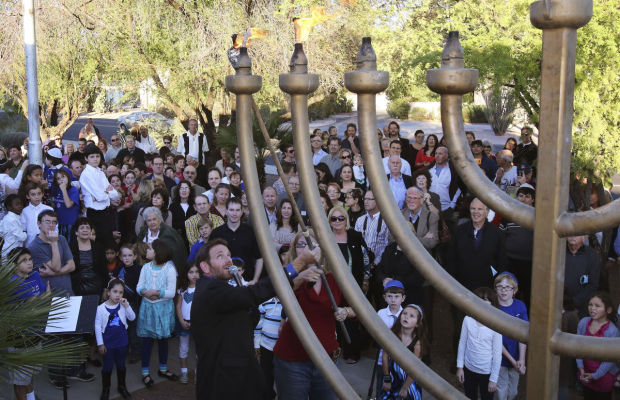 St. Mark's to host Christmas musical
St. Mark's Presbyterian Church, 3809 E. Third St., will host "The Magic of Christmas in Music" 7 p.m. Saturday, Dec. 12, according to press materials.
The performance includes music by a variety of choirs — children's, handbell and Celtic to name a few.
Three parishes in Tucson diocese
to open Holy Door
The Roman Catholic Diocese of Tucson will follow the example of Pope Francis by opening a Holy Door at St. Augustine Cathedral, Mission San Xavier del Bac and Immaculate Conception Parish in Yuma.
Opening the Holy Door like Pope Francis did at St. Peter's Basilica in Rome on Tuesday, Dec. 8. launched the pope's Jubilee Year of Mercy. The Tucson diocese will begin its year with a Mass at noon Sunday at St. Augustine Cathedral, 192 S. Stone Ave.
Bishop Gerald Kicanas will designate the front door of St. Augustine Cathedral as the Holy Door and will open it before Mass for worshipers to pass through.
Bethel Baptist performs
'The Hope of Christmas'
The musical at Bethel Baptist Church, 11040 E. Escalante Road, will include both traditional carols and original songs by the church's choir, which has about 20 members according to press materials.
The church will present its second performance of "The Hope of Christmas" by songwriters Ron and Shelly Hamilton in the church auditorium at 6 p.m. Sunday.
For more information about the free musical,
Pantano Christian has cookies, carolers, crafts
Pantano Christian Church, 1755 S. Houghton Road, will continue its December Nights from 6:15 to 8:15 p.m. Saturdays, Dec. 12 and Dec. 19. The festivities include cookies, crafts, a living Nativity, story times and a snowfall. Purchase hayride tickets for $4 a person on the church website.
Prayer vigil for San Bernardino victims
The Ahmadiyya Muslim Community will hold a prayer vigil at the Yousuf Mosque, 250 W. Speedway, 6 p.m. Sunday for those affected by the terrorist attack in San Bernardino, California last week, according to press materials.
Most Holy Trinity Catholic Church to host imam and rabbi
Watheq Alobaidi, the imam of the Muslim Community Center, and Thomas Louchheim, the rabbi at Congregation or Chadash, will discuss the teachings of their faiths and explore what Islam and Judaism have to say about peace.
The free talk from 4 to 6:30 p.m. Sunday at Most Holy Trinity Catholic Church, 1300 N. Greasewood Road, is put on by PeaceWalk Tucson, a group that organizes walks and other interfaith activities for Tucson's Muslim and Jewish communities.
'Blue Christmas' service for those grieving loss
Grace St. Paul's Episcopal Church, 2331 E. Adams St., will have a "Blue Christmas" service 6 p.m. Sunday. The service allows those grieving loss to remember and honor their loved ones and find comfort, according to press materials.
Hanukkah celebration at Temple Emanu-El
Temple Emanu-El, 225 N. Country Club Road, will hold its annual Hanukkah celebration 4:30 p.m. Sunday.
"The Greatest Hanukkah on Earth! XVII — Making Miracles" includes musical and comedic performances, a kosher meal and community menorah-lightings, including the giant menorah outside the synagogue, according to press materials.
The show is free but the dinner of brisket and latkes costs $25 for members, $29 for non-members, $8 for kids ages 4 to 12 and free for kids 3 and younger.
Caroling on Friday at Riverfront Park
The Episcopal Church of the Apostles, 12111 N. La Cholla Blvd., will go caroling at Canada Del Oro Rivefront Park, 551 W. Lambert Lane in Oro Valley, 5:30 p.m. Friday, Dec. 18, according to press materials.
Tibetan Buddhist Institute to host movie night
The Awam Tibetan Buddhist Institute will host a movie night and potluck 6 p.m. Friday, Dec. 18.
The institute, 3400 E. Speedway, will show "Seven Years in Tibet." Bring food to share. There is no entry fee, but donations are accepted, according to press materials.
Contact reporter Johanna Willett at jwillett@tucson.com or 573-4357. On Twitter: @JohannaWillett