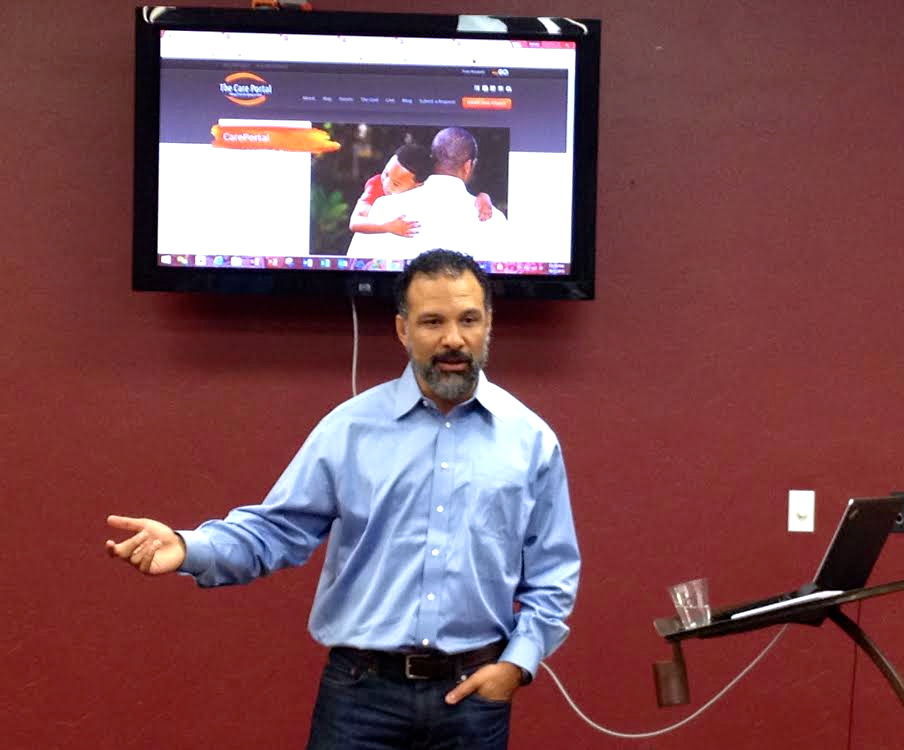 To meet the needs of local children and families, Pima County will pilot a technology that connects area churches with the Arizona Department of Child Safety.
Called The Care Portal, the online tool allows DCS caseworkers who know of a specific need of a child or family to submit that request via email to nearby churches enrolled in the system.
The churches then have the option to fill that request based on the resources of the congregation. As of Friday, Care Portal's website showed nine participating churches here, including Pantano Christian Church, Victory Worship Center and First Assembly of God, Tucson.
If this works in Pima County, the department hopes to make use of the technology in Maricopa County and across the state. The Care Portal has already been included in the department's strategic plan for fiscal year 2016, said Pauline Machiche, the program manager for DCS in Pima County.
The plan identifies The Care Portal as a "targeted prevention strategy to reduce the need for Department intervention." The document also includes improvements to how the department assesses risk and child safety and determines whether to remove a child from a home — areas identified as inconsistent and problematic in an audit on the department published Wednesday by the state's Office of the Auditor General.
Through The Care Portal, the department would like to see 50 churches — not ministries or businesses — enroll for a Dec. 3 launch here, Machiche said. Adrien Lewis, the man behind The Care Portal, said 20 congregations would still be enough.
"This is a way churches can partner directly, and that's a huge game changer for communities," said J. Michael Davis, the social services domain director of 4Tucson, an organization that promotes partnership in the Christian community. "We could take it anywhere. One church doesn't have ownership. We are collaborating."
The service is free for the state and instead relies on donations from enrolled churches. The suggested monthly rate of $100 would eventually support a regional supervisor to mediate between churches and the department.
Lewis launched The Care Portal at the end of 2014 in Austin, Texas, and it has since expanded to other cities in Texas, Kansas, Missouri and Oklahoma. The program is a ministry of The Global Orphan Project, which helps churches around the world care for orphans.
With the intent to add just a few more counties to The Care Portal this year, Lewis honed in on Pima County because of one woman.
Sue Baird met Lewis earlier this year at a summit for Christian Alliance for Orphans. She began lobbying to bring The Care Portal to Pima County, where 3,300 children are currently in out-of-home care, according to Machiche.
A former foster mom, Baird says churches can fail to act in the area of child welfare because of fear or lack of awareness.
In her own experience, she found ignorance made people less understanding of behavioral issues stemming from childhood trauma.
"People in and out of the church were a bit more judgmental, so one of the things I have a passion for is not only to support parents but to educate the community," said Baird, who will likely act as the regional supervisor as the system grows.
An existing partnership between churches and the Department of Child Safety also contributed to Lewis' decision to pilot a program in Arizona. He goes only to communities that ask for it.
"Tucson is a big city with a small town philosophy, and so there is a true sense of community and a true desire to help," Machiche said.
Churches that enroll in The Care Portal begin by meeting physical needs. A congregation may learn that a grandmother needs a bed so her grandchildren can stay with her or that a biological mother needs furniture before her children can come home, Lewis said at a presentation last week. Those are identified as Tier One needs.
As the community becomes more involved and churches develop the infrastructure to support local families, they progress to Tiers Two and Three. Kansas City, with about 45 churches involved, is the only community reaching Tier Two so far.
At that level, churches begin to provide services such as mentoring or baby-sitting. The third step involves inviting church members to welcome children into their homes for foster care or adoption.
The formal progression allows the child-welfare agency to maintain standards of confidentiality when necessary but provides access to an otherwise hard-to-reach resource. Currently, the department partners with individual churches, but has no easy way to make widespread connections, Machiche said.
"You go from no one knowing that this has to get done except for the caseworker, to thousands of people knowing in minutes," Lewis said.
The expectation is not for churches to meet all of the needs, but to have each church do a small part.
"This is about you being mobilized to do what God has asked you to do," Lewis said at a presentation to church leaders, emphasizing that success depends on how fully congregations embrace The Care Portal.
"We know churches are already doing this," Machiche said of further engaging this community in child welfare. "This is part of who they are, what they do, and how they serve."
Contact reporter Johanna Willett at jwillett@tucson.com or 573-4357. On Twitter: @JohannaWillett
Be the first to know
Get local news delivered to your inbox!