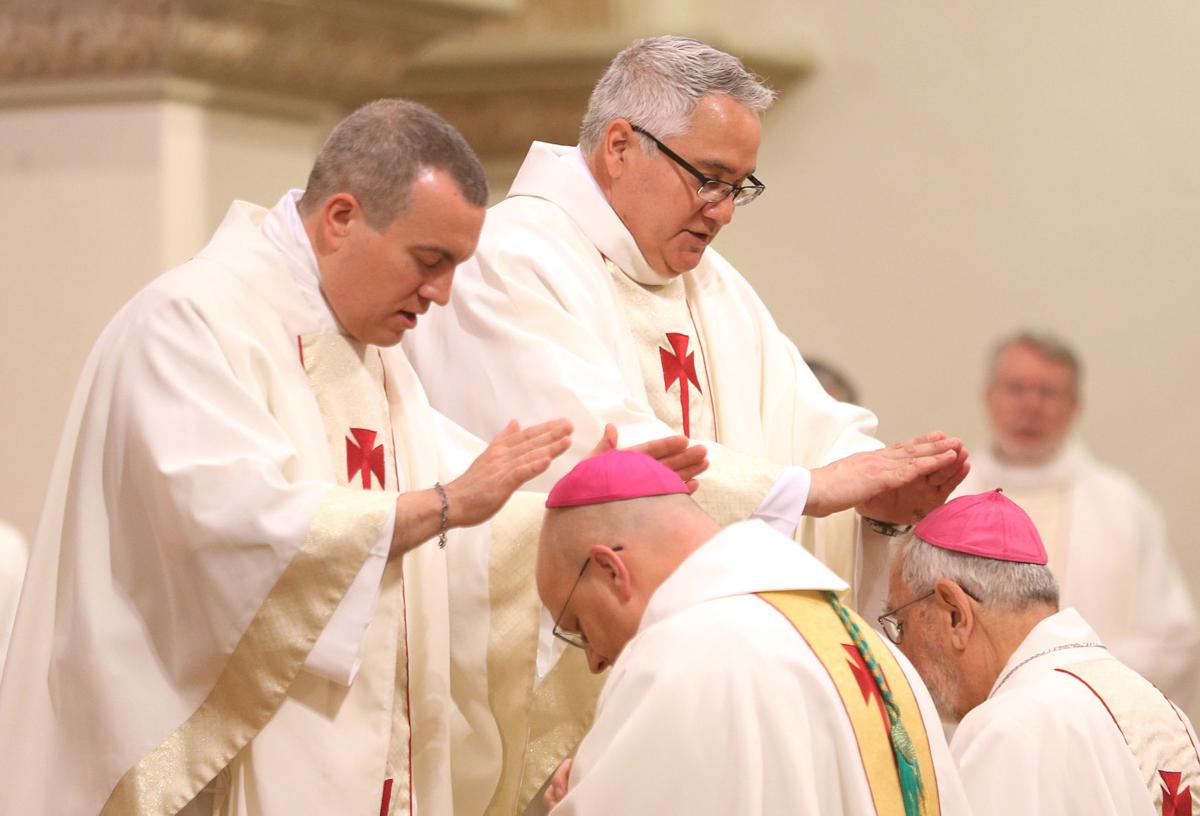 The Rev. John Gonzales had spent 18 years at Southwest Gas when he told his boss he might leave to become a priest.
And on June 2, that finally happened.
Gonzales joined the Rev. Thomas Quirk in becoming new priests in the Roman Catholic Diocese of Tucson. Both men were ordained by Bishop Edward Weisenburger at St. Augustine Cathedral after serving as transitional deacons.
Unlike many of their fellow priests, Gonzales and Quirk heeded the call to priesthood late in life.
Gonzales is 51, and Quirk is 45.
"I had a great job with great people. I have nothing bad to say," said Gonzales, who is from Tucson and worked in Southwest Gas' engineering department. "God showed me that, 'Yeah, this is good, but there is something way better out there.' And I wanted to know what better was."
For Gonzales, the path to the priesthood took years to discern. About 15 years ago, he started paying closer attention to the faith he had grown up with. He went from attending Mass on weekends and feast days to making it a daily priority.
"For me, there was no boom," Gonzales said of his decision to trade the secular for the sacred. He completed his master's degree at Sacred Heart Seminary and School of Theology in Wisconsin.
Quirk, too, underwent a process of discernment. Once a seminary student as a young man in Detroit, Quirk left the program after a year or so.
"I thought that door was closed," he said. "But all of my life, I have had this instinct inside of me to help other people in my career."
At Butler University, he studied arts administration. He has held clerical jobs and worked as an executive assistant at an IT consulting firm, among other things.
After moving to Tucson in 2007, he got a job working with CODAC, a behavioral health-care provider for people dealing with addiction or mental illness.
"That was a step in the right direction for me, big time, because those are people who really need help, and I felt like I was making a difference," he said.
He became aware of a desire to become more involved with his Catholic faith and considered becoming a permanent deacon. He was also in the process of applying to Arizona State University's School of Social Work to become a counselor.
But he got waitlisted twice and put the brakes on his plan.
"God, what do you want me to do with my life?" he asked.
In his 37 years, he said, he had never asked that question. He began to consider the priesthood and seminary, a door he thought had shut years ago. It turns out, it was never closed at all.
He completed his master's degree at Mundelein Seminary in Illinois.
Quirk will serve as parochial vicar at Our Mother of Sorrows Catholic Church and have duties in the school, and Gonzales will serve as an associate pastor at St. Thomas the Apostle Catholic Church.
Both men said they believe the lives they lived before seminary will help them better serve the people in their churches.
"I had a full life," Gonzales said. "I was married and got divorced and had it annulled through the church. I did have all of those experiences, and I think that will help me connect with other people.
"It's up to God how he wants to speak through us. I have lived a lot of life's difficulties."
Gonzales said he had a stepdaughter through his marriage. Quirk was engaged. They know about love, loss and work.
Monsignor Al Schifano understands. A retired priest-in-residence at St. Thomas the Apostle and the diocese's vocations director for formation of seminarians, Schifano said he didn't become a priest until the age of 62.
For him, the call coincided with the death of his wife after an 18-month battle with cancer. He had served in the U.S. Army and worked in human resources and administration at Lockheed Aircraft (now Lockheed Martin) and Sundt Construction. Both his personal and professional experiences have helped him relate to people going through similar life stages.
"I'd say most of our priests are ordained in their 20s," Schifano said, adding that many seminary candidates come out of youth ministries. Despite that, he noted that the Diocese of Tucson has a handful of "second-career priests, including two former attorneys who came to the priesthood in their late 30s."
Every priest uses his life experience in ministry, Schifano said.
Said Quirk: "I started seminary again at the age of 41 after thinking the door was closed, and now at the age of 45 I'll be an ordained priest. And I feel like all the life experience I gained and the different stones I turned over looking for my calling are going to benefit me."
Contact reporter Johanna Willett at jwillett@tucson.com or 573-4357. On Twitter: @JohannaWillett