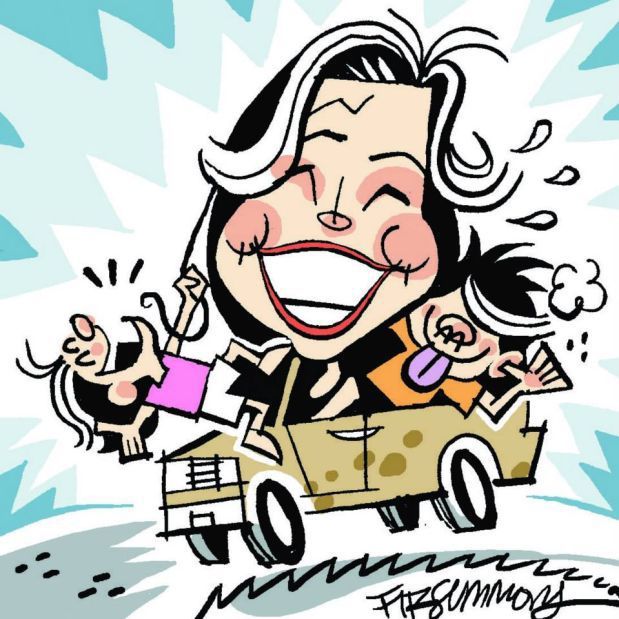 A long time ago in a galaxy far, far away — OK, really the far east side of town, but the long time ago part is spot-on — I did not completely stink at video games.
I was probably 12 when my dad brought home that sleek, black and faux-wood Atari console. So awesome. The prescription for my glasses changed three times that year as I tirelessly blasted asteroids, wiped out marching space invaders and successfully lobbed a pixelated ball against a thick line. I was good, too. Not great, but I could hold my own and not embarrass myself if anyone at Pistol Pete's Pizza happened to be watching over my shoulder as I played Centipede.
Today's video games, though, are so much more advanced and beyond my rudimentary skill level. Sad but true, I peaked with Pong.
So as a general rule, I avoid video games. But one night a black plastic controller dropped into my hand.
"Play for me," Husband No. 1 said as he went off to answer a call, whether it was from nature or work, I don't know, but I was stuck with this button-riddled rectangular thing that I had no idea how to use.
"OK, Mom — you can do this," No. 3 said supportively.
His confidence quickly faded.
I can't even describe to you what was happening on the TV screen because what I saw made no sense. Psychedelic cars chased a giant ball in a stadium. I'd like to say I sucked on principal because car soccer is just plain stupid, but honestly, I couldn't even tell which jalopy I was driving.
"Mooom! Mooom! Nooo!" yelled No. 3, the anguish making his voice rise three octaves to Alvin and the Chipmunks level. "I think I would have done better by myself."
It was a two-person game! Harsh. True, but still harsh.
"How'd it go?" Daddy von Fatherston asked, as he snatched back the controller.
"They got 10 goals," No. 3 groaned.
Apparently it was the worst defeat ever suffered in our house at the hands of some anonymous players in Topeka, Kansas.
You'd think the kids would have learned their lesson, but noooo. Next they forced me to play Mario Bros., who inexplicably still wear the same '80s Dexys Midnight Runners overalls and Tom Selleck facial hair even though their game's all fancied up with 21st century-George Lucas CGI effects.
"Hit 'A'! Hit 'A'!" everyone yelled at me.
I stuck the controller under my nose struggling to make out the microscopic letters. Those people at carnivals who write a name on a grain of rice must moonlight at the game-controller factory.
Then I got distracted by this weird spot on the screen. "What's that brown thing? Is it a POO?!"
"Mooooooooom. That's a goomba."
They're apparently mushrooms with feet. But if you ask me, it looks eerily similar to the poop emoji. Someone's going to get sued for trademark infringement.
So an attempt at family-together time proved an epic fail for my video game skills. But at least the kids united in one thing: mocking me. I'm almost tempted to try and practice — but that would require knowing how to turn on the TV.
Contact Kristen Cook at 573-4194 or kcook@tucson.com. On Twitter: @kcookski. He is barely into double digits, but No. 3 is already compiling a killer to-do list: "Do you know what's on my bucket list? I want to eat cake in the shower." That's not so weird.