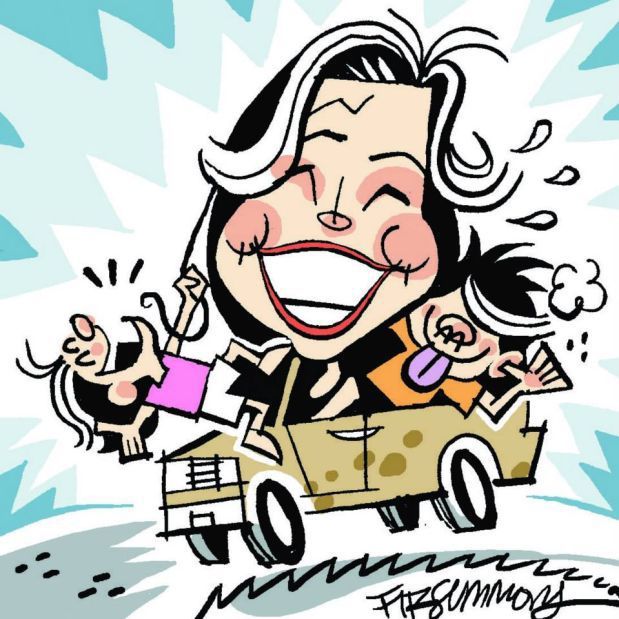 That's how much time I spent in my minivan one Wednesday, which rivals the tour of those "Gilligan's Island" castaways. And like those poor schmoes, our trip got washed out, too.
I'm a mom, I drive carpool and this is my story …
It's true that it takes a village — not to raise a child, but just to transport one, especially when your kid goes to a middle school that relies on parent drivers for sports. And so I offered to chauffeur five boys to their flag football game at a campus, that according to MapQuest during current traffic conditions, was 38 minutes away. So far away, in fact, that these sixth-graders got out of school an entire hour early. They were beyond thrilled.
The boys piled into the car. First order of business, decimating the snack bag. Snacks are very, very important when you are an 11-year-old dude.
And, we were off, music and kids blaring.
If a minivan is ever a-rocking, it's because it's full of boys who can't sit still.
A mere 15 minutes into our trip, ominous clouds started spitting specks of water onto the windshield.
"Is that rain?!" yelled No. 3 from the third row.
"Just a little. But it looks clear where we're going," I said optimistically, knowing we still had a lot of road ahead.
Then, the sky opened and unleashed the kind of torrential rain that sent Noah scrambling for the ark. It was really and truly that bad.
Visibility was, oh, zero. The outside lane morphed into a river.
I turned into a Walgreens to call and see if the game had been, by chance, called off. How could it not be? Half my carload, following No. 3's incredibly helpful lead, tumbled out of the minivan and began dashing around like lunatics in the parking lot-turned-wading pool. They were drenched. Nice. The smell of soaked preteen boy ranks only slightly above wet dog.
Skies were reported clear over the field. So, I took a deep breath and pulled onto the interstate. Traffic crawled at 35 mph, half a tree blocked the roadway.
Still, we pressed onward, driving so far west that Nevada loomed in my rearview mirror. Not there yet.
We drove some more and when we finally arrived, an hour after we left school, sure enough, it wasn't raining at all in this one little patch of town where I had never been and which had a most perplexing roundabout. We reenacted that scene from "European Vacation," hurtling 'round and 'round the circular intersection.
"Does anyone see a field?" I shouted.
No one heard me, the boys were too busy sniffing each other's football receiver gloves.
"Oh man, THAT is disgusting!"
"What do you expect? You can't wash them!"
Three passes around the circle, just one shy of needing the emergency barf bag in the glove compartment, and I finally saw a way out — and a field!
I swung into a parking space and hadn't even turned off the engine before the boys beelined for the grass.
Their coach pulled up in his car. "The game just got called off because of lightning."
Um, at this point, I was willing to chance it. I mean, really, it would be one of the taller eighth-graders who'd take the hit rather than my shorter charges.
I yelled the news to the boys.
"At least we got out of school early," said one. The others nodded. Then, they immediately resumed their impromptu game of "football" using a green Gatorade water bottle while I called and texted the news to the other moms.
Ten minutes later, we were on the road. Again.
They scored milkshakes — for their pain and suffering but mostly because I was hopeful that the resulting crash in blood sugar might buy me some peace and quiet for the rest of the ride — and I turned the steering wheel in the opposite direction.
Four drop-offs later, with empty Doritos bags and Nutri-Grain bar wrappers stuffed into the cupholders and Cheez-It bits ground into the seats, we were home at last.
"Wow," I said, sliding the doors shut on the mess. "That was a lot of time in the car."
"At least I won the contest," No. 3 said.
And that, I suppose, made the whole ordeal worth it. For him.
Contact Kristen Cook at kcook@tucson.com or 573-4194. On Twitter: @kcookski. Cook can't believe not a single show in the fall TV lineup focuses on a suburban, school carpool. There's drama, laughter, suspense (who might get forgotten?!), and it seems like the perfect vehicle for Dennis Franz. As the dad driver, of course.