I know, I know. Why would you want to sit on a patio in 110-degree weather?
But early in the day, before the weather reaches 110 degrees, and after the sun goes down, restaurant patios are a good place to sit and enjoy a meal. Plus, many patios have fans and misters to help you cool off. And some spots will even allow you to bring your pup to dinner.
Tucson is very much an outdoorsy city. Tucson is also a big foodie city. So, when you combine the two, you get many beautiful restaurant patios to choose from. Here are some of them:
Tacos, tequila, and city views. A view of the sunset doesn't hurt either.
Blanco Tacos + Tequila sits high enough to see the cars below you, sparkling city lights, and, of course, Tucson's iconic sunset. Bask in the views from the patio while you sip tequila and chow down on tacos. If you're looking for a worthy choice nearby, visit the patio at NoRTH Italia.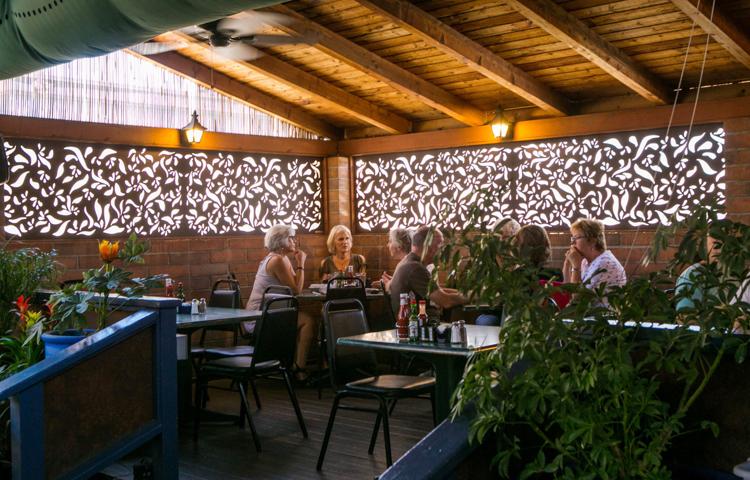 A good chunk of Blue Willow sits in a 1940 adobe house. It was once a mechanic's garage and then a preschool. In 1978, the building transformed into the Blue Willow, drawing generations of University of Arizona students.
The hidden patio is inviting, filled with enough green chairs to match the green plantlife. And it's inside.
Cafe a la C'Art is located inside the Tucson Museum of Art complex and the patio is almost as artsy as the museum. The website calls it a "Monet-inspired garden patio."
Colorful mosaic tiles fill the walls and plants hang from canopies above. Indulge in a Chocolate Bomb or a plate of grilled salmon beneath strings of glimmering lights. For another downtown option, check out the patios at Cushing Street Bar & Restaurant and Maynards Market & Kitchen.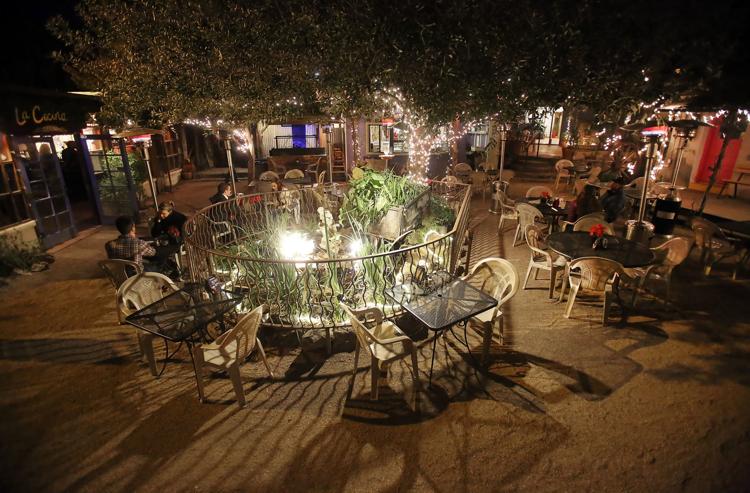 About 90 percent of La Cocina is an expansive patio packed with plants and shaded by trees. Live music is also common on the outdoor stage.
Soak up the atmosphere while devouring a plate of nachos, a sandwich, or a southwestern dish such as chile rellenos or tacos. Don't forget to order a drink—prickly pear margaritas, anyone?
The Coronet is home to the old Coronado hotel, which was built in the 1920s. You can feel the history.
The Coronet is quite small with minimal seating inside, so the quaint patio is a must. Sit in the comfy green-patterned chairs and have yourself an octopus tentacle, stuffed quail, or roast cauliflower. Or, opt for brunch instead.
For another Fourth Avenue option, head over to Cafe Passe. The hidden patio will make you never want to leave.
The Poco & Mom's location on Tanque Verde Road has a large patio surrounding a picturesque fountain. The tables are clad with umbrellas to keep you in the shade and the views of the sunset are primo.
It's a fine spot for a plate of pork tamales or green chile enchiladas with fried ice cream for dessert.
TERRAZA GARDEN PATIO & LOUNGE
Located in the lush Hacienda del Sol Guest Ranch Resort, Terraza's patio surrounds plant life and Saguaro cacti.
Sit at one of the cozy tables under a giant umbrella and take in views of the mountains with your roast chicken enchiladas or slow-roasted lamb tacos.
If you're looking for a restaurant for a fancy date, or if you're just in the mood for something a little more upscale, Vivace is a good option. A couple years ago, OpenTable actually named Vivace as one of the most scenic restaurants in the United States. The Italian restaurant sits high enough to have mountain views and sights of glistening city lights.
Contact reporter Gloria Knott at gknott@tucson.com or 573-4235. On Twitter: @gloriaeknott