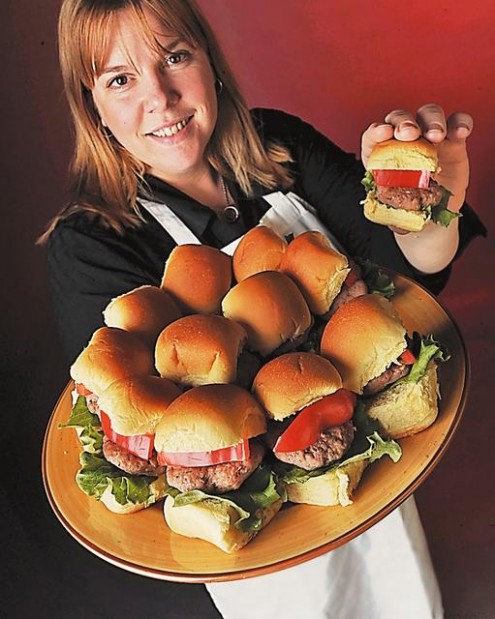 ALLENTOWN, Pa. — In the increasingly competitive world of blogs, a Bethlehem, Pa., mom of seven has made a name for herself in cyberspace, posting low-cost recipes for moms on the go.
Two years ago, fledgling blogger Anne Coleman was blogging about her family recipes when she was approached by Disney to do a blog for its new Disney Family.com Web site.
Now blogging as Disney's "Short Order Mom" (family.com/blog/ shortordermom) and dispensing mom-centric culinary tips, Coleman has beaten the odds to become one of the elite group of bloggers who has been picked up by a national sponsor.
Coleman says she didn't really believe it until she received her first paycheck with Mickey Mouse in the corner.
Coleman's blog features quick, budget-friendly recipes she has created for the on-the-run mother. Recipes range from funky selections inspired by the Harry Potter book series to a healthy version of turkey sliders, a favorite in the Coleman household.
Coleman, who graduated from the first culinary arts class at Northampton Community College in 1993, says she came by her cooking skills naturally.
"I came from a large family," said Coleman, who was one of seven children. "My mom cooked for an army every day."
Coleman says she intended to study criminal justice at NCC, but her eye strayed from the courses listed under CR to CU — culinary. She never looked back.
Although her original plan was to open a restaurant, Coleman was sidetracked by her growing family when she began homeschooling her children, who now range in age from 2 to 19. She noticed that many stay-at-home moms had blogs, so she decided to start her own blog to preserve her family's recipes. In 2005, her blog, "Cooking with Anne," was born.
"I was just journaling for our family," Coleman says. "We had so many recipes, so much food and so much history."
The blog struck a chord with other moms and "Cooking with Anne" was named the best cooking blog of 2005 by The Best of Blogs, which gives awards to the best blogs on its Web site, www.thebestofblogs.com.
Coleman admits when she got her first e-mail from Disney in 2006, expressing interest in having her blog for them, she thought it was a joke. Even after receiving a phone call from Disney, confirming that e-mail, she still didn't quite believe it.
But in December 2006, Coleman was selected to be one of 20 bloggers to launch Family.com, a new Disney Web site.
After two years, Coleman's "Short Order Mom" is the only of the original 20 blogs still on the Disney site, her snappy writing and practical recipes having spared her blog from Disney's frequent cullings. She now shares cyberspace on Disney with nationally known writers, such as "Dalai Mama" Catherine Newman, whose chronicle of her children Ben and Birdy draws wide readership, and Rand Cooper, a novelist who blogs about being a stay-at-home dad.
Coleman says the key to her success is "quick, inexpensive meals that kids will eat," such as chicken taco soup and calzone rolls made from frozen dough.
Using her family members as guinea pigs, she whips up low-cost but tasty meals and tests them.
"My kids are so conditioned they ask, 'Do you need to take a picture or can we eat it?' " she says.
Coleman says she spends $150 a week to feed her family of nine.
"It's not really a big deal," she says. "Most large families are more cost-conscious."
Since she doesn't waste any food in her household, she sometimes comes up with creative "accidents" that become hits on her blog.
"One time I threw spaghetti in a dish with chicken nuggets on top," she says. "It's like a one-dish chicken Parmesan."
Coleman makes up all her own recipes and says food blogging has its own peculiar challenges.
"You have to come up with the food, make it several times to get it right and then write about it," she says. "It can be really intense."
And her family is the beneficiary of all her cooking since nothing is wasted. Some of her recipes, like the recently posted turkey sliders, get repeat requests from her children.
"The kids are nuts about them," she says.
Coleman, who blogs for several hours nearly every evening after the kids go to bed, also shares some of her personal life on her blog. Last year, when her husband was seriously injured in a roofing accident, she kept blogging through the whole ordeal.
"My husband's my biggest fan," she says, "even though he doesn't know anything about cooking."
Meanwhile, her personal blog, "Cooking with Anne," continues to grow in popularity, and she recently debuted "One Thousand Soups," a blog dedicated to soups.
Coleman says "Cooking with Anne" gets more than 8,000 unique visits a month, and her soup blog, started in November, has had 5,000 hits so far. She started the specialty-soup blog because she had a lot of soup recipes and always got good responses when she featured soup on her other blogs. According to TopofBlogs.com, which rates blogs, a few high-profile food blogs generate more than 100,000 hits a month, but receiving fewer than 10,000 hits is more common.
"I wanted to see how a microniche would do and it has been really popular," she says of her soup blog.
Next, Coleman plans to share her budget-conscious tips to help families struggling in the current economy.
"Slowing down is cheaper," she says. "We rarely eat out, but my kids don't really care. They're all very healthy."