Scott Girod never thought he would choose pizza over Wall Street.
The chef and owner of Tucson's Anello pizzeria originally planned a career in finance. But a year into a job with Charles Schwab at the height of the recession, he quit, headed to Japan to teach English and pulled on his experience working at pizza joints during college to set a new direction for himself.
"When I was (in Japan), that was when I was planning for a pizzeria restaurant; teaching and doing so much paperwork, and writing documents all day just wasn't for me," the 32-year-old Girod said. "I wanted something more hands-on and physical."
When the 2011 tsunamis in Japan put the company he was working for out of business, Girod took his savings and his bicycle to Italy.
He traveled around, explored, ate a lot of pizza and landed a temporary job at a pizzeria in Naples.
"I burned a lot of pizzas, I got yelled at in Italian a lot, I got to learn some history," Girod said. "I got to work and do prep for them and was just shown the culture and the lifestyle around it."
Girod, a graduate of Northern Arizona University, moved back to Arizona in 2011 determined to work with world-renowned pizzaiolo Chris Bianco, winner of the James Beard Award for Best Chef: Southwest in 2003 — the first time a pizzaiolo won the prestigious honor. Girod said it wasn't easy getting his foot in the door at Pizzeria Bianco in Phoenix.
"He basically asked me, 'What can you offer me, really? Are you going to be able to do anything?' And I said 'Well, yeah, I can do something for you, I'll be here and I'm gonna work my ass off.' "
Bianco put him to work and two years later, Girod answered the call to manage Pizzeria Bianco in Tucson. The shop was opened just two years on East Congress Street before Bianco pulled out of Tucson. But Girod decided to stay put and open his own Tucson pizzeria.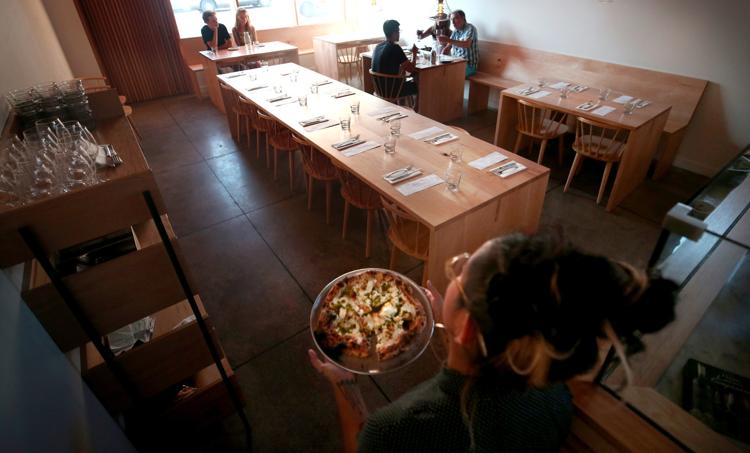 "He has an authenticity about him," Bianco said by phone last week. "Tucson is fortunate to have Scott."
Anello — it means circle in Italian — opened last October in a small brick building on East Sixth Street in the downtown warehouse arts district. The intimate restaurant — just 20 seats — has no sign, no window displays, nothing to call much attention to itself.
The ceiling and tables — most are community seating — are made of a light-colored woodwork, created by Tucson's Peter Bear. The white walls feature paintings of Luis Barragan's architecture painted by Girod's mother.
The kitchen and dining room are only separated by a small counter so patrons can watch Girod assemble each pizza. Just before sliding the pies into the oven, he lifts a corner of the dough off the wooden pizza paddle and blows a bubble of air underneath.
"There's no hiding with this," Girod said. "It's just sourdough bread with stuff on it."
It's a simple description for what customers rave about.
"I come here once a week for the special," said Greg Kuykendall, who lives in the neighborhood . "It gets better every time."
"We actually walk here," said his wife Bonnie Kuykendall. "It's the best food in Tucson."
The food
Anello doesn't open until 5 p.m., but chef-owner Scott Girod's day begins much earlier.
In the mornings and early afternoons, he prepares produce, stokes his wood-burning over and attends to his signature sourdough for pizzas including Neapolitan classics margherita and marinara. He also serves a bianca pizza topped with mozzarella, ricotta, thinly sliced and roasted garlic, olive oil and chiltepin, a native pepper that adds a small burst of heat in every bite.
While the menu is small, Girod introduces variety with italian meat toppings, and a roasted vegetable dish that changes with the seasons. He and his sous chef also have featured specials. Recently, it was a pie  topped with mozzarella, ricotta, carrot top salsa verde, an egg and guanciale, a thinly sliced piece of cured pork, renowned for its fatty, melt-in-your-mouth texture and rich flavor.
The special dessert was an olive oil and lavender gelato, made in-house and topped with a thin and crispy tuile cookie.
The specials at Anello last until the ingredients run out, but Girod said he does revisit old specials every now and again.
Desserts and starters can range from $4-$7, while pizzas are $11-$13, not including the optional meats.
If you go
Hours: 5-9 p.m. Tuesdays through Saturdays