Fresh-from-the-field greens. Veggies in a rainbow of colors. Baskets of just-harvested fruits. Eggs and dairy products. Goat cheese as well as candies; honey; jams and jellies; tamales; bread and baked goodies; take-and-bake pastas; wild Alaskan salmon; and organic dog treats. These are some of the peak-of-freshness foods lining the rows of vendor stalls at Tucson-area farmers markets.
At some markets you can grab a cup of coffee or a pound or two of freshly roasted beans, get knives sharpened, learn the difference between peppermint and spearmint, or pick up a pair of socks.
Farmers markets are taking root because consumers want wholesome, fresher, higher-quality food, to understand where their food comes from and to support small businesses, says Clayton Kammerer, co-founder of FoodInRoot, which operates four markets in Tucson.
National Farmers Market Week is Aug. 4-10, but March is prime time for Tucson-area farmers markets, which are packed with produce and products that are not found in grocery stores.
Late winter/early spring is the best time of the year in terms of weather for area farmers markets, says Zoë Anderson, director of advancement for Heirloom Farmers Markets, which runs five markets around Tucson.
The markets allow consumers to buy directly from farmers, give vendors the chance to test and run small businesses, and raise money for nonprofits. Shoppers can connect with where food comes from and build community.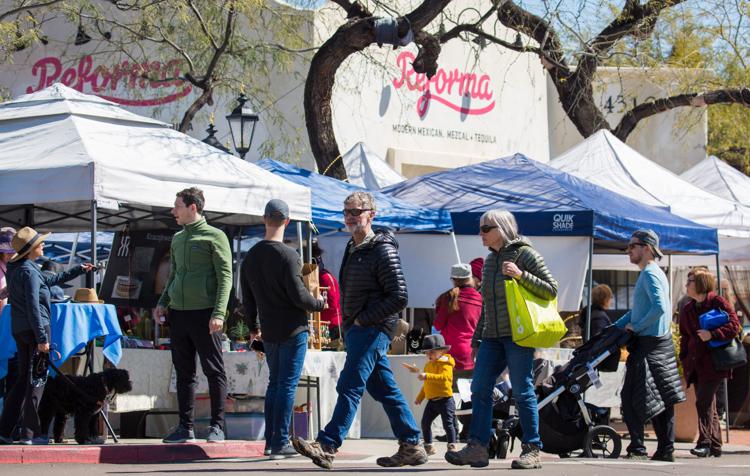 FOOD MATTERS
Nonprofit Heirloom has a food-first focus. It supports the food economy, farmers and ranchers, says Anderson.
Three of Heirloom's markets — Trail Dust Town, Oro Valley/Steam Pump Ranch and Rillito Park — have only food and kitchen-craft items, such as soaps and lotions. Heirloom accepts vendor applications annually and they are reviewed by a committee.
Heirloom strives for a mix of vendors in which "everyone on the market has the chance to succeed," says Anderson. It also seeks a friendly, noncompetitive environment.
More than 15 farms, 150 vendors and 2,200 people attend Heirloom's weekly markets, according to its website.
Heirloom recently began managing markets in Green Valley Village and Rincon Valley, which had been arts-and-crafts heavy. Heirloom is integrating more food-centric vendors while respecting the two markets' traditions and keeping some of the longtime craft vendors, says Anderson.
Heirloom will visit and certify farmers, ranchers and producers who create foods like honey, pickles and cheese to ensure products are grown, raised and processed locally, says Anderson. These vendors are designated with a red Get Real Certification flag at their booths.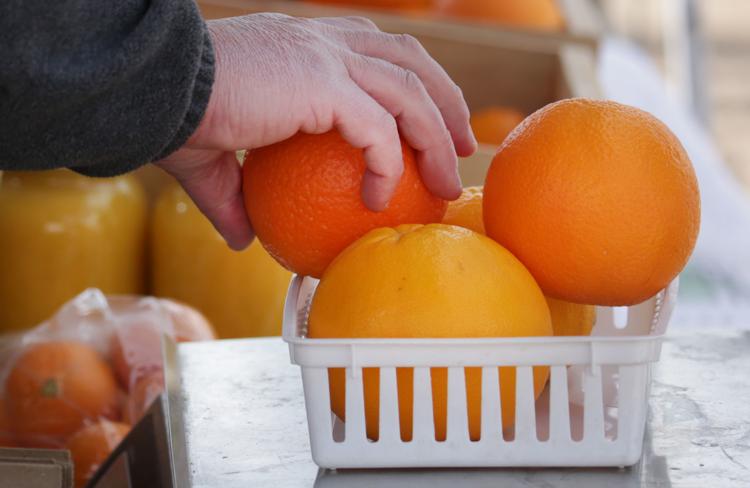 Likewise, the two producer-only food markets organized by the Community Food Bank of Southern Arizona offer foods from local farmers, growers and producers, including the Abundant Harvest Cooperative, a network of backyard gardeners and small farmers in Southern Arizona.
FoodinRoot, which has artists and crafters in the mix, looks for wholesome, quality foods. All of the vendors must disclose where the foods and products are from, says Kammerer.
It accepts applications all year long as its markets frequently change. It has about 300 vendors annually. Kammerer says the markets need to stay agile to meet the needs of vendors and the community.
CONNECTIONS, COMMUNITY
Farmers markets are also small-business incubators and can be a stepping stone to starting a restaurant, a method to prove a concept or get the word out, says Kammerer.
The markets enable vendors to make and establish a connections and chat with regular customers, says Anderson.
Barbara Schroeder demonstrates her antique circular sock machine in front of rows of colorful socks at the St. Philip's Plaza markets and explains that she can craft a pair of socks in about an hour and a half, while hand-knitting a similar pair would take about 20 hours.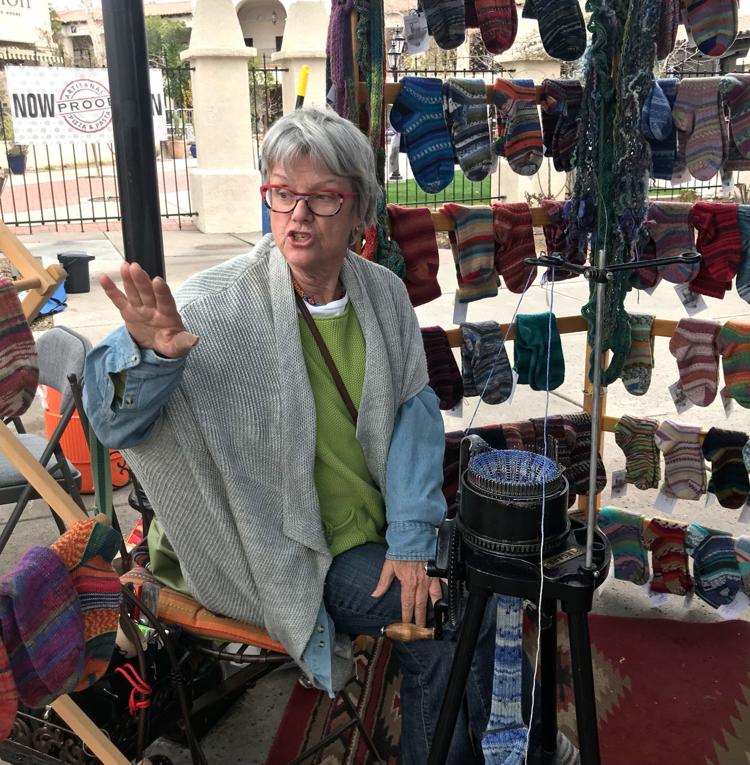 She says she sells 40 to 50 pairs of socks every week at the Saturday and Sunday markets to support her "bad habit" of buying sock yarn. She loves buying high-quality sock yarn spun of wool and nylon to create long-wearing socks.
Schroeder has had offers to consign her socks at shops and to join craft cooperatives, but sticks with the St. Philip' Plaza markets and a large pre-Christmas show in Minnesota to keep her prices reasonable.
Her profit margins are low — a ball of yarn is about $18 and she sells socks for $19 to $27 per pair. Sharing a chunk of her profits with a shop would mean raising her prices or limiting her ability to buy yarn and build inventory.
A few yards away from Schroeder's booth, Iman Esteifi and Hussam Makansi sell flaky, sweet baklava and other baked goodies from their Levant Sweets (Syrian Cuisine) space.
They have been in the U.S. for about two years and Makansi works in a Mexican restaurant. They hope to save enough money to open a restaurant featuring Levant regional cuisine.
Then there's the reverse. Cafe Francais, the former French bakery and eatery on Tanque Verde Road and in Plaza Palomino, skips the brick-and-mortar building and sells homemade quiches, baguettes, fruit tarts and other French treats in Heirloom markets.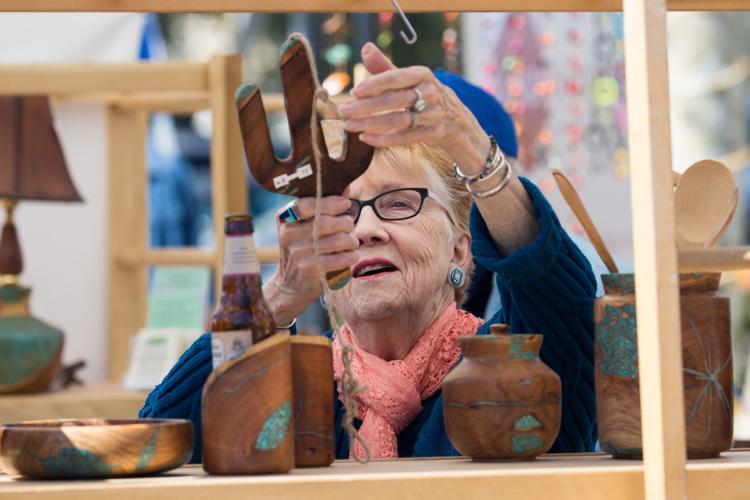 Some markets and vendors benefit nonprofits and help build community.
The Historic Canoa Ranch Country Market, which began Jan. 17, is a pilot program that puts vendor fees toward renovating the Tradesman House into a visitors center, oral history center and gift shop, says Valerie Samoy of the Pima County Natural Resources, Parks and Recreation department.
The market has a mix of local produce, artists, personal items, musicians and food trucks set in the picturesque Canoa Ranch, she says.
Debra Score sells her Sweet Arizona handcrafted gluten-free nut brittles at Tucson markets in winter months and in the Pinetop-Show Low area during the summer.
Score and her husband pick a charity every year to receive the proceeds from their venture. This year, sales benefit the Veterans Memorial Cemetery.
Produce from a certified organic community garden and other food items are sold at the Saturday morning farmers market in Arivaca, says Paula Perino, a multimedia artist who also manages the Arivaca website. The market has been a boon to the local community and offers a chance to socialize with neighbors, Perino says.