Editor's note: This story was originally published on Aug. 27.
We know what you're thinking: Why on earth are we talking about spicy hot food when the weather outside is blistering hot?
Well according to Tucson chef Travis Peters, one of three co-owners of The Parish on North Oracle Road, the hotter it is outside, the cooler you'll become eating spicy food.
Here's his logic: If you're sweating in the 110-degree weather and you eat one of his Nashville hot chicken sandwiches, you're going to sweat more. And the more you sweat, the more your body becomes its own swamp cooler.
We haven't tested that theory. But we like the idea of it all, which is why we have scoured some of our favorite restaurants for their spiciest dishes to help you "cool" off in the dog days of summer.
And since this was sort of Peters' idea, we'll start with him.
Nashville hot chicken sandwich at The Parish
Peters knows his way around a pepper, which is not surprising given his restaurant's specialty: Southern fusion, borrowing from the culinary hotbeds of Louisiana, Tennessee and beyond. They love their peppers in the South and Peters takes his cues directly from the masters in Music City on his interpretation of Nashville hot chicken.
Unlike most purveyors, though, he prefers the thigh to the breast because it's the tastiest part of the bird. He pounds out the thighs so they look like odd-shaped chicken patties, then brines them 24 hours in Louisiana's popular Abita Beer; apparently The Parish leads the state in sales of Abita, which is available on tap in the recently reopened dining room.
Once brined, the bird is dragged through flour kicked up with peppers before it's deep fried a crispy golden brown. It gets a canoa oil bath before being dredged in Peters' version of Nashville hot spices starring cayenne and smoked habañero powder.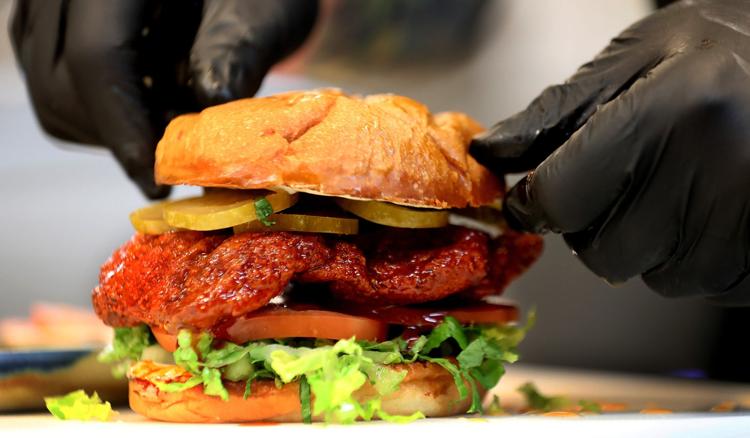 He doesn't stop there: Travis slathers a brioche bun, baked locally, with a creamy, spicy remoulade, adds crisp cool lettuce and a sliced tomato, then tops the chicken with crisp housemade habañero and garlic pickles.
The bird spills out of both ends of the bun and when you bite into it you get the crunch of the fiery fried chicken and the crunch of those pickles with the cool of the lettuce and tomato and the two or three chews in the combined fire hits the back of your throat in the most pleasant and tasty way. It's spicy without having that suicide wings effect where your mouth is blazing and your lips sting.
Peters has brought the heat to the Parish's Southern-fusion fare since he and his partners, Steve Dunn and Bryce Zaegler, opened nine years ago. He adds peppers and cayenne to every side of his menu from the spiced-up edamame from the noshes to the compressed watermelon salad tossed in a spicy tamarind vinaigrette among the garden offerings. Peters makes his own hot sauces, fermenting them as long as a year to bring out the ultimate flavorful burn.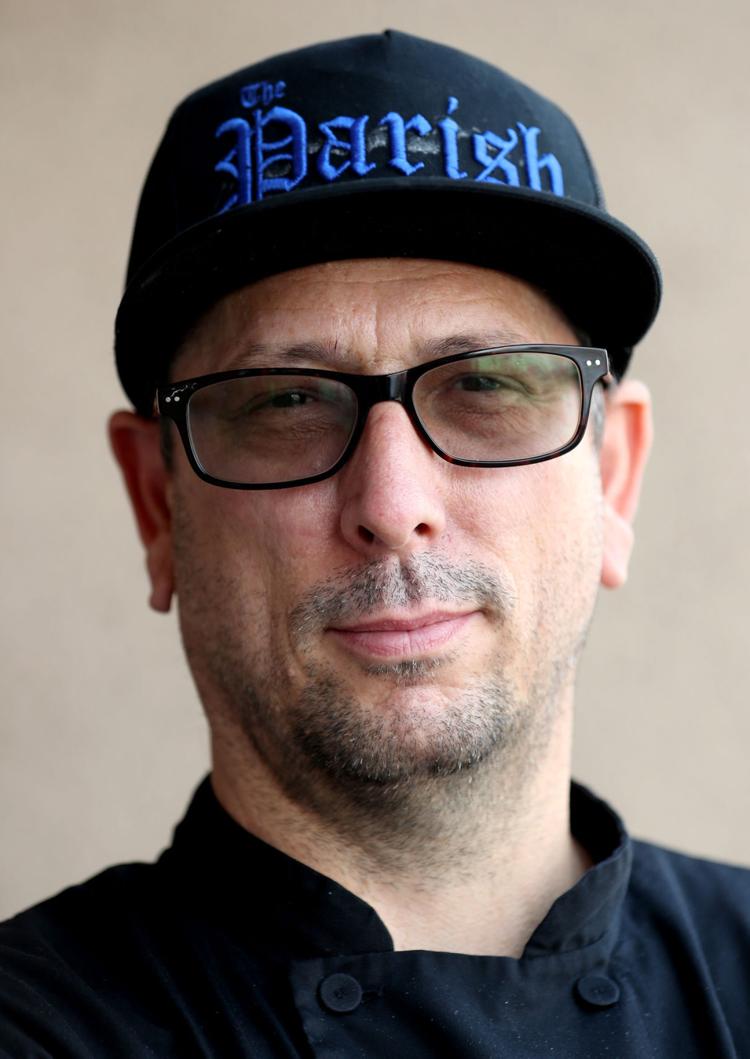 The Nashville hot chicken sandwich has been a special on the menu for the past couple years. When The Parish was forced to close its dining room in March in response to COVID-19, Travis re-introduced the sandwich because it was ideal for takeout. The response was so good that he plans to add it to the permanent menu in the next week or two. Here's a secret: It's still on the menu.
The sandwich comes with your choice of side (fries, chips, salad) for $13.79.
The Parish is at 6453 N. Oracle Road, near West Orange Grove Road. Its hours are 11 a.m.-8 p.m. Sundays and Tuesdays-Thursdays; 11 a.m.-9 p.m. Fridays and Saturdays; and closed Mondays. theparishtucson.com
Other hot chicken sandwich spots:
Pops Hot Chicken at the south-side American Eat Co., 1439 S. Fourth Ave., does nothing but Nashville-style hot chicken.
Toss Fried Chicken and Ramen, 1655 S. Alvernon Way, adds a fiery Asian twist to its hot chicken. The restaurant, which opened in June, is a sister to Izumi sushi bar on East Speedway in midtown.
Carolina Reaper wings at Mulligan's Bar and Grill
Reading through the wings section of the Mulligan's Bar and Grill menu is like taking a trip into the depths of hell.
The farther down you go, the hotter it gets.
The east-side restaurant has 23 wing options available, ranging from mild and flavorful to DEFCON 4 pure fire.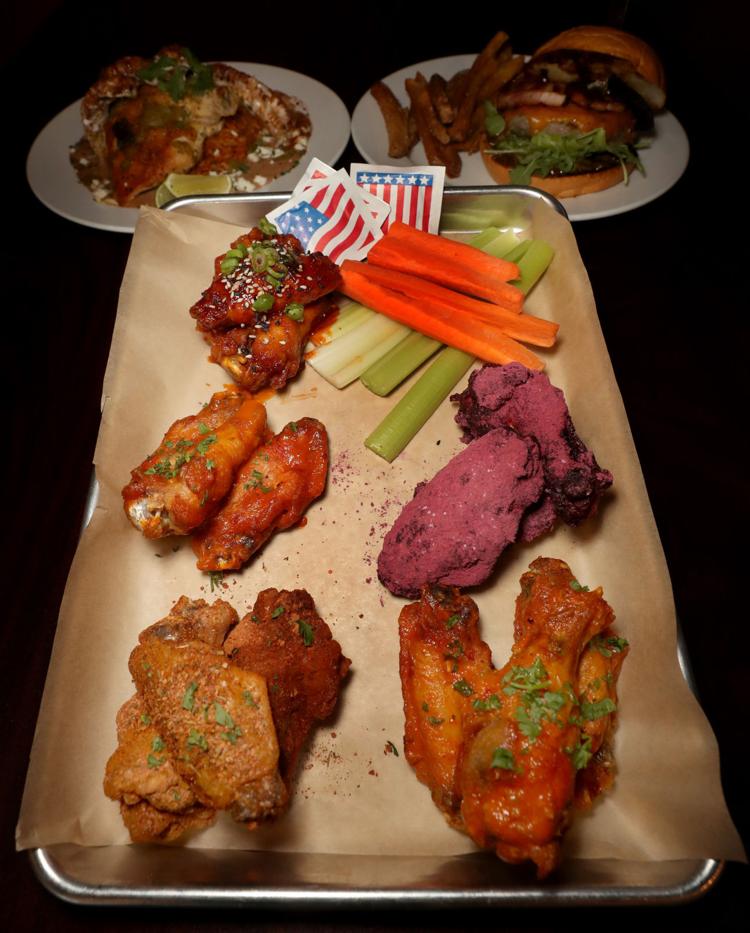 Want a shock to the system? Try its Don't Fear the Reaper wings, served in a mustard-based barbecue sauce with Carolina Reaper peppers added in for good measure. Carolina Reapers were declared the hottest peppers in the world in 2013 by Guinness World Records.
Mulligan's also carries ghost pepper wings, two types of scorpion pepper wings and The Angry Hummingbird, a plate of wings dressed in a Thai pepper, honey and hibiscus rub.
Owner David Musso gives the lion's share of credit for Mulligan's wings program to his business partner C.J. Hamm.
"He is like a mad scientist," Musso said. "C.J. has a notebook with like 150 more wing ideas."
Musso, who also owns Saguaro Corners on East Old Spanish Trail, and Hamm knew they wanted wings to be a staple on the menu when they took over Mulligan's three years ago.
"Wings and burgers were what this place was known for when we got here," Musso said. "C.J. and I have known each other for 20-plus years. We both like spicy food. We thought if we were going to have wings, we want to make them as spicy as we can get."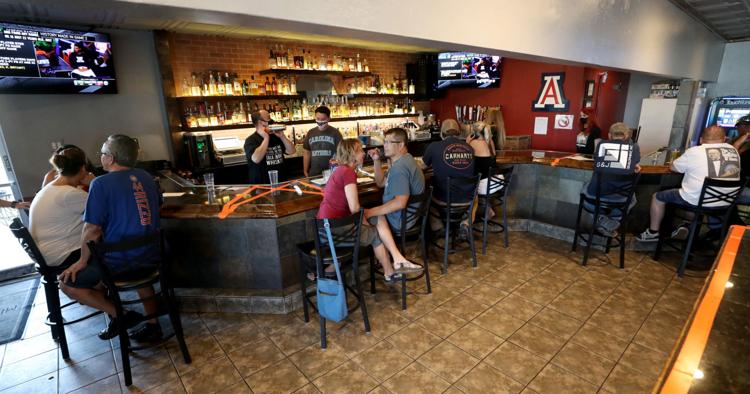 Musso said Mulligan's regulars lean more toward the wings with less heat and more flavor; options like the al pastor wings with hints of achiote, pineapple and orange, and its lemon pepper wings in a house-made dry rub.
Brave souls looking to sample some of the grill's hotter options come on Wing Wednesday, when wings can be ordered individually at $1 apiece, Musso said. Any other day, wings are ordered by the half-dozen ($9) and dozen ($15.)
"People will order two of each flavor (on Wing Wednesday) and work their way through," Musso said.
Mulligan's is at 9403 E. Golf Links Road. Its open from 2 p.m.-midnight daily. mulliganstucson.com
More spicy wing joints:
The Arizona wings chain ATL Wings, with one location in Tucson at 802 N. Fourth Ave., has wings ranging from mild all the way up to Cajun hot, hot and "toxic." You can get up to 96 wings for $100.80, but traditional 6-and-12 wing orders will cost you $6.30 and $12.60 respectively.
Wings Over Broadway, now down to one location at 8838 E. Broadway, has 15 different types of wings, including its intensely hot No Mercy wings. An order of 10 wings is $12.50.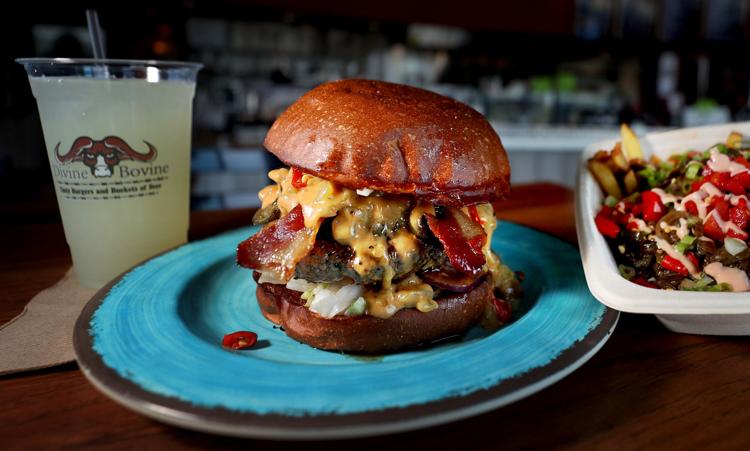 The Dry Heat Burger at Divine Bovine
At Divine Bovine on North Wilmot Road, customers like their cow with a little kick.
Enter Divine's Dry Heat burger, one of the restaurant's top sellers, according to owner Ben Rine.
The burger comes with all the staples: A beef patty made with a blend of brisket, short rib and choice chuck, topped with lettuce, tomato, onion and mayonnaise.
But then comes the sweet and hot pickles, hot peppers, sriracha, green chile cheese sauce and pickled Thai peppers Rine affectionally calls "lil bastard chiles" on the menu.
"It is a Thai chile, and it it spicy, but not knock-you-down spicy," Rine said. "It is vinegary and still has flavor to it."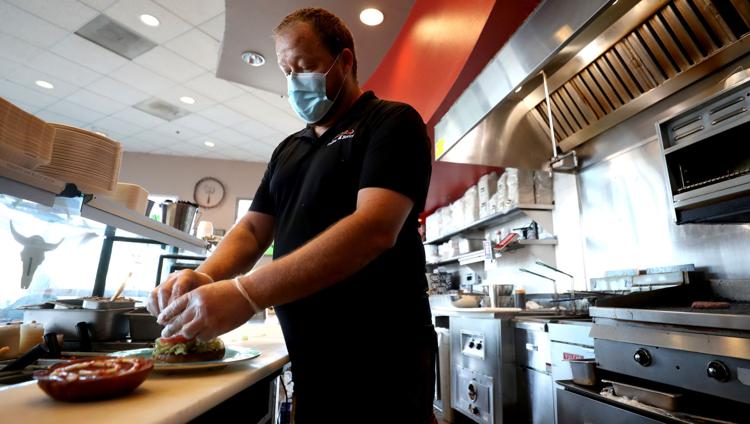 Rine, who opened Divine Bovine in early 2019, said the Dry Heat was a burger that people showed up for early on.
"I have a couple that comes every single Saturday," Rine said "They come in and they each get one. Watching them eat them is almost like a ritual."
Rine said besides the Dry Heat, which runs $11.99, Divine Bovine's Flying Buffalo burger, layered in Swiss cheese, Buffalo sauce, buttermilk ranch and sweet hot pickles also offers a pleasant burn.
Rine recently added a jalapeño popper burger to the menu, complete with roasted jalapeños, candied bacon, sriracha cilantro cream cheese, and sriracha ranch.
"That one is spicy, but not 'going to die' spicy," Rine said. "It is a one-two punch of flavor."
Divine Bovine is at 1021 N. Wilmot Road. Its hours are 11 a.m.-9 p.m. Mondays-Saturdays and 11 a.m.-6 p.m. Sundays. divinebovineburgers.com
Other spicy burger options:
Lindy's on 4th, 500 N. Fourth Ave., has the Sanchez with green chiles, jalapeños, pepper jack cheese and guacamole for $11.75. The menu encourages you to add ghost pepper sauce for 75-cents more.
Zinburger, with two locations in Tucson, at 6390 E. Grant Road and 1865 E. River Road, offers an El Diablo burger with fire roasted jalapeños, pepper jack cheese, caramelized onions and chipotle mayo for $12.50.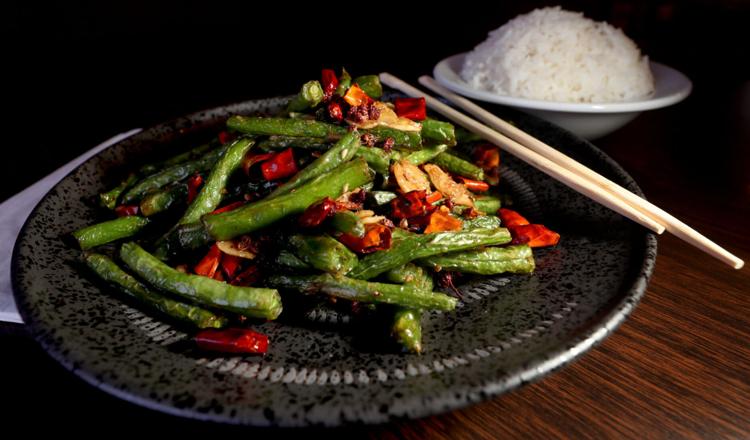 Sautéed Green Beans at Jun Dynasty
The rise of more traditional Chinese restaurants serving regional cuisines in Tucson over the last decade has opened the doors for adventurous eaters looking for new experiences.
At Jun Dynasty, a restaurant specializing in Sichuan cuisine since 2013, that means introducing the bold, and often hot and spicy flavors for which Sichuan province in China is known.
Many of Jun Dynasty's dishes come seasoned with hot peppers and Sichuan peppercorns, a spice known for its tongue-numbing effects says general manager Maria Conners.
"It feels like heat," Conners said. "It is a strong element in a lot of traditional dishes that we serve."
Conners said the Sichuan peppers add flavor to just about any type of dish, from its spicy hot pot, with its chicken, pork belly, beef, tofu, cabbage and rice noodles, to something as simple as its stir-fried green bean entree.
"Most people order the green beans in addition to their regular entree," Conners said. "It is very popular."
Under normal circumstances, dine-in meals are served family style, but the pandemic means that any meal coming from Jun Dynasty is to-go for the time being.
The green bean entree is $10.95. A spicy hot pot order is $17.95
Jun Dynasty is at 2933 E. Grant Road. Its hours are 11 a.m.-8:30 daily. jundynasty.com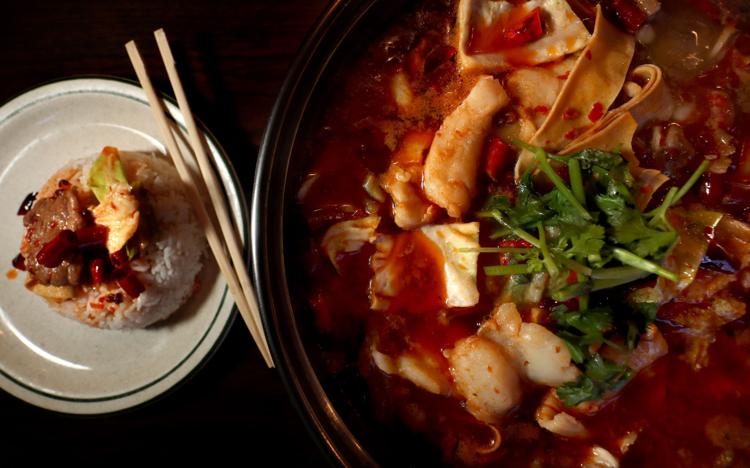 Satisfy your cravings
With our weekly newsletter packed with the latest in everything food.