Sformato is similar to flan and graces menus all over Italy. Chef Steven Gedra of Buffalo, New York's The Black Sheep Restaurant & Bar likes to use pumpkin two ways for a more Middle Eastern take on this classic European dish. Gedra discovered, when fresh pumpkin is sliced extremely thinly, it's delicious raw, and he utilizes this technique in this salad.
Gedra likes the convenience and quality of canned pumpkin, but if fresh pumpkin is preferred, simply remove the skin and seeds from a pumpkin variety recommended for culinary purposes. Dice the pumpkin into chunks and cook them in boiling water until soft. Drain well, cool slightly, then puree in a food processor until smooth. You will need 2 cups puree.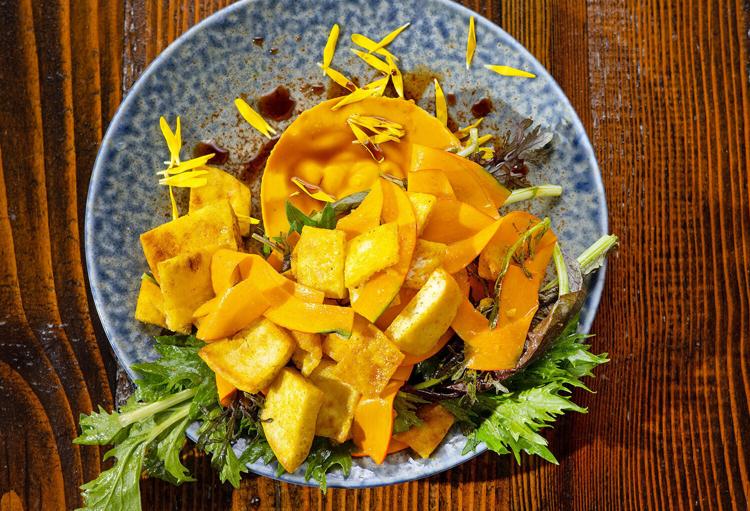 ---
Pumpkin Sformato with Fattoush Salad and Pomegranate Molasses
4 large eggs
1 can (15 oz) pure pumpkin
2 cups heavy or whipping cream
freshly ground black pepper, to taste
salt, to taste
nonstick cooking spray
2 (6-inch) pitas
1 Tbsp curry powder
4 Tbsp extra-virgin olive oil, divided
4 oz baby arugula or watercress
1 small pumpkin, skin and seeds removed and very thinly sliced on mandolin
2 Tbsp fresh lemon juice
¼ cup pomegranate molasses
Preheat oven to 350°F. Fill 4-quart saucepan with water; cover and heat to boiling over high heat. Meanwhile, in large bowl, with whisk, beat eggs; add canned pumpkin and cream and stir until very well blended. Add pepper and salt to taste. 
Spray eight 6- to 8-ounce ramekins or aluminum cups with nonstick cooking spray; place ramekins in metal roasting pan. Place pan in oven. Carefully pour boiling water into roasting pan to come halfway up sides of ramekins. Cover ramekins loosely with foil and bake 25 to 30 minutes or until sformati jiggle slightly. Carefully transfer ramekins to cooling rack; cool sformati to room temperature.
Meanwhile, cut pita into bite-sized pieces and transfer to medium bowl; add curry powder, 2 tablespoons oil and sprinkle with pepper and salt. Spread pita mixture on parchment-paper-lined cookie sheet; bake while sformati cook, 10 to 15 minutes or until brown and crisp. Cool pita to room temperature.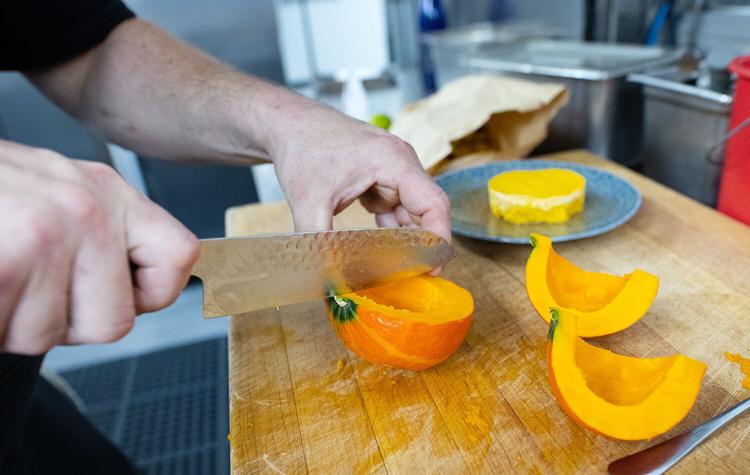 Just before serving, in large bowl, toss pita with arugula, raw pumpkin, lemon juice and remaining 2 tablespoons oil. Run thin knife around edges of each sformato, then invert each onto salad plate. Divide fattoush salad on and around sformati, then drizzle all with pomegranate molasses.