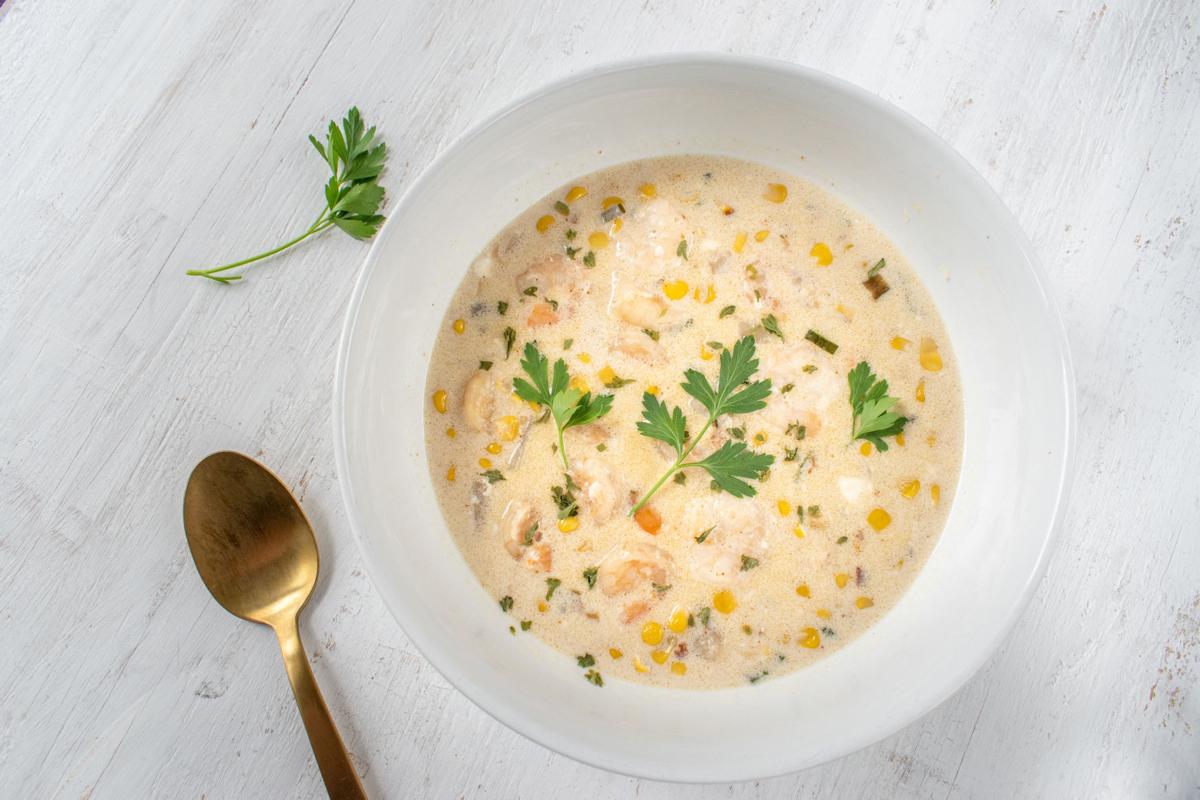 When the wind blows and the rain or snow falls, there's nothing like a warming bowl of soup for supper.
Since we've had all three of those in the last week, I found myself in a chowder state of mind. As you might suspect, I have strong opinions about chowder.
Chief among them is that tomatoes have no place in chowder. Chowder should be white. Once you add tomatoes, you're halfway to a bisque — a good thing to eat, no doubt, but not a chowder.
There are a couple of ways to get to a finished chowder. Many people like chowder thickened with a flour-butter roux. This allows them to use milk — or even skim milk — as its base. I'm not a fan of flour-thickened chowders, nor do I think milk has a place in this dish. No matter their ingredients, flour-thickened chowders taste like canned condensed soup to me, and a milk base makes a mingy chowder.
Historically, I've read, chowders were thickened with ship's biscuit, sometimes called hardtack. That made sense, as sailors preparing chowder aboard ships had them about. If I wanted to use hardtack to thicken my chowders, I'd have to bake the unleavened little rocks myself. No, I'm happy to break with tradition here.
Instead, I count on the chowder's own ingredients to thicken the base, and the luxurious addition of half-and-half or even heavy cream to give its rich flavor and silky texture.
Today's recipe is a corn chowder, which I made to use up the last of the locally grown corn kernels I froze last summer. It's said that corn chowder is a peculiarly Midwestern dish, where the corn substitutes for the clams and seafood so easily found in coastal communities. As a peculiar Midwesterner myself, I find it echoes the flavor of the chowder my mother used to make.
As you'll see, I mash half the potatoes used in the recipe to thicken the broth, then gild the chowder with some half-and-half. You can use an equal amount of heavy cream for an even more satisfying version. Because I live in the Southwest now, I livened it up with some chile powder. A garnish of smoked paprika emphasizes the smoky flavor of the bacon, and a scattering of cilantro leaves adds a lovely fragrance. Where I once ate chowder with oyster crackers or bread and butter, these days I enjoy tortilla chips alongside.
Corn chowder is a versatile comfort. If I have leftover chicken or pork to shred, I'll sometimes toss that into the pot. If I have fish handy, it's a good addition, but I stick to firm white fish – catfish, tilapia, sole, haddock, cod, and so on. Cut it into chunks before adding. On special nights, I may pull some shrimp from the freezer and add a few.
Vegetarians can substitute vegetable broth for the chicken broth I suggest, and leave out the bacon, poaching the vegetables in a favored non-animal fat such as coconut oil or a vegetarian margarine. If you do so, sprinkle those vegetables in smoked paprika while they sauté, and use more of the smoked paprika to garnish.
A SOUTHWESTERN CORN CHOWDER
If you have leftover cooked protein such as shredded chicken or pork, shrimp or fish, add it to the chowder when you add the half-and-half. This doesn't freeze well, but leftovers can be reheated gently in the microwave or on the stovetop.
INGREDIENTS
¼ pound thick sliced bacon, about 4 slices, cut cross-wise into ½-inch pieces
2 large potatoes, peeled and diced into 1-inch cubes
4 cups chicken or vegetable stock
1 cup whole kernel corn, fresh, frozen, or canned
2 teaspoons hot chile powder
Salt and pepper, to taste
Smoked paprika, for garnish
Torn cilantro leaves, for garnish
PREPARATION
In a large heavy pot, cook the bacon over medium-high heat until it's crisp and browned, about six minutes. Remove bacon pieces from the pot and set aside.
Add the carrot, celery, and onion to the drippings in the pot and cook, stirring often, until the carrot and celery are softened and the onion is translucent, about 10 minutes.
Add the potatoes, chicken stock, and bay leaf to the pot. Bring to a boil, reduce heat and simmer until potatoes are soft, about 15 minutes. Remove about half the potatoes to a heat-proof bowl and mash them. Return them to the pot.
Add the reserved bacon pieces, corn, half-and-half, chile powder and salt and pepper. If you're adding leftover cooked protein, add it now. Continue to simmer for 10 to 15 minutes.
To serve, ladle a serving into a bowl, and sprinkle with smoked paprika and a few torn leaves of cilantro. Serve with tortilla chips or bread and butter.
Robin Mather is a longtime food journalist and the author of "The Feast Nearby." Follow her blog as she writes her third book, "The Feast of the Dove," at thefeastofthedove.com.