Americans will consume 50 million pumpkin pies over Thanksgiving.
That's not a stretch. Pumpkin is, after all, the most popular pie this time of year.
But it's also the easiest to make at home: Get a can of pumpkin. Add some cinnamon and sugar and other pumpkin spices. Pour into premade crust and put in the oven. About an hour later, you have pumpkin pie.
We wanted a bit more of a challenge to showcase our Thanksgiving pie-making talents, so we turned to a few of our favorite places for pie and asked the bakers behind them to share their recipes.
Luis Portillo of Ajo Cafe, one of our favorite little dive cafes, let us in on his One Shot Pecan Pie. The shot refers to the "very good" brandy you drizzle into the pecan mixture.
Michael Rohwer at Bread & Butter Cafe shared his new creation, the Tiger Lily Chiffon, that he swears looks like a bright orange tiger lily flower.
Dean Schwemmer also likes to add a little liquor to a few of his specialty pies at Back Dough, the gem of a pie shop tucked into the back nook of an east-side Beyond Bread store.
And Paulette Griggs, the chef-baker-owner of Oro Valley's popular Village Bakehouse, turned us onto her ever popular housemade apple pie, right down to the flakey handcrafted pie dough. 
We're putting this out there in time for you to experiment. And if in the end your pie doesn't quite taste or look like the originals, you'll have a little window to pick one up. We've included that information as well.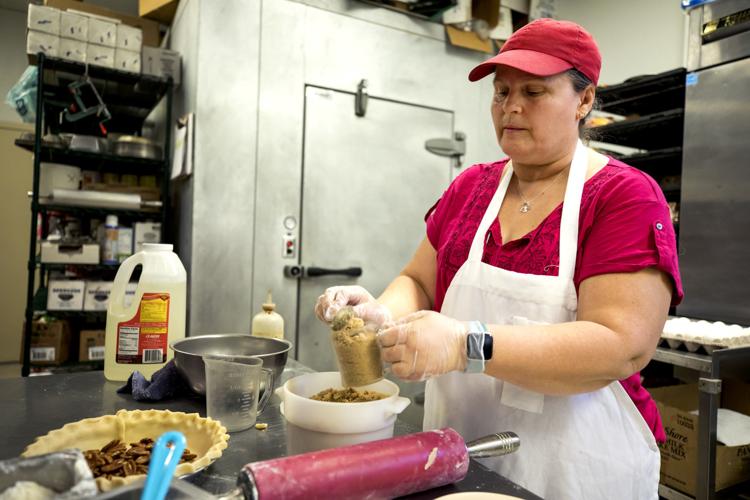 Bread & Butter Cafe
4231 E. 22nd St., 327-0004; and 9431 E. 22nd St. off Harrison, 232-3202. 
Michael Rohwer has a quintessential Tucson pie in his repertoire of 100-plus.
But if you want to try his Prickly Pear Meringue, you have to go to either of Rohwer's Bread & Butter Cafe locations. He won't share the recipe.
Last year, his prickly pear masterpiece was named to Food Network's "50 States of Pie," representing Arizona. But when they asked for the recipe, he respectfully declined.
Rohwer has dozens of specialty pies among the ubiquitous array of apple, pumpkin and berry pies that he has been making since he bought the Debbie and Eddie Bread and Butter Cafe in 1992. Pies were in his DNA after a seven-year stretch in the 1980s of owning the Ajo Cafe and the Coffee Pot Cafe, two diners where pie was a signature on the menu.
Pie is an even bigger signature at Bread & Butter's two locations: the original at 4231 E. 22nd St. and the newest one, which he and his kids, Garrett and Christina, run at 9431 E. 22nd St. off Harrison.
"Everybody does pumpkin and apple, but we sell a lot of our Prickly Pear Meringue," he said.
He's hoping that diners will be equally enamored with his newest creation, the Tiger Lily Chiffon Pie that resembles a tiger lily flower. 
He uses valencia oranges and beats eggs whites until they are soft, just shy of stiff, and sets it in a chocolate cookie crust.
In the couple of weeks since he introduced it, Rohwer said he's gotten positive feedback.
If you'd like to pick up a pie from Bread & Butter Cafe, swing by at your earliest convenience — they're available on a first-come, first-served basis. Or you can try your hand at making Rohwer's Tiger Lily Chiffon Pie at home.
TIGER LILY CHIFFON PIE
1 tablespoon unflavored gelatin
1 cup of fresh orange juice (valencia preferred)
1 teaspoon of orange zest
1 Oreo cookie crust 9 inch
¼ teaspoon of cream of tartar
3 drops of egg shade (optional)
In a small bowl whisk together egg yolks, orange juice and water until well combined. In a medium sauce pan, combine the gelatin, ½ cup sugar and a pinch of salt. Stir the citrus juice mixture into the gelatin mixture. Cook over medium heat whisking constantly until mixture starts to bubble around the edges. Transfer into a bowl and stir in orange zest and egg shade (optional). Chill in the refrigerator stirring every 5 minutes or so until it is the consistency of raw eggs. DO NOT LET IT SET. Beat egg whites with ¼ teaspoon cream of tartar, slowly adding the remaining ¼ cup of sugar. Continue to beat until the whites form soft peaks. Fold the chilled citrus mixture into the beaten egg whites and combine thoroughly. Pour into Oreo Cookie shell. Refrigerate for four hours before serving. Top with chocolate sprinkles and a dollop of whipped cream (optional).
— Courtesy Michael Rohwer, Bread & Butter Cafe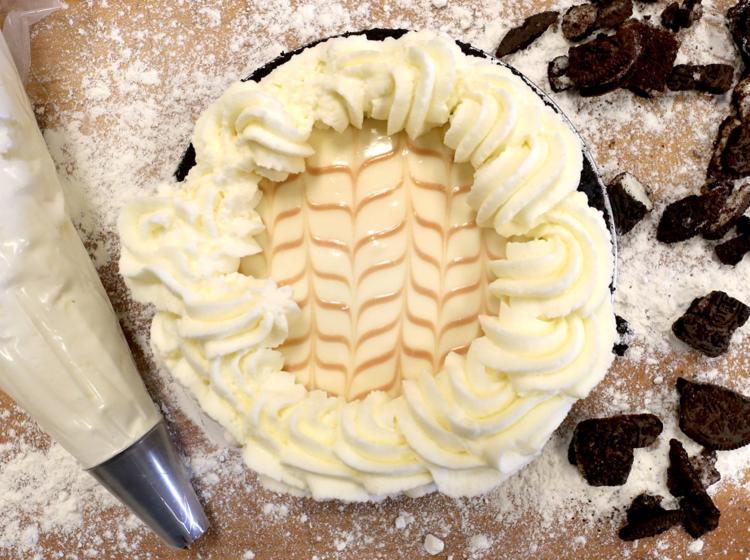 Back Dough at Beyond Bread
6260 E. Speedway; 629-4111.
Six years after it quietly opened in a backend nook of the east-side Beyond Bread, folks are still surprised when they discover Back Dough, the innovative pie shop that specializes in a big assortment of small pies.
"It's still kind of a hidden secret, to be honest," said Back Dough's pie-maker Dean Schwemmer.
But plenty of people have discovered the little shop, where Schwemmer and his staff create as many as 30 varieties of scratch-made pies each day.
They have apple and cherry and strawberry rhubarb; banana, coconut and Boston cream; key lime, chocolate pecan and a pair of pies with a little adult beverage kick — Kahlua cream cheese and strawberry margarita. They also have a few savory pot pies and quiche. 
And on the day before Thanksgiving, Back Dough will sell as many as 3,500 small pies, each big enough for two to four people.
"I'm getting a little nervous right now," said Schwemmer, who has spent his 40 years in the restaurant business making pies, including 25 years at Marie Calendar's before the national chain left the Tucson market.
Schwemmer has been at Beyond Bread the last 15 years and was on the ground floor of Back Dough. The idea from the start was to specialize in 6-inch pies — pies traditionally come 8 to 12 inches — so that customers could mix and match varieties. Pies, regardless of ingredients, sell for $6.99 apiece.
One of the big sellers is the innovative Kahlua Cream Cheese Pie.
If you'd like to pick up a pie from Back Dough, swing by at your earliest convenience — they're available on a first-come, first-served basis. Or you can try your hand at making Schwemmer's Kahlua Cream Cheese Pie at home.
KAHLUA CREAM CHEESE PIE
8 ounces of Oreo cookie crumbs
2 ounces of melted butter 
Blend until consistency of fine wet sand, then cover sides and bottom of pie tin and press into tin with second tin forming a firm shell/crust. Set aside under refrigeration.
8 ounces of granulated sugar
½ tablespoon of cocoa powder
¼ teaspoon of freeze dried coffee 
2 ounces of Kahlua liquor
Combine cream cheese and sugar and beat until batter-like consistency. Continue mixing and add sour cream, fresh eggs and vanilla. Mix cocoa powder, freeze dried coffee and Kahlua liquor then add to batter.
Add batter to Oreo shell that should be firm to the touch, slightly under-filling the shell. Place in oven and bake at 250 degrees for approximately 40-45 minutes until domed in center and firm to the touch. Allow to cool at room temperature before refrigerating.
SOUR CREAM TOPPING
1 ounce of granulated sugar
Mix sour cream and sugar until yogurt like consistency. Spoon on top of pie covering all the way to edges. Using chocolate syrup, apply final design to top. Place pie back into oven at 350 degrees for 5 to 10 minutes until set. Remove, allow to cool, then refrigerate or serve.
Courtesy Dean Schwemmer, Back Dough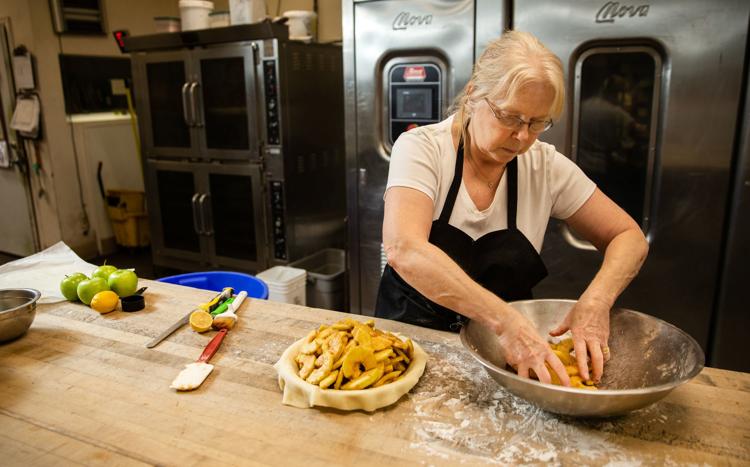 Village Bakehouse
Paulette Griggs and her staff at Village Bakehouse will make somewhere in the neighborhood of 2,500 scratch-made pies for the holidays.
Thanksgiving particularly is a busy time at the popular Oro Valley restaurant, where pies, pastries and baked goods are a big draw. In the weeks leading up to the holiday, she will go through 1,000 pounds of fresh apples, 2,500 pounds of pie dough and 90 gallons of pumpkin pie filling. 
Then there's the mincemeat, cherry, blueberry, pecan, peach, mixed berry, bumble berry, cream pies and a dozen more sweet creations that will come from the ovens of her restaurant at 7882 N. Oracle Road that she bought in 2002, six years after it opened.
"I think Thanksgiving is about tradition," the Buffalo, New York, native said. "Pies bring back memories of family celebrations and everything that is good."
If you want to order a pie in time for Thanksgiving, you have until 1 p.m. Tuesday, Nov. 26. Or you can try your hand at making Griggs' house-special apple pie at home.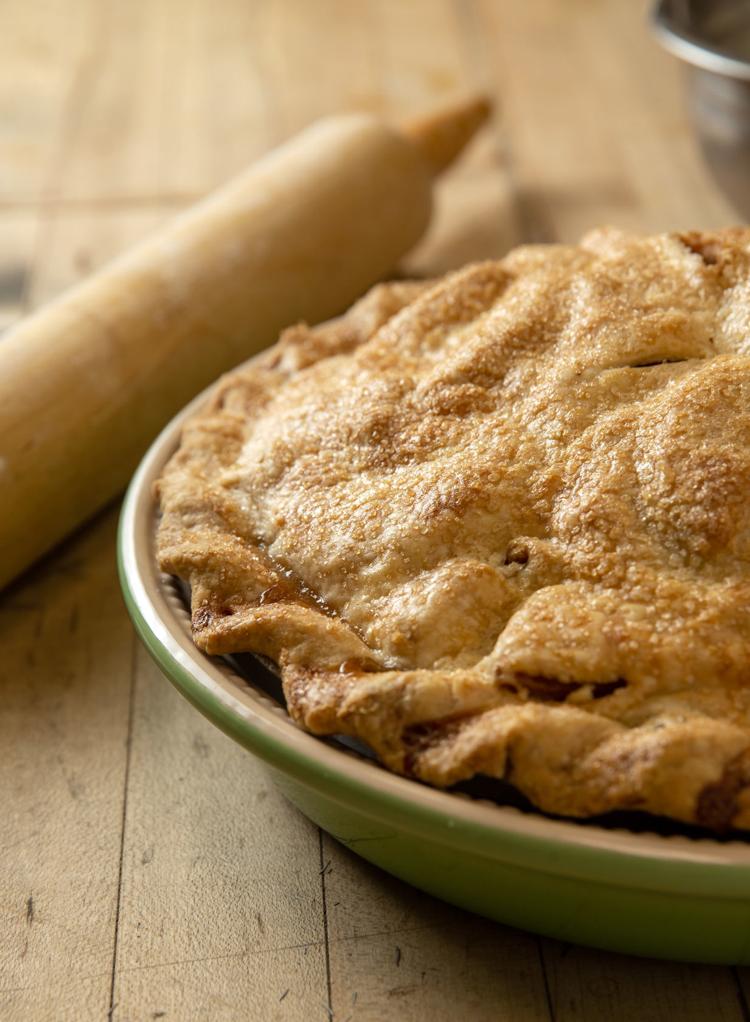 VILLAGE BAKEHOUSE APPLE PIE
PIE DOUGH
1 cup of vegetable shortening
1 cup of cold butter, cut in small pieces
APPLE FILLING
8 medium to large Granny Smith apples, peeled and sliced
2 tablespoons of cake flour
2 tablespoons of melted butter
2 teaspoons of lemon juice
2 tablespoons of milk or half and half 
Measure pastry flour and salt and place in a large bowl, cut in cold butter pieces and shortening into the flour with a pastry cutter until the fat coats the flour and is the size of small peas. Combine the ½ egg, and vinegar in a measuring cup and fill it to 1 cup with ice water. Pour it all at once into the flour mix and stir it together until just combined. Do not over work or your dough will not be flaky. Form into four equal flat discs and chill. Preheat your oven to 375 degrees.
While the dough is chilling peel, core and slice your apples, place them in a large bowl and sprinkle with lemon juice. Roll one chilled disc on a lightly floured surface to a 12" circle and place in a 10" deep-dish pie pan. Combine, sugar, cinnamon and cake flour in a small bowl and pour all at once into your apples along with the melted butter. Toss until well coated and pour into your prepared pie shell, press them a little to make a firm rounded pile of apples being careful not to leave them too close to the edge of the pie pan. Roll out another disc to 12" and place it over the top of your apples. Roll the edges under and crimp evenly around the edge removing excess dough as you go. Brush the pie with milk or half and half and sprinkle with granulated sugar. Cut vents in the top for steam to escape. Place on a baking sheet in the middle of the preheated oven. Bake for approximately 60-70 minutes until a knife inserted in one of the vent holes slides in easily without too much crunch from the apples. Remove from oven and let cool. Serve with ice cream, whipped cream or a slice of cheddar cheese.
Optional: When cool drizzle with caramel and sprinkle with toasted pecan halves and a little sea salt
To make it a cranberry apple pie, substitute 1½ cups of apples with 1½ cups of fresh cranberries and the zest of one orange and bake as usual
Courtesy Paulette Griggs, Village Bakehouse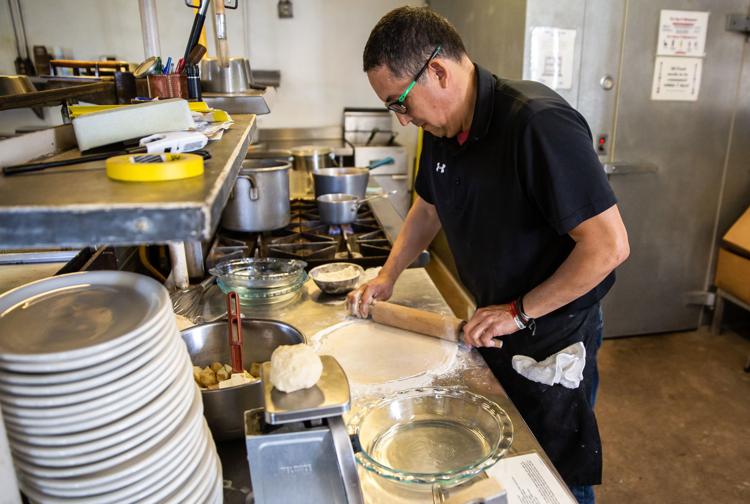 Ajo Cafe
3132 E. Ajo Way, 294-1100.
Pie is one of those desserts that just makes you giddy.
And it's the reason you'll find Ajo Cafe's longtime baker and kitchen manager Luis Portillo smiling whenever he's anywhere near a pie crust and hot oven.
"You have to be happy. That's what makes someone's day, to have a good piece of pie and enjoy it with a cup of coffee," he said on a recent weekday after he had finished baking several pies for the south side restaurant. "You have to be happy so you can pass it along to the pie. You don't want an angry pie."
Stroll into the small diner around lunchtime and you likely will be greeted by Portillo's laugh coming from the kitchen where he has worked for 14 years. The staff at Ajo Cafe, which has been around since 1953, like to call Portillo their spiritual pillar, in large part because he rarely if ever has an unkind word, coworkers said. But Portillo would prefer you praise the pies more than the piemaker.
"Everybody loves our pies," he said, especially the house cherry, peach cobbler and a variety of cream pies including banana, chocolate and coconut. "We have over 60 pies. I make different ones every time."
Recipes are handwritten on yellowed notecards smudged with flour or smeared with chocolate. Occasionally Portillo will dig one out to show a new employee, but he has most of the recipes committed to memory.
"I enjoy what I do, I just love what I do," he said, then added that making pies puts him "in a great mood all the time."
If you'd like to pick up a pie from Ajo Cafe, swing by at your earliest convenience — they're available on a first-come, first-served basis. Or you can try your hand at making Portillo's One Shot Pecan Pie at home.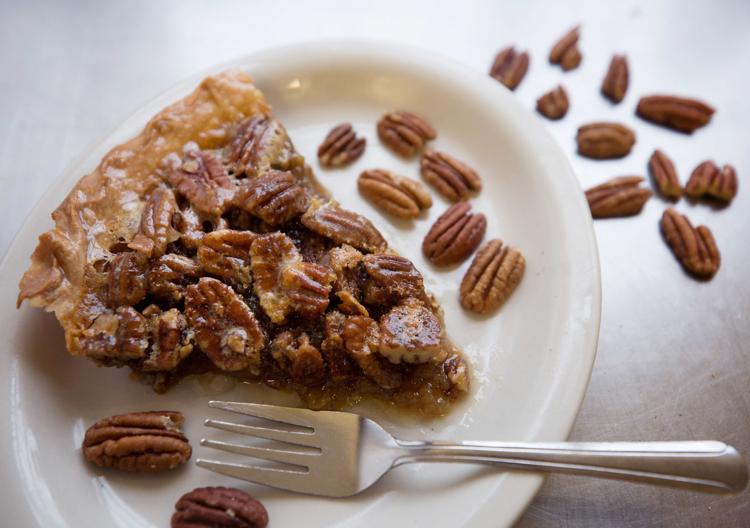 ONE SHOT PECAN PIE
1 cup of dark or light corn syrup
3 tablespoons of butter, melted and cooled
1 shot of good quality bourbon (2 tablespoons)
⅔ cup of chopped bittersweet chocolate bar or semi-sweet chocolate chips
Beat eggs in a large mixing bowl. Beat in sugar, corn syrup, butter, bourbon, vanilla and salt, mixing well. Fold in chocolate and pecans and pour mixture into the pre-made pie crust. Bake in a 350-degree oven for 40 to 45 minutes or until center is set. Cool until its room temperature and top with bourbon whipped cream.
Bourbon whipped cream (optional): Beat ½ cup of whipping cream with 2 tablespoons of powdered sugar until stiff peaks form. Then beat in 1 tablespoon of good quality bourbon.
Courtesy Luis Portillo, Ajo Cafe
Contact reporter Cathalena E. Burch at cburch@tucson.com or 573-4642. On Twitter @Starburch