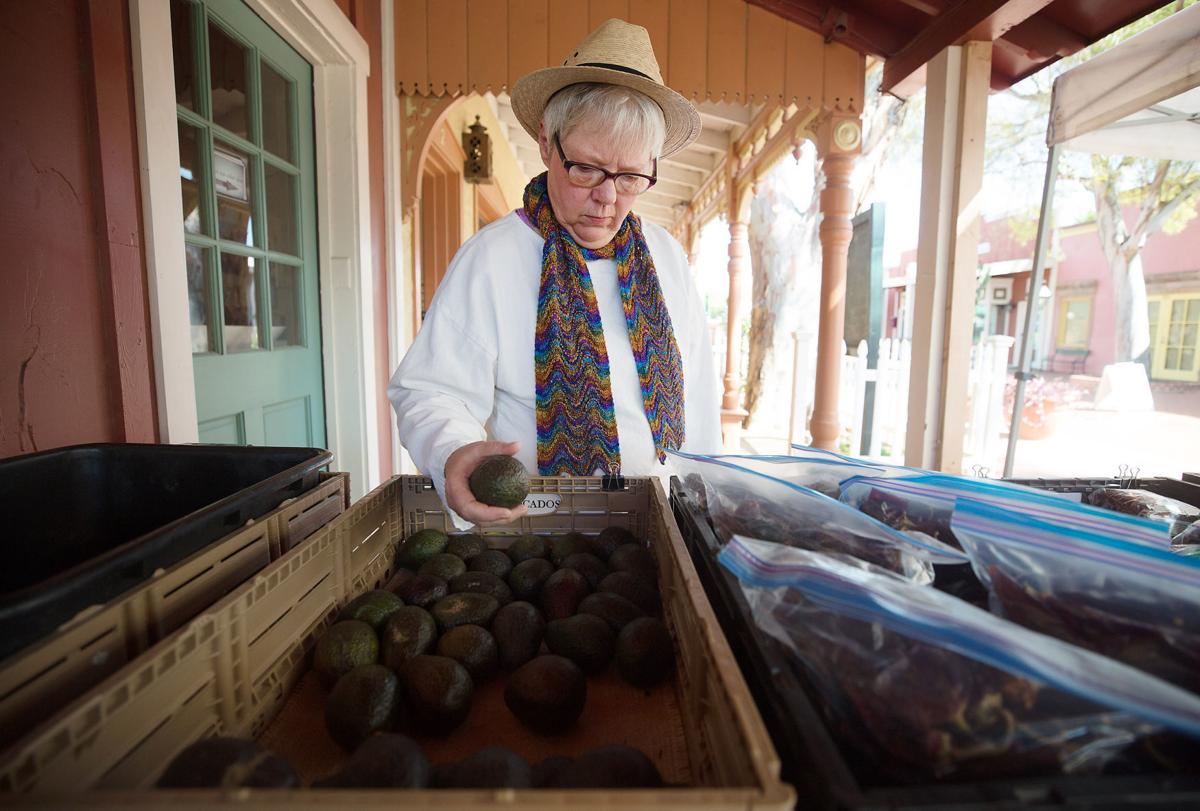 It's a pleasure to have the opportunity to connect with cooks who read the Arizona Daily Star with this new weekly column. Each week I'll share something I learned about food along with a recipe for you to try. But first, allow me to introduce myself.
I've written about the ways that we prepare food at home as a food journalist for more than 40 years, for publications ranging from The Detroit News and the Chicago Tribune to Cooking Light and Mother Earth News magazines. I'm also the author of two books, "A Garden of Unearthly Delights: Bioengineering and the Future of Food" (1995), and "The Feast Nearby: Essays and Recipes" (2011). My third book, "The Feast of the Dove: Eating Well in Good Times and Bad," will be published later this summer.
My passion for writing about food includes cultural context, history, how food is grown and produced, food preservation and other aspects of the human condition that intersect with food. I'm much more than just a foodie; I'm an unapologetic food nerd.
I lived in Tucson from the early to mid-'70s and loved this city then. When I had an opportunity to return more than four decades later, I leapt without batting an eye. Having lived all over the country, I know what a special city Tucson is.
The richness of Tucson's food culture is unlike that of any other city. Our long growing season and mild winters give us access to the some of the best produce I've ever seen. That's why you may see me prowling farmers markets all over the city — I'm that short, silver-haired person wearing a hat, and I hope you'll introduce yourself. I'm really friendly.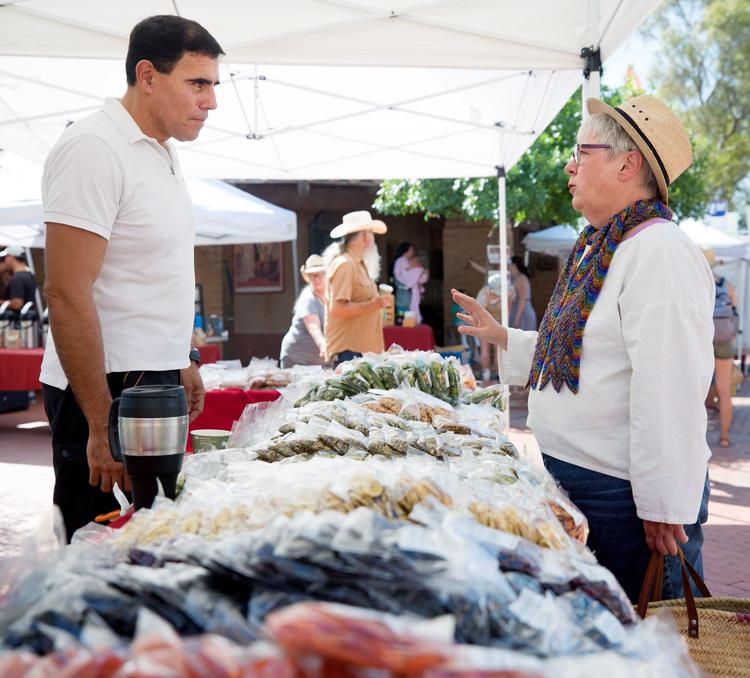 I'm a fierce advocate for local foods and eating in tune with the season, so the recipes I offer you will be connected to what our life is like now, here in the desert. Nobody wants a recipe for a hearty stew in August, when it's 110 degrees out there.
I'm also as curious as a cat, so I'll talk to the people who make cheese, raise cattle, keep bees and bottle local honey, brew small-batch beer and distill distinctive spirits. I'll ask them the questions you'd ask yourself if you had a chance. I'll talk to the people who stage Tucson's many food festivals and give you plenty of advance notice, so you won't miss the good food.
I'm a committed omnivore, so often my recipes will be meat-based. If that's not your eating style, please be patient — I'll likely offer you something more suited to your philosophy pretty soon. That's also true if you're gluten-free or follow some other dietary regimen. I'll tag each recipe, so you know what's right for you.
Last week, I found a couple of fragrant, perfectly ripe honeydew melons at one of the farmers markets. By the time I'd eaten the first one, I needed to come up with something different for the second. Here's the soup I made from it, and it's a winner.
Gremolata is a traditional Italian herb condiment made of parsley, garlic and lemon peel. This "gremolata" is distinctively Arizonan, with mint, lime and jalapeño.
Next week: Mike Jones wants to teach you how to harvest and use prickly pear fruit in his free class at the Saguaro National Park (west) visitor center.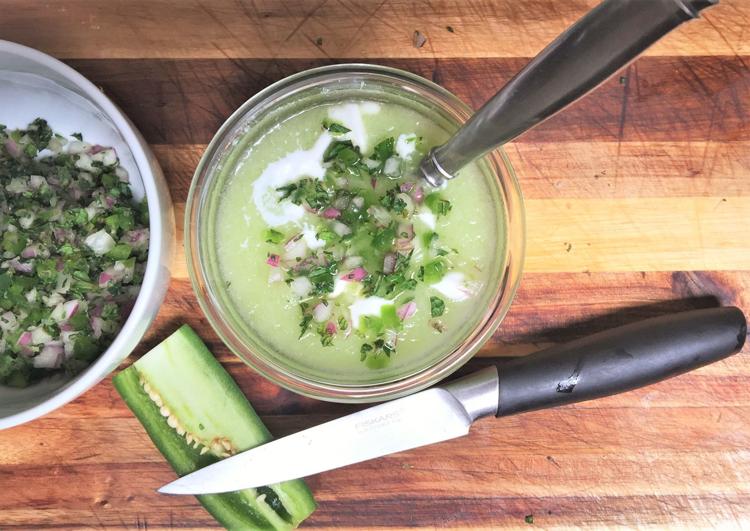 Iced melon soup with spicy gremolata
Vegetarian friendly
Gluten-free
A pitcher of this refreshing soup in the refrigerator is a gift on a hot day. Taste a bit of your melon before you purée it to see if you will need the optional sugar. Early-season melons sometimes need a bit of help that way. The soup may separate in the refrigerator; just stir it to re-blend. This soup can also form the base of a summer cocktail, if that's your bent; thin with sparkling wine, or spike it with tequila, vodka or gin. Zest the lime before you juice it; you'll need the zest for the gremolata.
Ingredients
1 whole melon, 2½ to 3 pounds, such as honeydew or cantaloupe
Juice of 1 lime, about 2 tablespoons
2 tablespoons fruity rosé or white zinfandel wine, or water
½ teaspoon sugar, optional
½ teaspoon salt
½ cup Greek yogurt
½ large jalapeño pepper or 1 small jalapeño, ribs and seeds removed
Leaves from 6 to 8 mint sprigs
1 slice red onion, about ½-inch wide
2½-inch-by-1-inch strips lime zest
Additional Greek yogurt, for garnish
Preparation
Wash the melon thoroughly, then cut into quarters. Scoop out the seeds and discard; remove the flesh from the peel by sliding a paring knife between the flesh and peel, discarding the peel. Chop melon flesh into large chunks and place into a blender or food processor.
Add lime juice, wine or water, optional sugar and yogurt. Whiz until the mixture is a smooth purée, about 2 minutes. Decant into a pitcher or bowl and refrigerate at least two hours before serving.
About 30 minutes before serving, make the gremolata by mincing the jalapeño pepper, mint leaves, red onion and lime zest together. The pieces should all be about the same size. You can do this in a small food processor if that's easier. Cover and refrigerate until serving time. This is a good time to place the serving bowls into the freezer to chill as well.
To serve, thin ¼ cup Greek yogurt with 1 tablespoon milk or half-and-half. It should be a little thinner than mayonnaise. Add additional milk or half-and-half little by little to reach that consistency.
Divide the chilled soup among four bowls. Drizzle each serving with the thinned yogurt, then strew a tablespoon of the gremolata atop each bowl.
Robin Mather is a longtime food journalist and the author of "The Feast Nearby." Follow her blog as she writes her third book, "The Feast of the Dove," at thefeastofthedove.com.