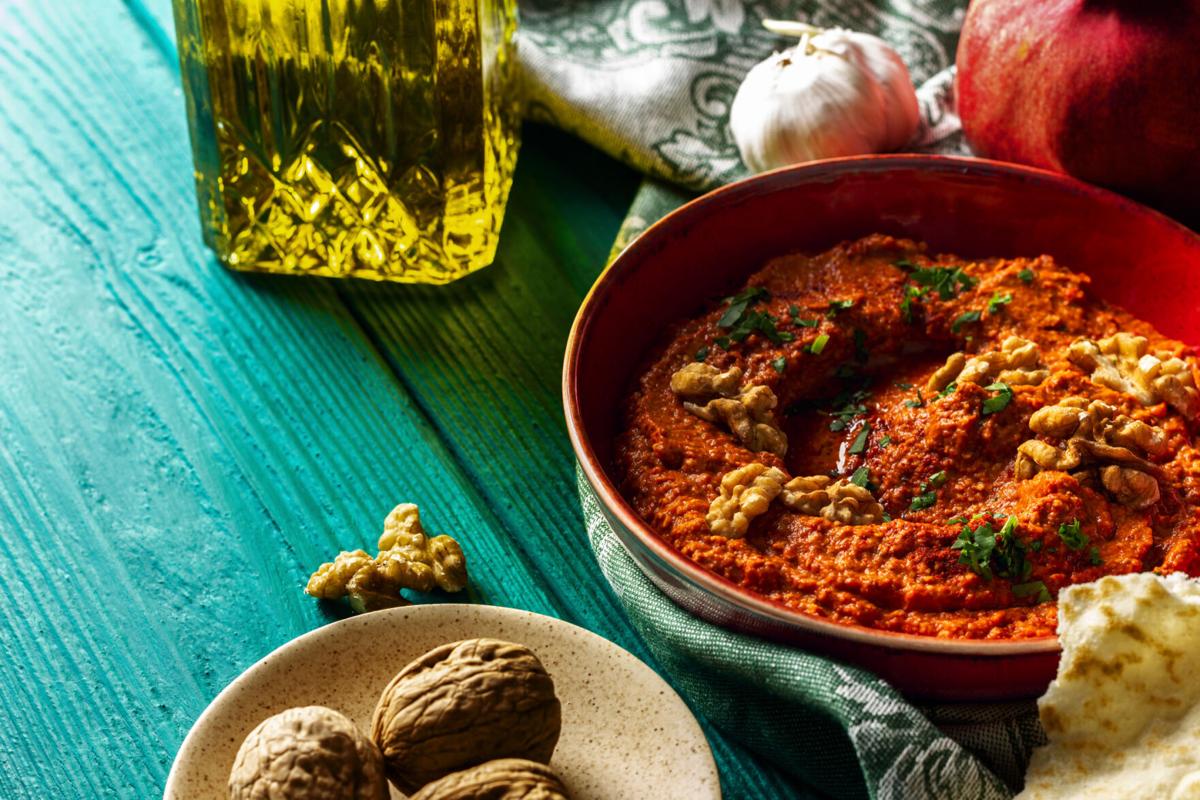 I am continually amazed at how well Middle Eastern dishes, including today's muhammara, translate to our Sonoran palates.
On reflection, it shouldn't be so surprising, I guess.
We share similar climates with many Middle Eastern countries, and our elevation is similar as well. For those reasons, many vegetables and fruits grow well in both regions.
Muhammara, a mildly spicy red pepper paste with walnuts and cumin, is commonly acknowledged to have Syrian roots, although the Turks and others lay claim to it as well.
The Syrian version would use flakes from dried Aleppo peppers, prized for their slightly sweet, raisin-y flavor. The Aleppo pepper is so significant that it has been added to Slow Food's Ark of Taste.
Sadly, Syria's ongoing civil war has almost completely ended cultivation of this special pepper, and most of the pepper flakes labeled "Aleppo" are now grown in neighboring Turkey. As someone once remarked, the pepper doesn't care which side of the border it's grown on, but the farmers of its namesake town are no longer a significant source of the pepper.
Many have fled the ravages of the civil war, and climate change has affected the remaining farmers' ability to cultivate the famous pepper.
Here in the American Southwest, I mimic the original pepper's mild, fruity flavor by blitzing ancho chiles in the blender or food processor. Ancho chiles have a similar fruity flavor and are equally mild. Sometimes I remove the seeds before blitzing them; sometimes I don't. Either way will work fine in this dish, although the no-seed version makes a more elegant dish.
I like muhammara's cheery red color and bright flavors; in my house, it's a welcome change from the more usual mezes of hummus and baba ghanouj. Because it's not as well-known as the latter two, it's usually a surprise for guests.
And, although pita chips are utterly authentic, I occasionally serve this with tortilla chips. It's also good as a spread on any kind of bread.
Muhammara keeps for about three days in the refrigerator. It's so easy to make that, in my opinion, there's no point in freezing it, but I imagine it would be OK to do so. Save the garnishing for when you serve it.
Muhammara with a pomegranate garnish
You can use jarred roasted red bell peppers for this if you must, but its flavors are livelier if you use roasted fresh red chiles instead. I buy roasted red chiles from Kris Young of Red's Roasters at farmers markets around town. Look for red chiles with just a little heat — the finished dish should not be over-spicy. Vary the nuts for a switch-up: try pecans, shelled pistachios or blanched almonds. If you have a sturdy blender, you can make muhammara in it; you may need to add a little oil to the start to get it going.
Ingredients
7 ounces roasted red chiles, peeled and seeded
2/3 cup fresh breadcrumbs
1/3 cup walnuts, toasted lightly and chopped coarsely
1 to 2 tablespoon fresh lemon juice
2 teaspoons pomegranate molasses, optional (see note)
1/2 teaspoon dried ancho chile flakes
1/2 cup extra-virgin olive oil, plus more for garnishing
Fresh pomegranate seeds, for garnishing
Chopped parsley, for garnishing
Toasted pita triangles, for serving
Preparation
In a food processor fitted with the metal blade, blend together the peppers, breadcrumbs, walnuts, garlic, lemon juice, pomegranate molasses, cumin, red pepper flakes, and salt until the mixture is almost completely smooth. With the motor running, add the oil gradually.
Transfer the muhammara to a bowl. Garnish it with a scattering of fresh pomegranate seeds, a little chopped parsley and additional olive oil. Serve at room temperature with the pita triangles.
Note: Pomegranate molasses is just juice, made by simmering pomegranate juice until it's reduced by a third. It's inexpensive and widely available at Middle Eastern markets. It's also easy to make your own; SeriousEats.com has a good method, find it at seriouseats.com/pomegranate-molasses.
Robin Mather is a longtime food journalist and the author of "The Feast Nearby." Follow her blog as she writes her third book, "The Feast of the Dove," at thefeastofthedove.com.