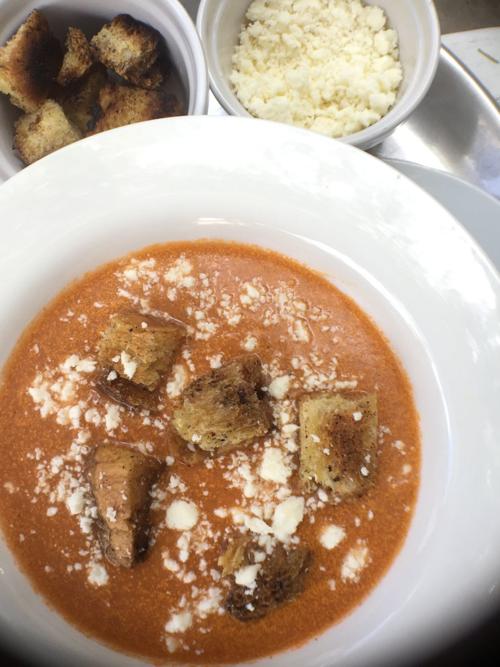 Kitchen economy — using what's already on hand, rather than letting anything go to waste — is at the base of this week's column. Most of us know that food waste is an important issue to keep in our minds.
There's another principle at work here, however. That's the idea that pleasing, nourishing food needn't take much work.
Earlier this week, I had some oddments of vegetables piling up in the kitchen. Because I'm a big fan of Red's Roasters, which sells fire-roasted vegetables at several farmers markets around town, I had accumulated several small zip-top bags with just one or two vegetables left in each.
A roasted tomato rested in one, a tomatillo in another. There was a poblano chile in a third bag, and a roasted jalapeño in a fourth.
I also had half of a medium-sized onion on the brink of going south, a solitary roasted parsnip, a few sad leaves of lettuce and a couple of limp green onions.
What could I do with all that, to rescue it from the compost heap?
Soup was the answer, as it so often is. This clean-out-the-fridge soup not only prevents waste; it's also a fast, healthy lunch or supper. It requires almost no knifework and dirties just one pan and your blender or food processor. If your blender is powerful, you can toss in raw vegetables such as carrots or potatoes as well.
I enjoyed my soup supper this week with croutons made from the last of a pillowy Village Bakehouse ciabatta loaf, tossed with olive oil and chili powder before toasting in a skillet, and a bit of cotija cheese scattered over all. I ate the rest for lunch the next day, feeling a little smug about stretching my food budget.
I've made this soup with leftover cooked beans, with leafy greens such as kale or spinach, with cabbage both cooked and raw, and with other vegetables in myriad combinations. It never fails to please. It always tastes divine.
This is, I think, because of the gilding of the heavy cream, which adds richness to an otherwise lean dish.
Back in the fat-phobic '80s and '90s, health advocates trained us to avoid heavy cream because it was too high in fat — around 30% fat, in fact. Around that time, as a longtime observer of the food scene, I began to see "cream" soups thickened with roux and milk (to make Béchamel sauce) or stock (which makes a velouté sauce). Such soups were mediocre, to my palate, and I continued to use heavy cream in my soups.
Out of curiosity, I asked my friend Theo Paul, a Chicago research and development chef with access to state-of-the-art nutritional analysis software, to run a side-by-side analysis of my recipe vs. "cream" soups made with Béchamel sauce and velouté sauce respectively. We found that my recipe made using tomatoes alone is lower in calories (about 180 calories in each of six servings) than either the velouté version (330 calories) or the Béchamel version (380 calories). The flour in the roux ran up the carbohydrate numbers, and the amount of fat needed for a roux to thicken 6 cups of stock has more fat than the heavy cream. It seems counterintuitive, but there you have it.
Perhaps it's because I am essentially a lazy cook, but I have always favored simplicity — fewer ingredients of better quality — over complex cooking with many steps and ingredients. More isn't better, my book; more constitutes less, if you understand what I mean.
Add this little soup to your weekly recipe rota – ideally, the night before you go grocery shopping, if you shop once a week – and use up what you have on hand before you restock. Your body will benefit from its healthfulness, and your spirit will be soothed in knowing that your new policy of reducing household food waste helps ensure there's enough food to go around so everyone can eat.
Simplicity, it seems, has a great deal of power.
Cream of anything soup
This soup will almost never be the same because you'll use up odd vegetables on hand, so its flavor will vary. Figure four servings if it's the main course, six if it's a side or starter. If you use a food processor, your soup will be a little chunky; if you use a blender, it will be more like a bisque with a satiny texture.
Ingredients
6 cups stock, whether chicken, beef or vegetable, or water
2 to 3 cups mixed vegetables, pureed
Salt and pepper, to taste
Herbs, fresh or dried, to suit your vegetables: Thyme, parsley, rosemary, basil, oregano, cumin, cilantro, sage and so forth
½ cup heavy cream or half-and-half
Preparation
Place the stock in a large heavy pot with a snug-fitting lid over medium heat. Stir in the pureed vegetables. Bring the mixture to a simmer, taste and season with salt and pepper, plus any additional herbs and spices you may wish to add. See below for some suggestions.
Just before serving, stir in the heavy cream or half-and-half. Give the soup a minute or two to heat through, then serve with good bread, croutons, sour cream or unflavored yogurt, cheese or whatever else you have on hand.
If your soup has chiles, cumin, chili powder and cilantro are good additions.
If your soup has a lot of tomatoes, basil and oregano are grand companions.
If your soup benefits from a lot of root vegetables, the classic parsley-sage-rosemary-thyme combination works wonders.
If your soup has leafy salad-type greens, consider creating the soup and then chilling it to serve cold.
Robin Mather is a longtime food journalist and the author of "The Feast Nearby." Follow her blog as she writes her third book, "The Feast of the Dove," at thefeastofthedove.com.