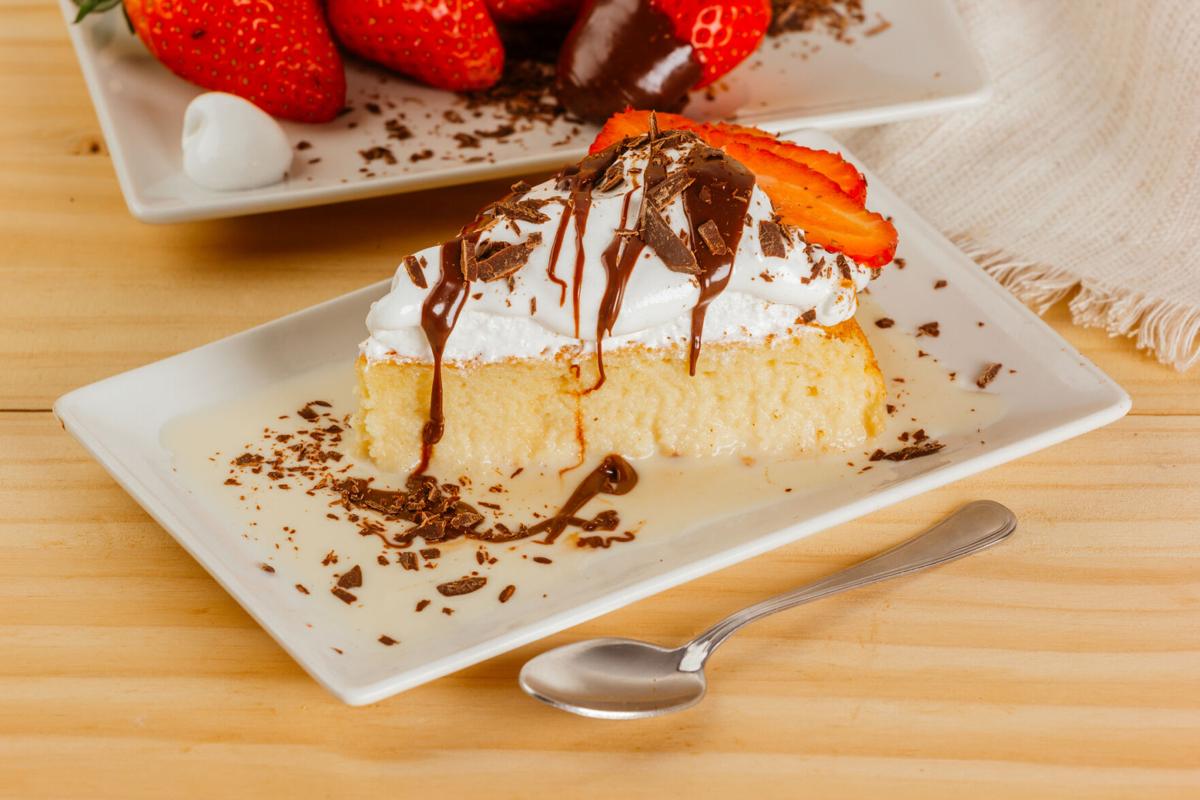 Now that we've been given the OK to gather again, I predict a larger-than-usual number of potlucks, community dinners and plain ol' parties. I think that the last 18 months have given us all a hunger to connect again.
From my patio, I can hear the noisy celebrations from a nearby park every weekend now, and while these aren't my people, I join in their festivities in spirit. Saturdays and Sundays start with soccer games early in the morning before the heat arrives mid-day, and the teams seem to come together afterwards to eat together.
If you have such an event on the horizon, a tres leches cake will make a welcome contribution. The Mexican favorite is rich and satisfying in its original state. After you bake a basic sponge cake, you poke holes all over the top so the "three milks" can be poured over the cake to soak into the sponge.
When I make it, however, I like to use coconut cream in place of one of the three milks. Its slightly tropical flavor seems to suit the cake especially well, without overpowering the cake itself. Moreover, it's so much better than the tinny flavor of evaporated milk.
Coconut cream can be a little tricky to find. It's not the same as coconut milk. Sometimes it's labeled "cream of coconut." Depending on your store, it may be stocked alongside the other baking supplies. More commonly, I've found it with the mixers for alcohol — it's the main ingredient for piña coladas. As a last resort, it's always available online.
You'll want to give coconut cream a good stir before you use it, because it tends to separate a little as it sits on the shelf. This separation does not mean the coconut cream is spoiled.
Because strawberries are in season, let's garnish our tres leches cake with sliced fresh berries after we top it with whipped cream. And because there's no such thing as too much of a good thing, let's drizzle a little chocolate syrup over each piece before we add some semisweet chocolate shavings.
I make chocolate shavings by taking a potato peeler to a bar of chocolate. You can do this well in advance, but the shavings may need to be refrigerated so they don't lose their shape.
And speaking of refrigeration, while I don't usually refrigerate leftover cake, I make it a point to refrigerate leftover tres leches cake — there's so much dairy in that pour-over mixture that I don't want it to sour. Refrigeration also seems to help preserve the cake's integrity so it doesn't turn into mush.
This cake is so good, however, that you may not have leftovers to worry about.
Tres leches cake with strawberries and chocolate
This version of the sumptuous tres leches cake substitutes coconut cream for the more common evaporated milk. If you're having a hard time finding it at the grocery store, you'll sometimes find it where bar mixers are shelved. Garnishing with freshly sliced strawberries, whipped cream, a drizzle of chocolate syrup and chocolate makes this a showstopper, perfect for a party or a potluck. Leftovers should be refrigerated.
2 teaspoons vanilla extract
1 15-ounce can coconut cream (sometimes labeled "cream of coconut")
1 cup sweetened condensed milk
2 cups heavy cream, for whipping
Strawberries, for garnish
Chocolate syrup, for garnish
Semisweet chocolate shavings, for garnish
Preparation
Preheat oven to 350 F. Grease and flour a 9-by-13-inch baking pan.
Beat the eggs in a stand mixer at medium speed, slowly adding the sugar. Continue beating for about 10-15 minutes. The mixture is ready when it's light and creamy, almost like whipped cream.
Remove the bowl from the stand mixer, and slowly fold in the first part of the sifted flour. Mix gently with a spatula until the flour is incorporated. Repeat with remaining flour, adding it in two steps.
Fold in the vanilla and oil gently with a spatula until completely incorporated.
Add the batter to the prepared pan.
Bake for 35 minutes, or until a toothpick comes out clean.
Remove from oven and cool completely.
Using a fork, poke holes all over the surface of the sponge cake.
Combine the whole milk, coconut cream and sweetened condensed milk in a medium bowl. Mix well.
Pour the mixture over the sponge cake, covering the entire cake. Refrigerate for at least three hours. Before serving, whip the cream with the sugar to stiff-peaks stage. Pipe or spread the whipped cream over the top of the cake. Decorate with sliced strawberries, chocolate syrup and chocolate shavings. You can decorate the whole cake or garnish it serving by serving.
Robin Mather is a longtime food journalist and the author of "The Feast Nearby." Follow her blog as she writes her third book, "The Feast of the Dove," at thefeastofthedove.com.