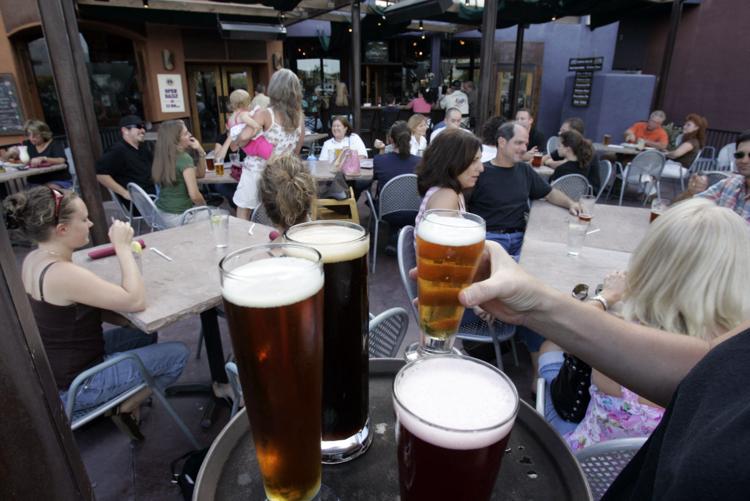 Thunder Canyon Brewery is closing its flagship restaurant in the Foothills Mall, 7401 N. La Cholla Blvd., at the end of business Sept. 30.
Owner Steve Tracy announced the closing on Facebook Thursday, saying that "weathering the storm over the past year was too difficult and the future too uncertain."
Tracy could not be reached for additional comment, but he is no doubt referring to the loss since 2015 of several major retailers including Old Navy, Nike and Saks Off Fifth, which abandoned the Foothills Mall for the Tucson Premium Outlets in nearby Marana, off Interstate 10 and Twin Peaks Road.
Thunder Canyon Brewery had been a mainstay and dining anchor of Foothills Mall for 20 years and Tracy said he wanted to be a part of the mall's planned renovations under new owner Bourne Companies, which bought the property in December 2016.
Bourne officials could not be reached to comment.
Meanwhile the craft-brewcentric restaurant's Thunder Canyon Brewstillery downtown at 220 E. Broadway will remain open. And members of the Foothills Mall location's Mug Club are invited to bring the mugs to the downtown location "and we'll fill them up," Tracy said on Facebook.
Thunder Canyon's departure adds one more empty restaurant footprint to Foothills Mall, which now has four big restaurant vacancies:
The 15,000-square-foot World Sports Grille by Sega has been collecting dust since it closed without warning in March 2013.
The sign atop the 7,000-square-foot stand-alone building is all that remains of Phoenix chef Aaron May's sports-bar heavy The Lodge Sasquatch Kitchen, which shuttered in 2015 after nearly three years in business.
The dust has been caked on for years in the large spot long occupied by Bob McMahon's Keaton's and Old Pueblo Grille in the late 1990s through mid-2000s. The last tenant, Carlota's Authentic Mexican Cuisine, quietly closed in summer 2011 after two years in business.
The Mall also lost the popular Café Tremelo, which featured sidewalk dining and live music, and Melting Pot fondue restaurant, which called it quits in June.
That leaves Foothills Mall, which enjoyed a resounding rebirth in 1998 that turned the mall from nearly deserted to thriving, with very few dining options outside the chains Applebee's and Outback Steakhouse, and the Tucson restaurants Sushi Garden and Pappoule's Greek café. The food court has shrunk to five restaurants with the loss in recent years of national chains serving everything from 1950s-themed burgers and shakes to fast-food tacos and pizza.
Thunder Canyon Brewery will be open regular hours — 11 a.m. to 10 p.m. — through Saturday, Sept. 30.
Contact reporter Cathalena E. Burch at cburch@tucson.com or 573-4642. On Twitter @Starburch